Diversification as an investing principle never goes out of style. But in today's low-rate environment, do bonds still provide effective diversification in a traditional asset allocation framework? Are the reasons for owning fixed-income the same as they have been in the past?
The short answer to both questions is a resounding "Yes."
In today's low-yield world, fixed-income plays as vital a role as ever.
Many investors need to maintain rate-of-return targets to meet ongoing spending needs and satisfy other liabilities, but may face significant hurdles in achieving these targets given current market valuations and the low level of global bond yields. And choosing the right mix of assets to maintain prudent diversification while still striving to meet these rate-of-return targets can certainly present challenges.
Addressing these needs and challenges requires a nuanced understanding of the context in which investors make decisions—and the context is always changing. Today, we're in a very uncertain environment—not only are we grappling globally with the COVID-19 pandemic, we're also facing geopolitical tensions (e.g., US-China trade, Brexit, the Middle East), as well as deflation/disinflation pressure (due to slow growth combined with too much debt). Central banks worldwide, including the Federal Reserve (Fed), have instituted monetary easing programs to keep interest rates low as a means to stimulate economic growth, largely due to the pandemic. The following quote encapsulates the current monetary stance:
---
"We're not even thinking about thinking about raising rates. We're totally focused on providing the economy the support that it will need. We think that the economy will need highly accommodative monetary policy and the use of our tools for an extended period. And we're absolutely committed to staying in this until—until we're very confident that that is no longer needed."
~Jerome Powell, Fed Chair
---
If this uncertain landscape persists for the foreseeable future, we would expect global financial markets to be volatile and for risk-free yields to remain low given the continued policy support. However, we can also see a scenario wherein successful implementation of effective vaccines suddenly resets global growth and inflation expectations; this would result in an equally volatile market, with US rates moving higher (yield curve steepening) in the short term and credit spreads widening as valuations adjust to a new rate environment.
Active management in fixed-income
has never been more relevant.
Here are five reasons why.
Active Management Is Critical in Fixed-Income
While these five reasons we provide should remind all investors that fixed-income plays an important role in asset allocation and portfolio construction, we cannot stress enough that pursuing a passive approach introduces dangers and limitations. Passively managed index-linked products have considerable exposure to duration risk. For example, the Global Aggregate Index has over seven years of duration, while the BB US Aggregate and investment-grade credit indices have also seen a marked extension in duration. Moreover, the largest constituents in these indices are the largest borrowers. Doesn't it seem a bit counterintuitive, then, that an investor would hire a passive fixed-income manager that must buy and hold those issuers that are the most indebted? A passive manager cannot express duration, curve, sector or security preferences in the portfolio construction in the ways that an active manager can.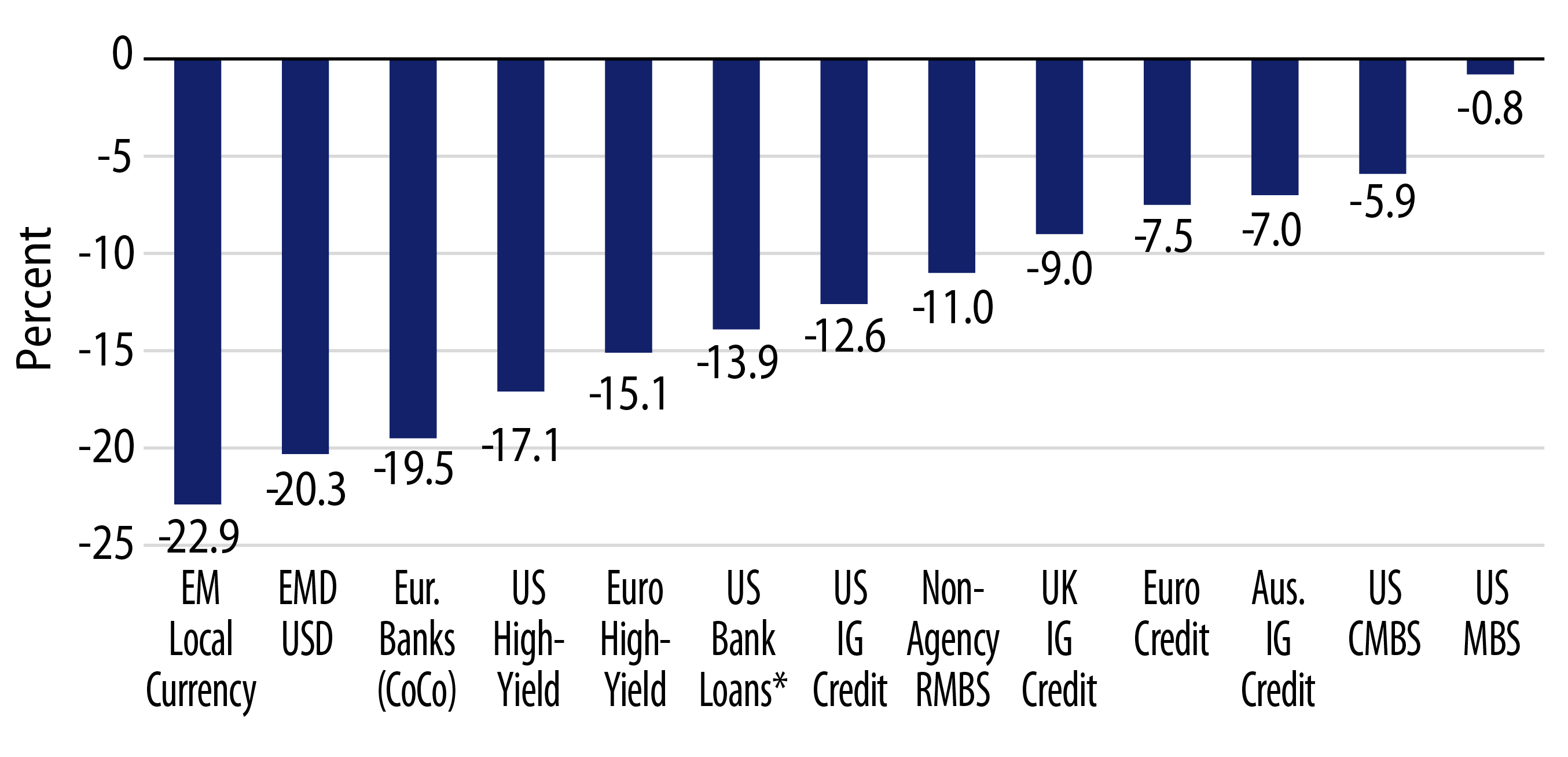 For instance, Exhibit 7 illustrates the extent of spread widening caused by the COVID-19 pandemic in March 2020. As a fundamental and value-oriented investor, Western Asset saw a number of highly compelling investment opportunities across many sectors in early 2Q20. During this period, the Firm added to investment-grade credit given significant spread concession in the primary market and attractive spread levels in the secondary market. These positions benefited greatly following the Fed's announcement that it would roll out the Primary and Secondary Market Corporate Credit facilities to stabilize credit markets.
While today's yield environment remains near historical lows, if an investor's fixed-income assets can generate an extra 150 basis points per year over a 28-year period, that adds up to quite a sum (see Exhibit 8). With asset class return expectations currently being rather modest, it's more important than ever to seek out all incremental sources of return. And that's where active management in fixed-income comes into play.
The Bottom Line
With investors worldwide scrambling for consistent income sources, fixed-income continues to deliver a reliable income stream—albeit at historically lower levels. It's important to keep in mind that markets can reset quickly and that includes fixed-income assets (nominal yields and spreads).
Fixed-income very much still matters to investors as it provides (1) diversification, (2) efficient returns per unit of risk, (3) an important source of total return (even when some market participants question its ability to deliver), (4) the ability to mitigate drawdown risk in stressed markets and (5) a much-needed and consistent income stream in today's low-yield environment.
View the Performance and Risk Disclosures for US Core Plus Strategy