Housing starts of single-family units fell by 1.7% in March to an annualized rate of 1.20 million units, though upward revisions to January and February levels were almost as large as the March decline. Overall, single-family housing construction looks flat over the last five months at levels only slightly below the highs reached in early-2021.
We had been thinking that single-family starts and construction activity would continue the apparent downtrend begun in spring 2021, as builders were starting homes faster than they could sell them, such that rising inventories of unsold homes would constrain new activity. That has not been the case, as starts rebounded last fall and have since then held their levels. Sales of new homes have not kept pace with starts, and inventories of unsold new homes remain high relative to sales rates, but that has not deterred homebuilders as yet.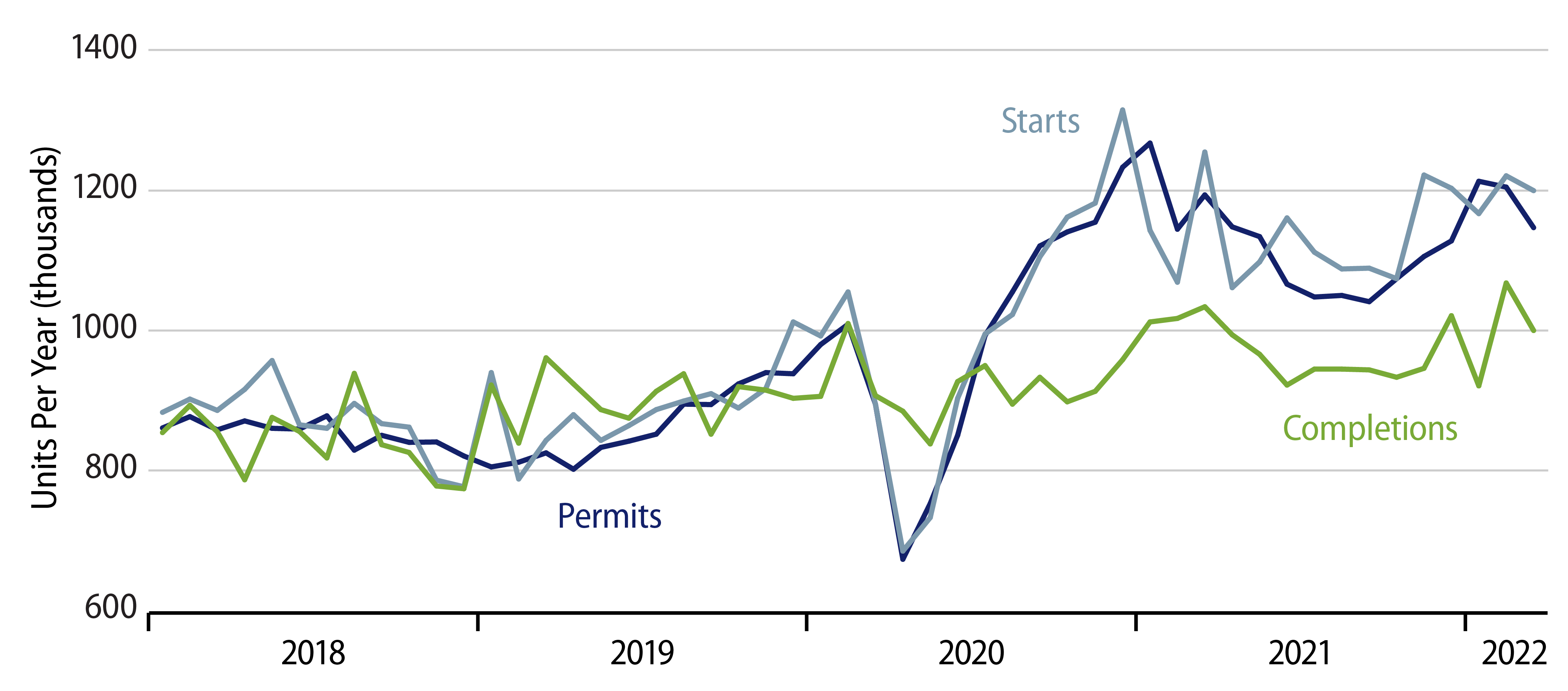 One reason for this may be hinted at by the accompanying chart, which shows rates of permitting, starts and completions. As you can see, completions of new homes have been running way below starts ever since the pandemic began and have not shown any recent increase comparable to that for starts. The number of new homes under construction is running even lower.
Apparently, builders are "slow-walking" construction of permitted and started new homes to keep inventories of completed or mostly completed homes from piling up. Still, once a home is started, a builder can stretch out its construction only so far. So, unless sales of new homes pick up substantially, one would think that eventually permits and starts of new homes would drop considerably.
Conditions for multi-family unit construction are something else entirely. There, both permits and starts of new units have been rising steadily for 18 months and are way above the highs achieved during the early-2000s housing boom/bubble. Even there, however, completions of new multi-family units have not budged from the generally flat levels of the past five years.
While it takes only a few months—usually—to build a single-family unit, multi-family developments take years. And, it appears the developers of multi-family unit complexes are slow-walking construction rates even more than what we are seeing for single-family housing. How else can one explain the fact that permits and starts of multi-family homes are up 40% to 50% over the last 18 months, while completions of these units have not yet increased at all?
Finally, all of this begs the question of how well homebuilding activity will hold up when higher mortgages rates start to impact demand.