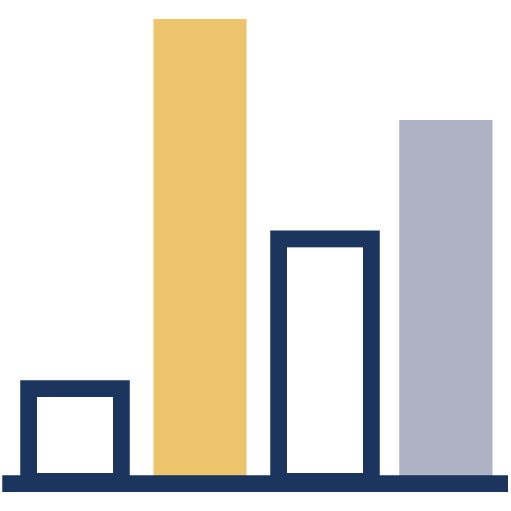 ---
Growth

Convictions
Global growth has downshifted, which should also reduce global inflationary pressures
Yield curve inversion is pointing toward recession in the US, but it is not yet certain
In China, market projections for 2022 GDP growth have been revised sharply lower, given strict adherence to its Zero-Covid policy

Rationale
As long as US growth remains disproportionate versus the rest of the world, the dollar should remain strong.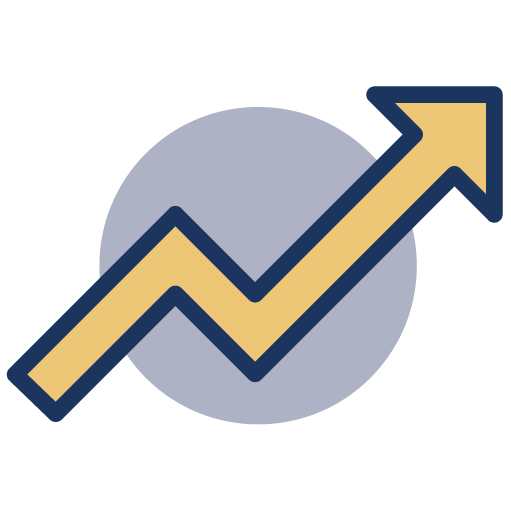 ---
Inflation
Convictions
We think the Fed's inflation expectations are plausible: get inflation down to 4% by the end of this year, to 3% next year and down to its 2% target in 2024
The key to lower inflation is downward momentum—once the Market can start to believe that policy rates will stay in place for a while, volatility should decline significantly
Rationale
Many of the key inflation metrics used are lagging indicators, but forward-looking indicators are showing meaningful progress downward.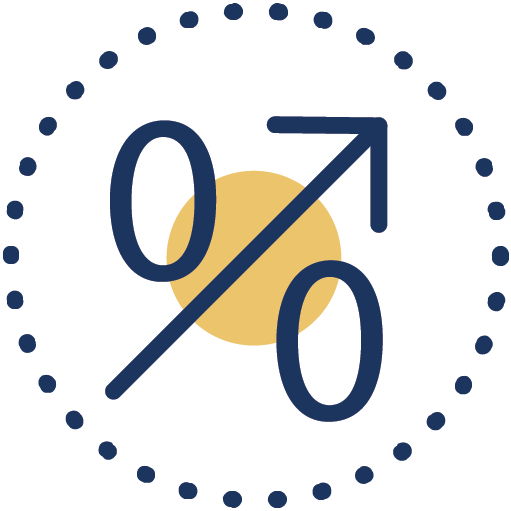 ---
Monetary Policy

Convictions
Fighting inflation is still the top priority for global central banks
In the US, the Fed's goal is to find a restrictive policy rate, pause and then hold that rate and allow inflation to fall
In the UK, we saw a dysfunctional market that necessitated the Bank of England to support the market by buying securities—this lack of liquidity is emblematic of the market's fragility

Rationale
As growth and inflation moderate and the risks surrounding central bank policy become more balanced, so too should the market environment for fixed-income investors.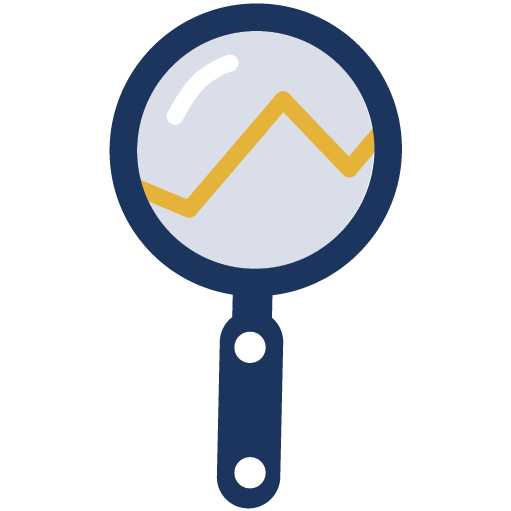 ---
Fiscal Policy
Convictions
Global fiscal stimulus is turning into global fiscal drag, as Covid-related support is now reversing very meaningfully around the globe
In China, we expect further fiscal accommodation to help increase growth





Rationale
The overall reversals of global fiscal policy deployed to fight Covid should also serve to tamp down inflation.



---
Housing

Convictions
US homebuilding recovered from its Covid-shutdown decline sooner and more substantially than any other sector of the economy
The homebuilding market is in for a major pullback as well as substantial home price declines

Rationale
Homebuilding is likely to contract further in the coming years, but we do not foresee a spate of foreclosures and underwater homes such as was experienced during the global financial crisis.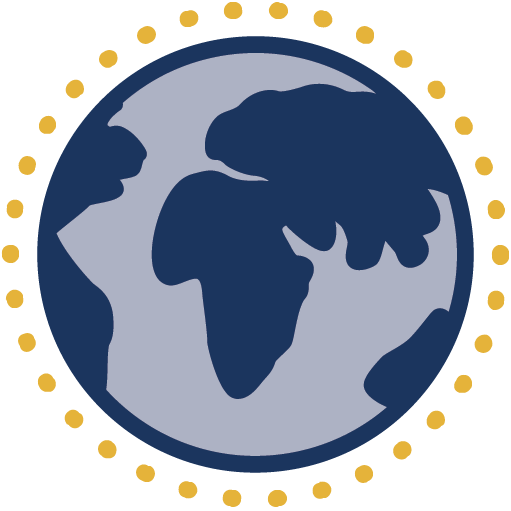 ---
Geopolitics
Convictions
The Russia/Ukraine conflict continues to pose massive geopolitical uncertainty
The cessation of Russian natural gas exports to Europe has forced eurozone energy prices substantially higher and will push into recession those eurozone countries with greater Russian energy dependence
Rationale
Any positive developments related to Russia/Ukraine, could be extremely beneficial to the investment outlook.
Our Inflation Outlook for 2H22 - 4Q Update
The persistence of elevated inflation we've seen this year cannot be fully understood by watching the headline Consumer Price Index (CPI) inflation numbers alone, and even "core" subsets require further scrutiny. Here we provide additional analysis—specifically, for the primary inflation components of Goods, Housing and Services—to better understand the inflation situation today and the outlook ahead.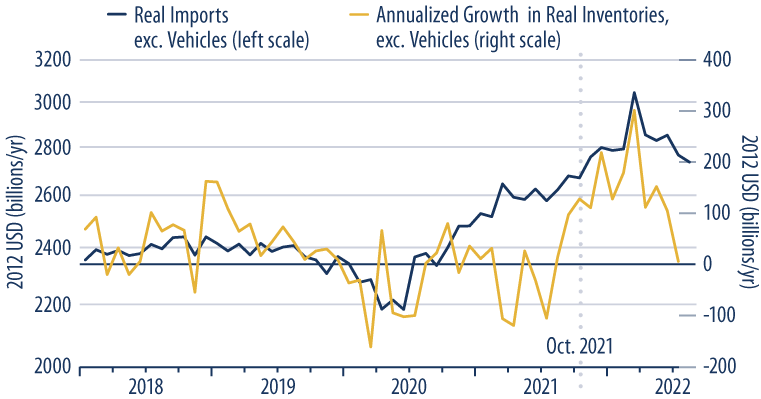 Goods Inflation Finally Trending Downward
The unsnarling of supply chains was set to help alleviate the 2020-2021 run-up in goods prices, both imported consumer goods and cars—where the focus at first was on the chip shortage though it appears to be in other components, too. While we had a false dawn earlier this year, it is clear that congestion at ports is now lower, inventories have grown at both the wholesale and retail levels, and prices of raw commodities today are well off their peaks. Finished goods prices are now also starting to fall, although not as fast as we were previously expecting. We see this most clearly in the prices of household durable goods such as furnishings and appliances and also in the prices of used cars, and maybe even in new cars. In fact, with US imports rising sharply in the months after October 2021, merchants' inventories did expand dramatically in 4Q21 and 1Q22, and supply backlogs have steadily waned over the course of this year. Only recently have goods prices begun to subside noticeably, but this process is, finally, underway. Exhibit 1 shows both the surge in imports and resulting surge in inventories from November 2021 through March 2022, and subsidence in both since 2Q22 and after.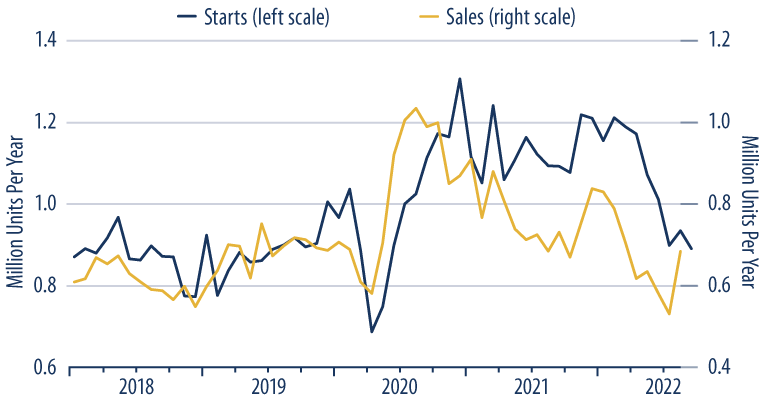 Home Prices Poised for a Major Pullback
At this point, virtually everyone agrees that US homebuilding activity is set to fall further, and there is no doubt that sharply higher mortgage interest rates are part of the story. What we would contend is that the homebuilding market was headed for a substantial pullback even before mortgage rates began to rise. Homebuilding recovered from its Covid-shutdown decline sooner and more substantially than any other sector of the economy. As you can see in Exhibit 2, by late-2020, single-family housing starts had risen to levels 35% above those prevailing prior to the pandemic, and the breadth of the post-shutdown rise in starts swamped the plunge that occurred during the shutdown.
Granted, as has been widely reported already, the technical lags in Labor Department data collection imply that falling home prices and rents will not be reflected in consumer price inflation numbers for several months yet. However, precisely because these reporting lags are so well-known, it is likely that both financial market pricing and Fed policy deliberations will react to "on the ground" home pricing news, even if that news will not be reflected in official inflation measures for some time yet.
The Case for Slowing Services Inflation
Presently, it appears that services inflation is still rising. One of our claims about observed price increases in 2021 was that much of the reported inflation then was really just a reversal of deflation seen during the Covid shutdown. Whatever relevance that assertion had in mid- to late-2021, it has been disparaged by this year's experience, as services inflation has flared up even as goods inflation has subsided and even though various service sectors are substantially underutilized relative to pre-Covid trends.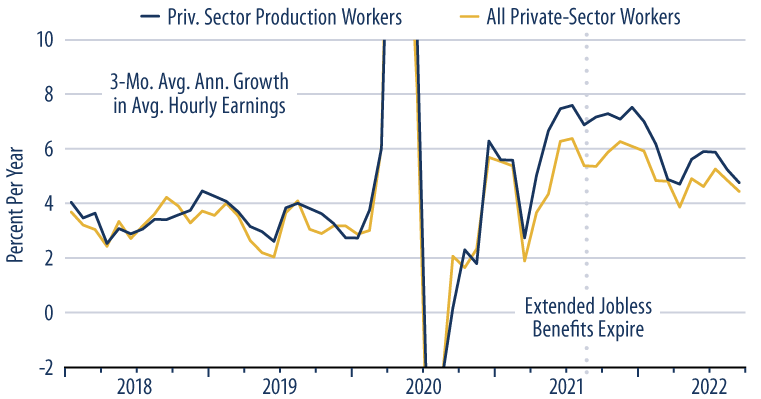 However, our view that services inflation is slowing down revolves around the decline in real incomes over the last 10 months (Exhibit 3), the consequent deceleration in growth of real consumer spending on services, and, perhaps, the tightening actions the Fed has undergone in recent months. Any such progress toward moderating services inflation will be a tug-of-war between the slowing factors mentioned here and the momentum arising from recent services price increase and past wage increases.
The Path Forward
Inflation has proceeded faster and for longer than we anticipated, and the damage to fixed-income investment has been commensurate. However, we believe a falling-inflation scenario is still at play—one that would provide some comfort and respite to bond investors. Whether you focus on demand and supply as the driver of prices, or on interest rates, or on the money stock as a measure of Fed policy, all of these indicators point to a substantial moderation of inflation in the near future. Furthermore, looking at economic conditions "on the ground" today, pricing in the goods and housing sectors is already moderating. Bond yields are also now at very attractive levels—the 10-year UST is at its highest rate since 2008. Given these factors and current market pricing, the priority for us over the next 12 months is to position portfolios to best maintain our current yield advantage relative to benchmarks.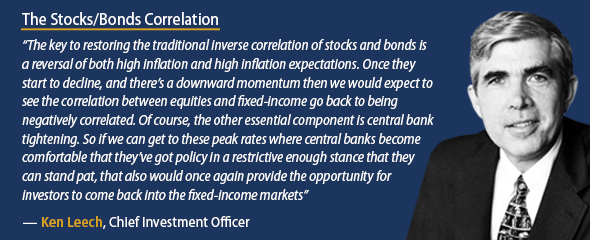 4Q22 Market & Strategy Update Webcast
Ken Leech discusses the latest developments related to US inflation, the Fed's rate hiking path, the Firm's outlook for global growth and more.