Following up on our blog post about the impact of COVID-19 on inflation, this post takes stock of our current inflation views and how market pricing has evolved.
Goods Supply/Demand Mismatch
The temporal goods supply/demand mismatch that we highlighted previously is likely at or close to its zenith. This has been at its most extreme in price terms in the US auto sector (Exhibit 1), but it is a much broader global issue. At the start of the crisis, prices for used vehicles fell moderately in part because car rental companies were flooding the market as they slashed their fleets whereas demand fell due to the lockdown restrictions in place. As the first COVID-19 wave passed and economies lightened restrictions last summer, demand returned strongly as many people were unwilling to use public transport, or required cars after having moved from city centres to suburban areas. Mobility—and demand for it—was limited again by the tighter restrictions put in place to combat second and third waves of Covid cases in late 2020. The recent reopening on the back of a rapid vaccination rollout saw demand return swiftly. Car rental companies found it difficult to quickly rebuild inventories from manufacturers due to chip shortages, and instead rebought in the used car market.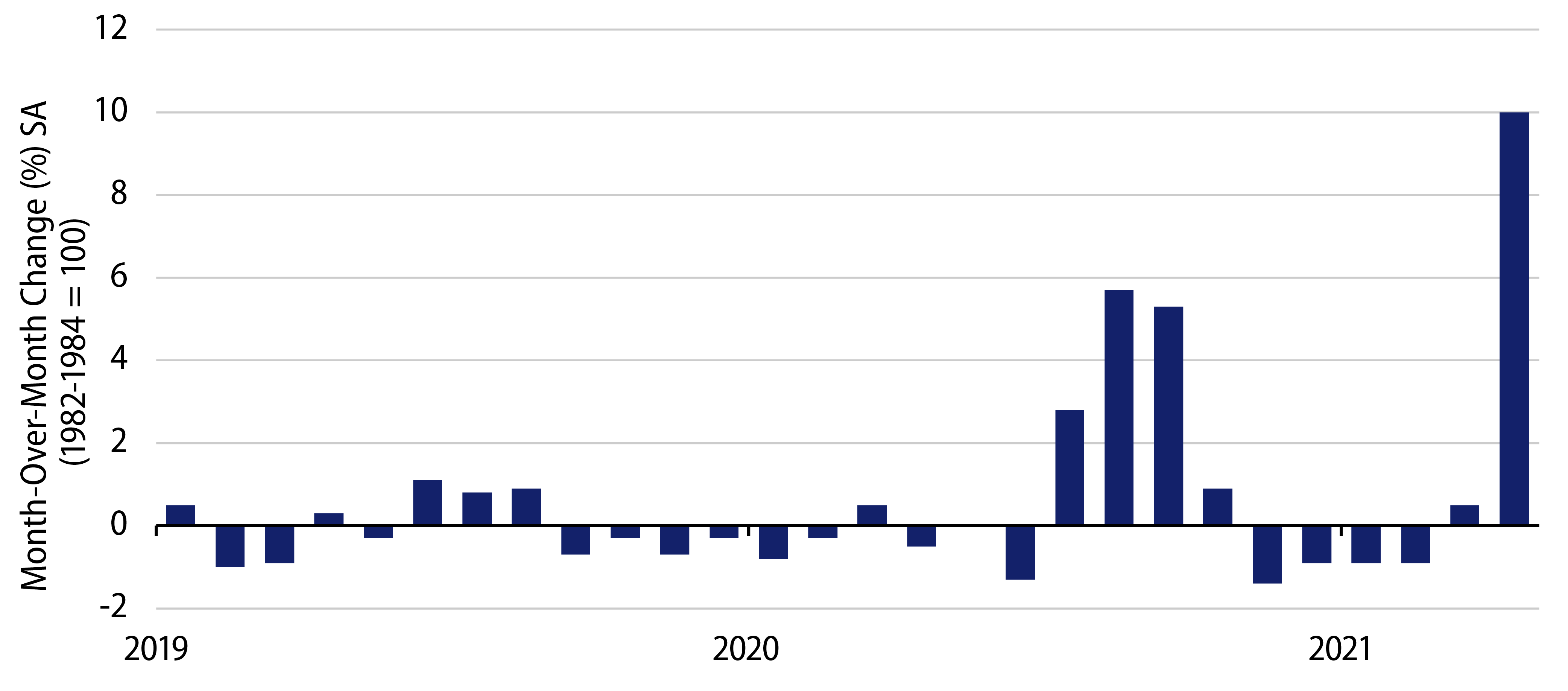 However, Exhibit 2 illustrates the supply side of the equation and here we believe that China's experience with Covid (first in/first out) gives us confidence that supply will gradually be rebuilt in the US and Europe. Purchasers of new cars have a stronger incentive to sell their older vehicles given the relatively smaller price differential, and this should help calm the frictional inflation wrought by COVID-19.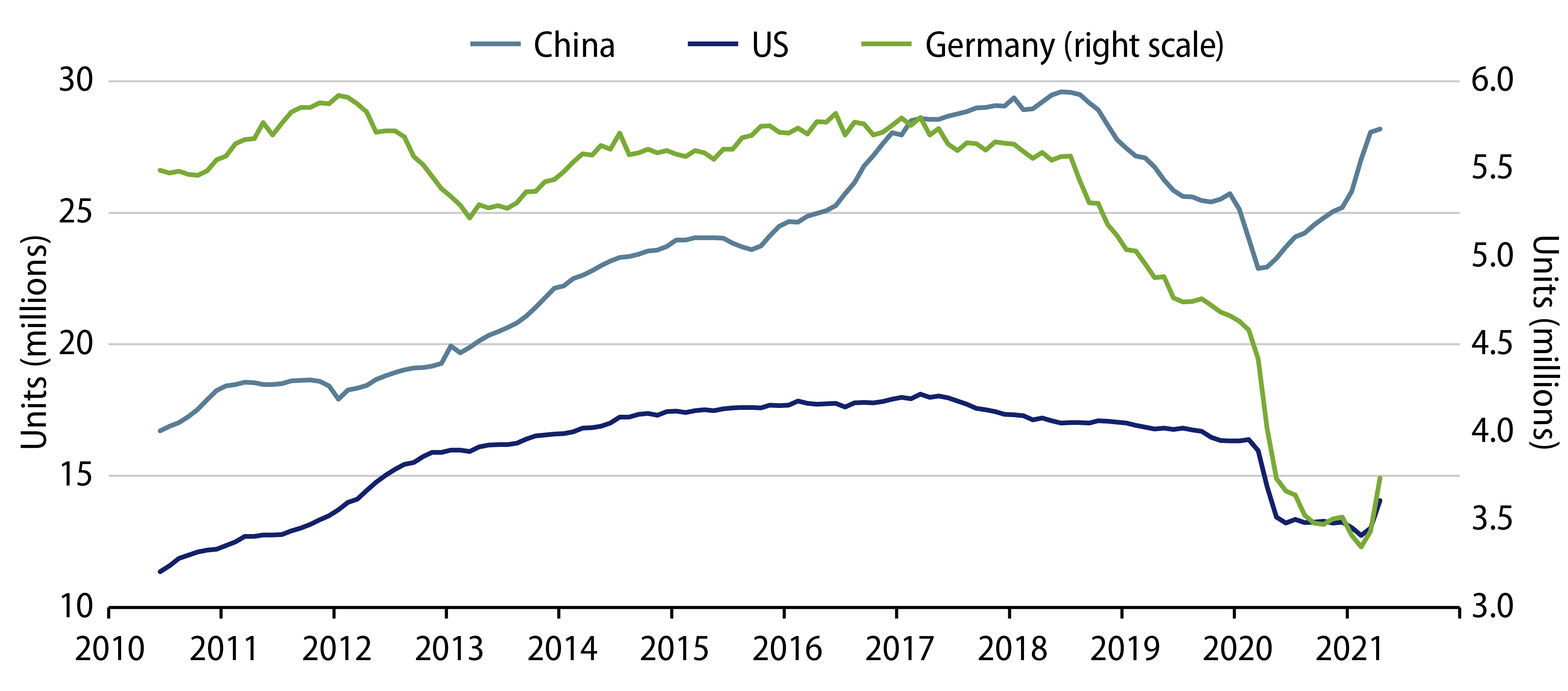 With distinct demand and supply dynamics, it is very hard to see how high the peak in inflation in the used car market will be, but that peak is now very close and supply is catching up. Relative to our expectations when we last wrote, the upside from the supply demand mismatch has been greater and potentially could be slower to reduce. But we do not see this as a persistent new upside to inflation. More broadly as consumption swings back from goods to services, those areas which saw increased work-from-home price pressure should begin to retrace. We've seen this in recent inflation prints in the UK and would expect this in other regions going forward as global reopening trends continue. Come the summer in the US used car prices likely will be detracting from headline inflation.
Commodities, China PPI and Global Goods Pricing
The sharp rise in commodity prices has garnered much attention recently. As Exhibit 3 shows, this has pushed Chinese Producer Price Index (PPI) levels close to the previous cycle highs in 2010 and 2017, and is strongly linked to the rising input prices that we see in many Purchasing Managers' Index (PMI) surveys globally. Again, we do not know how much further commodity prices have to run, but we suspect again that we are closer to the end of this move and have confidence that stability is more likely than prices doubling again. In 2010 and 2011, as the global economy was recovering from the global financial crisis (GFC), both Chinese PPI and global input prices remained elevated. While this did push up advanced economies' core inflation levels, the scale was modest and it did not prove persistent. A strong pass-through requires Chinese manufacturers being able to achieve higher foreign import prices and those companies then need the pricing power to push domestic prices higher to offset their rising cost bases. In the past, either one or both of these links have been weak. Little suggests that this has persistently changed.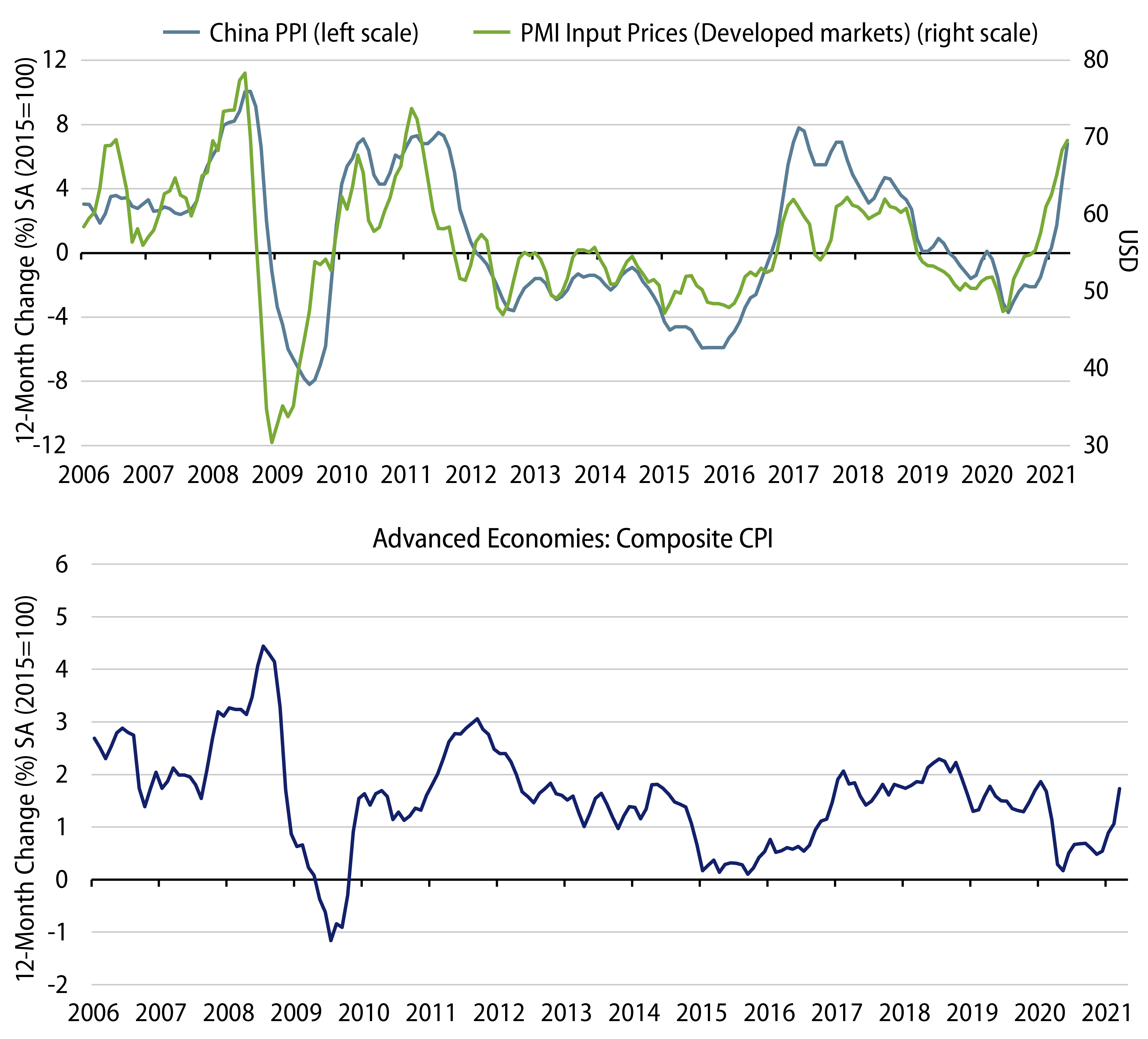 Services
As vaccinations allow economies to reopen we need to look closely at the trajectory for service prices. Initially the first phase will be a sharp catch-up to pre-Covid price levels. The last US Consumer Price Index (CPI) print saw strong rebounds in hotels and airfares. We expect this to happen globally over the next couple of months. Thereafter, it turns more into a question of potential supply/demand mismatches, akin to the good sectors. This will likely be the case at first as people rush out to get haircuts, visit stores and cinemas, and eat in restaurants. In most instances (think restaurants) supply capacity has been reduced by social distancing restrictions. So we think it is likely that a lower-beta hump similar to what we have seen in goods prices also shows up in services prices in the second half of 2021.
Inflation Markets
Inflation markets have recovered quickly from the lows of March 2020 when US markets priced annual inflation of just 0.20% over the next five years to today's pricing of around 2.6%. Exhibit 4 shows the rolling 5-year historic US CPI: A similar value was reached in the run-up to the GFC and, before then, in the mid-1990s. We agree that over the next 12 months inflation will be high, and we do not know yet how high. But the market is pricing a consistently high inflation rate over the next five years, not a hump followed by a return to a pre-Covid inflation rate. The modest reaction from inflation markets to the large upside print in US inflation also indicates to us that market pricing is on the rich side currently.