New orders for durable goods declined 17.2% in April, following a 16.6% decline in March. Of course, the motor vehicle industry shut down completely in mid-March. Excluding transportation equipment, durable goods orders dropped a more modest 7.4% in April, following a decline of "only" 1.7% in March (previously estimated as down 0.4%). Focusing on capital goods, new orders for capital goods other than aircraft declined 5.8% in April, coming off a 1.1% decline in March (previously estimated as down 0.1%).
When analyzing the durable goods data last month, we commented that outside of motor vehicles, durable goods manufacturing showed no signs of virus-related shutdown, at least not in the orders and shipments data. While March industrial production data showed sharp declines in manufacturing output across the board, the factory orders and shipments data—apart from motor vehicles—showed March activity right in line with preceding months.
Well, the April release has righted that score. As you can see in the accompanying chart, capital goods orders through April show declines much more severe than any of the "normal" ups and downs exhibited by this series over the last few years. (And durable goods orders excluding transportation equipment have declined similarly). This is not a surprise. The surprise is how moderate the March declines were.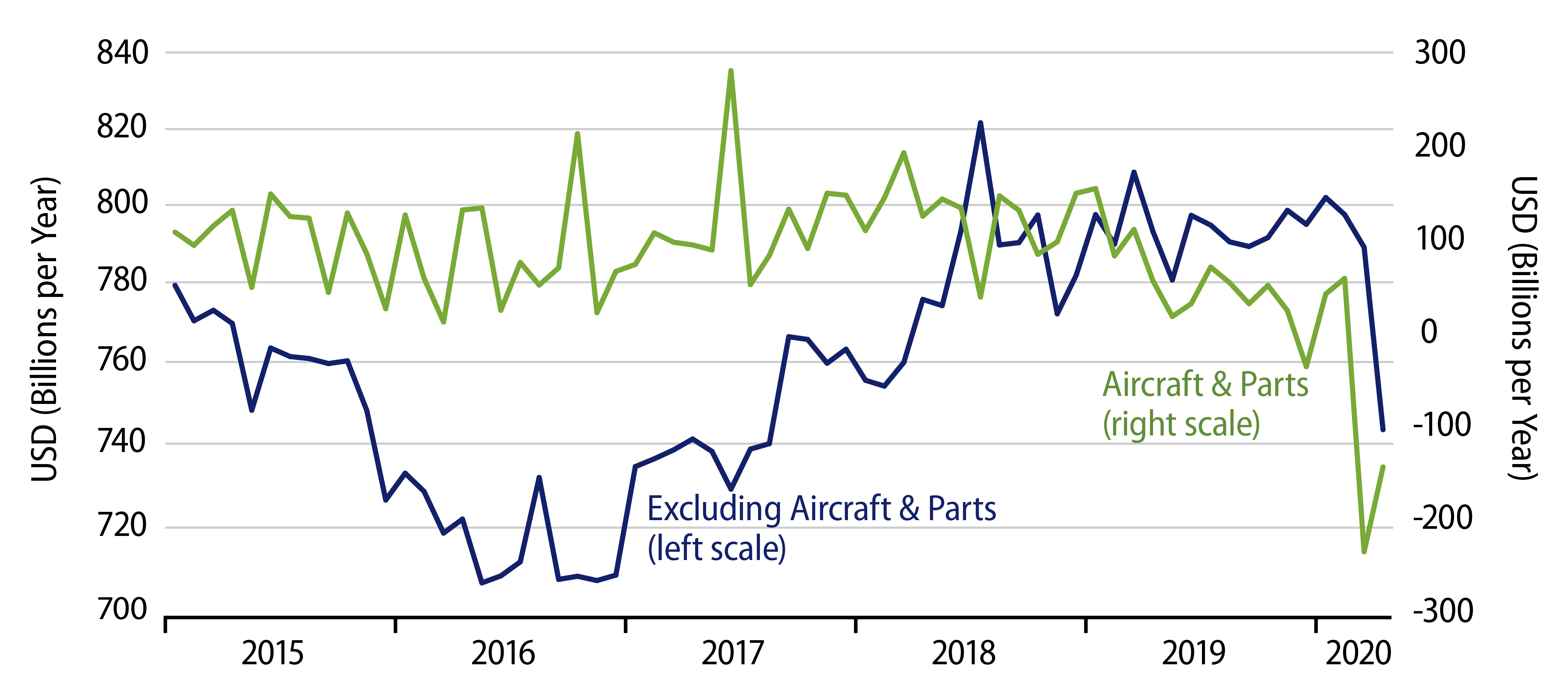 Similarly, it is worth emphasizing that as sharp as the declines through April look for various factory activity measures, they are still milder than what we are seeing in other indicators. The March/April declines in payroll jobs erased 10 years' worth of gains. Ditto for retail sales. For capital goods, in contrast, we are "merely" back to 2017 levels through April.
Of course, it is not a sure thing that we have hit bottom in manufacturing, but in our view we are close. We also believe that the shutdown-hits to manufacturing will continue to be milder than to some service sectors, and that the post-shutdown rebound in manufacturing will be quicker and stronger than those in services.
Manufacturing is not as seriously affected by social distancing guidelines as personal contact service providers such as airlines, hotels, restaurants and sports venues. Similarly, more of manufacturing falls under the "essential services" category than do these leisure-oriented service sectors. Finally, again, outside of the special cases of motor vehicles, and aircraft (which was already reeling before the onset of COVID), the shutdown-hits to manufacturing have indeed been much milder than those seen elsewhere.
In summary, today's durable goods release confirms that the shutdown has indeed affected manufacturing in general. Still, the carnage there is considerably milder than that seen elsewhere. The same can be said of the housing sector. We look for manufacturing and homebuilding to lead the economy out of darkness in the months to come.