Municipals Posted Positive Returns During the Week
The AAA muni yield curve steepened for the second consecutive week, moving 3 bps lower in 5-years and 1 bp higher in 30-years. US munis underperformed Treasuries in short and long maturities, sending ratios modestly higher. The Bloomberg Barclays Municipal Index returned 0.09%, while the HY Muni Index returned 0.22%. This week we highlight the tentative deal struck by Puerto Rico and large insurers of outstanding general obligation (GO) and public authority debt.
Fund Flows Continue to Drive Strong Technicals
Fund Flows: During the week ending July 21, municipal mutual funds recorded $1.7 billion of net inflows. Long-term funds recorded $1.1 billion of inflows, high-yield funds recorded $579 million of inflows and intermediate funds recorded $132 million of inflows. Municipal mutual funds have now recorded inflows 61 of the last 62 weeks, extending the record inflow cycle to $130 billion, with year-to-date (YTD) net inflows also maintaining a record pace of $68 billion.
Supply: The muni market recorded $11 billion of new-issue volume during the week, in line with the prior week. Total issuance YTD of $253 billion is 11% higher from last year's levels, with tax-exempt issuance trending 17% higher year-over-year (YoY) and taxable issuance trending 6% lower YoY. This week's new-issue calendar is expected to decline 37% to $6.9 billion of new issuance. The largest deals include $334 million King County, Washington GO and $298 million City of Philadelphia GO transactions.
This Week in Munis: Puerto Rico Pact
Earlier this month, Puerto Rico struck a tentative agreement with bond insurers Ambac Assurance and Financial Guaranty Insurance Company (FGIC), two of the remaining opponents of the island's debt restructuring plan. The pending agreement brings the island closer to a conclusion of the four-year, $71 billion debt restructuring process that amassed over $1 billion in legal fees.
The tentative deal includes increasing cash payouts to unsecured creditors to $575 million from $125 million during 2021-2025, according to Reuters. The deal also includes increasing contributions to its medical plan, additional accrual of employee benefits and a $3,000 one-time payment to garner the support of the teacher's union.
If finalized, the government of Puerto Rico would be the final opposing party of the Financial Oversight and Management Board's (FOMB) debt restructuring plan, and the government has been steadfast to not impair employee benefits, a key component of the agreement. The government's support is important given that legislation and new bond issuance would be required to finalize the deal. If the government does not agree, the FOMB can seek court approval to issue bonds on the commonwealth's behalf, but complicating legal factors, such as the tax-exempt status of court-issued debt and the potential for investor resistance to a court-ordered issue, could prove daunting.
Since the restructuring process began, the Puerto Rican economy and fiscal profile have been steadily improving. The commonwealth's unemployment rate has declined from 15% in 2013 to 8.2% in May 2021. Improved cash balances have been further supported by robust federal aid, including $2.5 billion in federal funds from the American Rescue Plan, additional increased Medicaid and expanded earned income and child tax credit funding, as well as additional direct aid for municipalities, universities and transportation providers.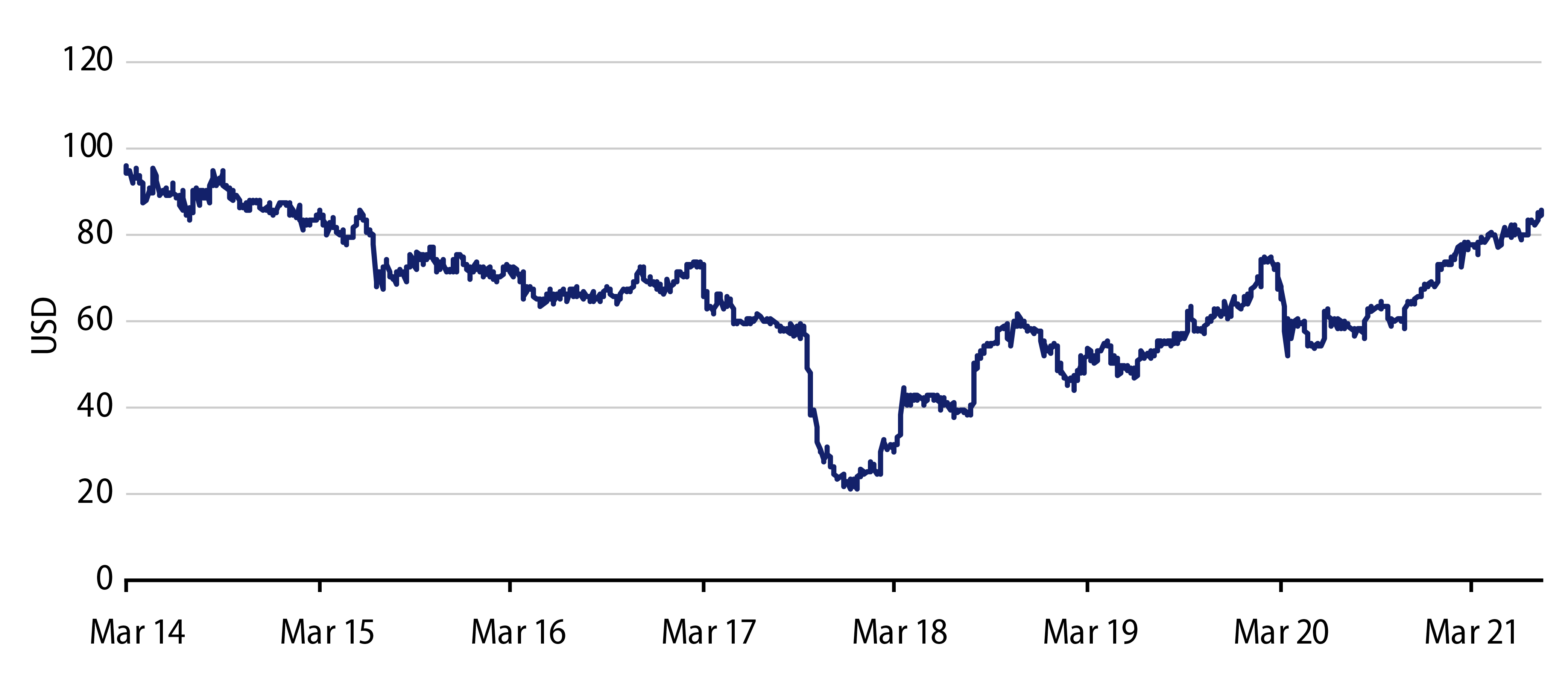 Prior to and throughout the restructuring process, Western Asset has remained very selective on Puerto Rico domiciled debt. We have preferred select revenue-backed liens that we believe emerged from effective bankruptcy with stronger bondholder protections than held prior to the restructuring, in our view, limiting the likelihood of future impairment. Meanwhile, we anticipated GO debt would remain challenged by the opposing forces of large bond insurer stakeholders and the government, as well as additional potential unknown headwinds that could further undermine recoveries for unsettled liens. A successful restructuring of unsustainable debt loads should be supportive of Puerto Rico's fiscal and economic prospects and be welcomed by municipal market participants. However, current valuations, as well as forward-looking technical dynamics demand higher scrutiny as the Puerto Rico complex would be slated to comprise an outsized share of the high-yield index upon debt payment resumption.