Headline CPI inflation held more or less steady in October, with a 0.4% increase, much the same as in September, although the monthly increases annualize to 4.7% and 5.4% per year for September and October, respectively. The slight increase in annualized headline inflation was more than all else due to a bounce in gasoline prices after three months of sharp declines there.
More closely watched by the markets is "core inflation," inflation for consumer items other than food and energy. Core inflation slowed noticeably in October, posting a 0.3% increase (3.3% annualized) after September's rise of 0.6% (7.1% annualized). Both goods and services prices moderated in October. In fact, core goods prices actually declined, posting a -0.4% change (-4.5% annualized), after no change (0.2% annualized) in September.
The decline in core goods prices is something we had been expecting. We thought that the goods price increases seen in late-2021 and early-2022 mostly reflected congestion at LA ports late last year, so that as that congestion eased, goods prices would peak then reverse some or most of their congestion-driven increases. Goods price inflation has been easing over most of 2022, and our hope and expectation is that the widespread goods price declines seen in October are a taste of what is to come in the months ahead.
Not included in core inflation but continuing the theme of declining goods prices, prices of meats and fresh fruits and vegetables declined in October. Overall, food price inflation moderated somewhat from 0.8% (9.8% annualized) in September to 0.6% (7.5% annualized) in October.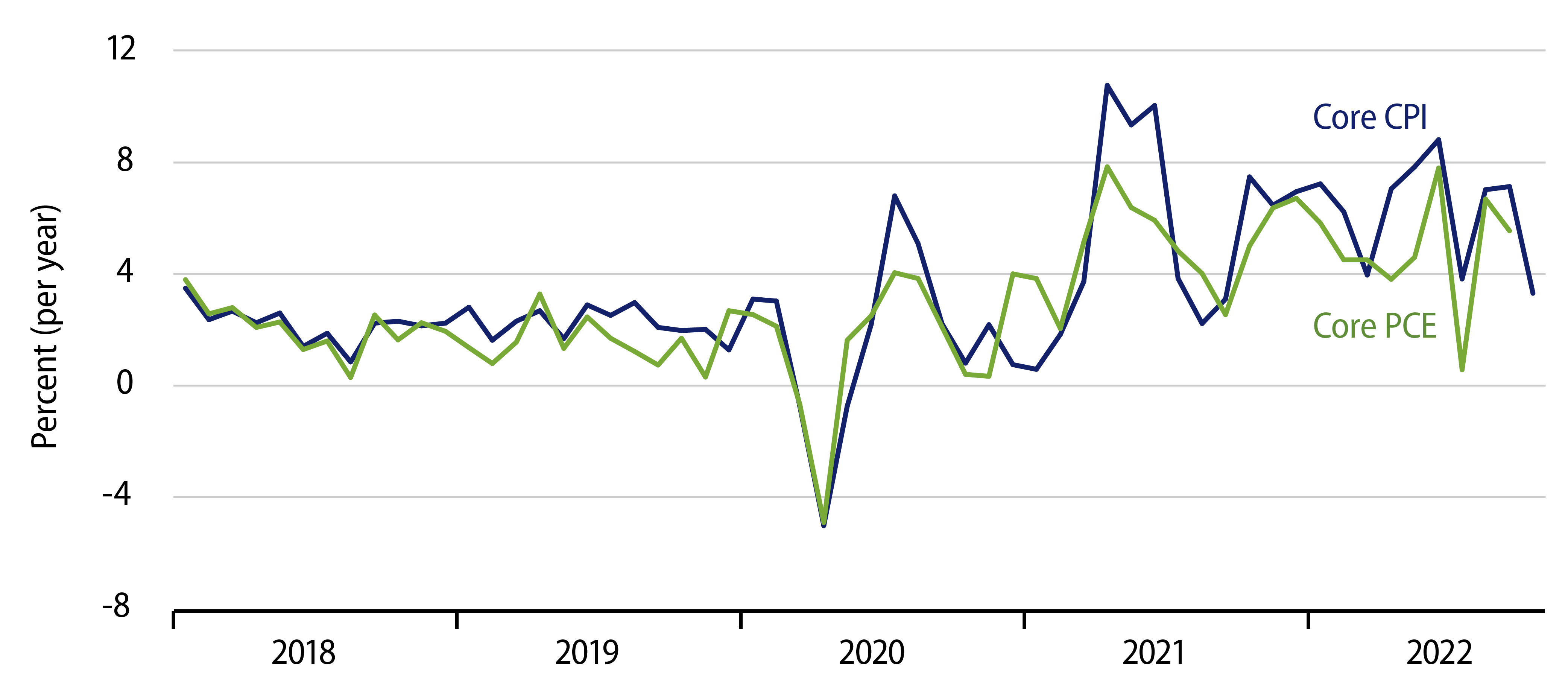 Prices for food services (e.g., restaurants) did NOT moderate in October, registering a 0.9% gain (11.9% annualized) in October, the same as in September. Continuing that theme, the moderation in "core" services inflation in October was also much milder—and less reassuring—than that for goods. Core services registered a 0.5% increase (6.3% annualized) in October, down from 0.8% (9.9% annualized) in September.
Much expected was a sharp decline in health insurance costs, from +2.1% in September to -4.0% in October. Apparently, the Bureau of Labor Statistics measures health care costs in terms of insurers' profits. Profits were up for most of 2020/2021 and down for most of 2021/2022, resulting in high health insurance inflation for the 12 months through September and likely substantially negative prints for October and the months to come.
Similar "technical" factors worked to hold UP inflation for renters' and homeowners' shelter costs. These rose 0.7% and 0.6%, respectively, in October (8.7% and 7.7% annualized), despite widespread reports of falling home prices and rents "on the ground."
In other service sectors, price performance was scattered, with some slowing markedly, others not. Overall, again, core services inflation fell only slightly in October, and more moderation there is necessary before anyone can declare victory over inflation. Still, while we have a ways to go, the October CPI data were an encouraging step toward price stability or even a reversal of the inflation of the past year.