The Census Bureau this morning released estimates of July activity in durable goods manufacturing. These estimates indicated that the sector continued to recover from the COVID shutdown in July. Total durables orders jumped a whopping 11.2% in July, with a large 1.1% upward revision to the June estimate.
True, the size of this decline was boosted by large "increases" in orders for aircraft and vehicles. Still, even net of transportation equipment, durables orders rose a nice 2.4% in July on top of a 0.4% revision to June. Those gains left July non-transportation durables just 1% below their pre-COVID February levels, after this metric had been down 10% from February levels through April.
An important metric within durables orders is orders for capital goods other than aircraft. These orders rose 1.9% in July on top of a 0.8% upward revision to June. This metric through July stood just 0.5% below February levels, after having been down 7.8% from February through April. As you can see in the chart (blue line), basic CAPEX orders have rebounded steadily and sharply over the last three months.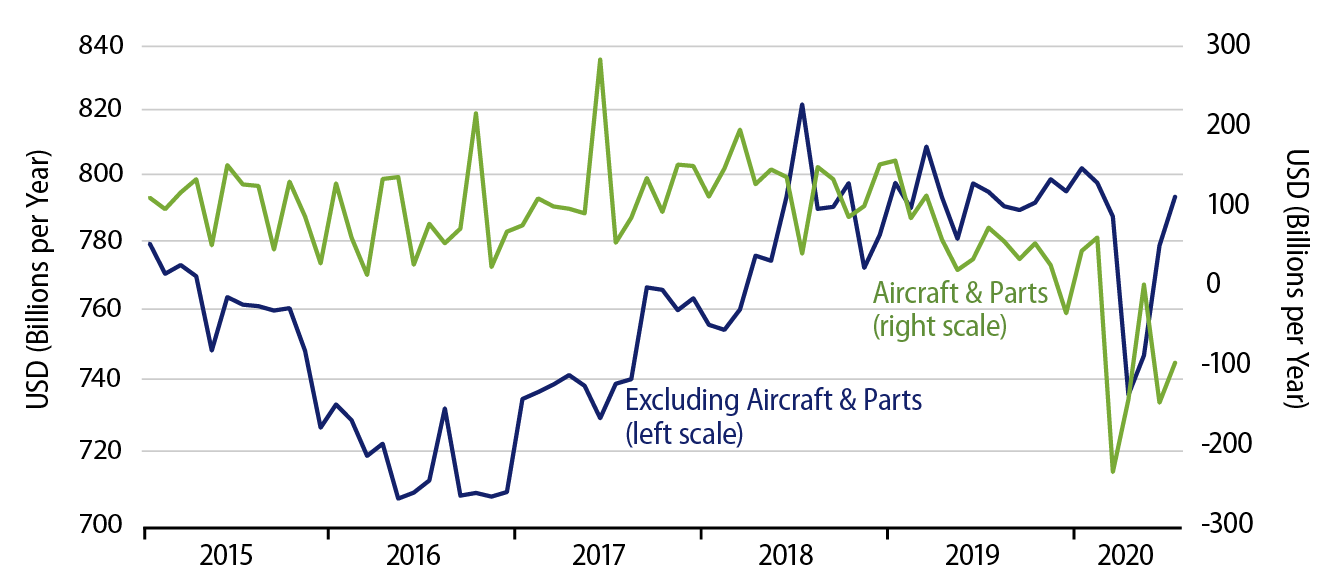 That 0.5% by which they fall short of February levels is within the margin for measurement error for this series, and generally, the July level looks on par with prevailing levels of the last 18 months. Six months ago, we were lamenting that CAPEX orders had failed to sustain any increases in late 2018 and 2019. Presently, we are relieved by the fact that they have recouped essentially all their COVID-related declines.
Now, the recovery in durables in general and in CAPEX in particular is not uniform across sectors. High-tech sectors are well above February activity levels, while low-tech are still noticeably below, but both have bounced nicely in recent months.
Meanwhile, we put quotation marks around "increases" with regard to aircraft orders, because the July levels were still substantially negative, just not so much as in June (green line in chart). Negative orders means that aircraft buyers are still cancelling past orders faster than they are completing new ones. Clearly, the troubles in aircraft reflect troubles in those service sectors suffering the ravages of social distancing and anti-COVID protocols (as well as the almost-forgotten 737 MAX issues).
As we've said repeatedly, ongoing strictures on travel, accommodations, entertainment, and food services will prevent the recovery from becoming complete across the economy. However, in the sectors not harshly affected by remaining shutdowns/fears, recovery has been dramatic and, in most cases, complete. For these latter sectors, more government stimulus isn't needed. For the former, still-ravaged sectors, further government stimulus won't help.