Retail sales rose 1.9% in September, extending a string of strong gains. In the five months since their shutdown-induced April low, retail sales have risen 33.1% and now stand 4.2% above pre-shutdown levels.
For 3Q as a whole, retail sales grew at a 66.6% annualized rate, following a 25.5% annualized rate of decline in 2Q. It is on this quarter-over-quarter annualized rate basis that GDP growth is reckoned, and the resurgence in retail activity is a major reason that real GDP is likely to show a 3Q growth rate in excess of 30%. To be sure, even 30% to 35% GDP growth in 3Q will not fully offset the declines seen in 1Q and 2Q, but it is nevertheless a much stronger rebound than analysts were even hoping for just five months ago.
Wall Street focuses on a retail sales measure that excludes vehicle dealers, gas stations, building materials and restaurants, partly because these sectors are quite volatile and partly because businesses shop at these stores nearly as much as households, and the intent is to focus on consumer spending.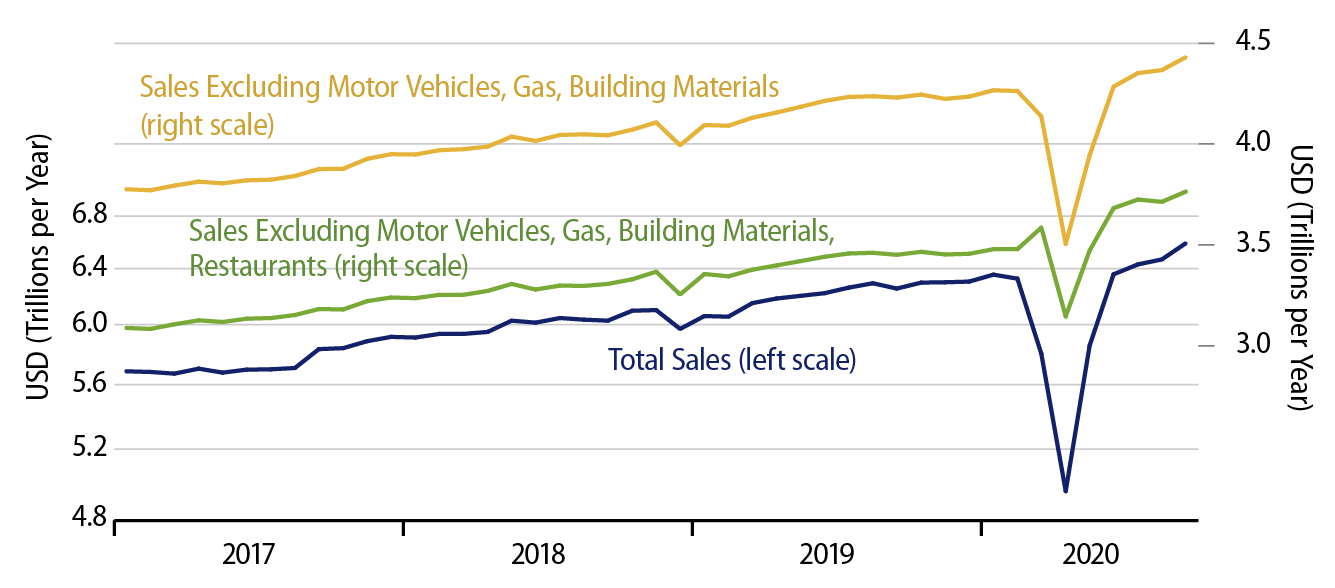 For this "control" measure (green line in chart), sales rose 1.5% in September. They have increased 19.7% over the last five months and stand 8.2% above pre-shutdown levels. For 3Q as a whole, they show a 39.9% annualized rate of growth, following a 9.0% decline in 2Q.
Of the 12 major retail components we track, September showed sales gains for all of them except electronics stores, and even there, the 1.6% decline in September followed a 103.6% cumulative gain over the previous four months. In fact, we were expecting modest fall declines in a few sectors, and, so far, electronics is the only one to show such.
That is, some of the above-February sales levels we've been seeing in recent months reflect pent-up demand from consumers who were not able to get to the stores in March and April because of shutdowns. We thought such pent-up demand would drive sales way above pre-shutdown levels in the late summer and fall, after which sales would decline to more sustainable levels reflective of "underlying" demand. Again, so far, such a "return to normalcy" has surfaced only at electronics stores.
Nature versus nurture? A debate among economists is whether the March-April recession was caused by government-mandated shutdowns or whether recession would have occurred anyway, merely due to consumer and business fears about maintaining business as usual. Our own inclinations tend to the former explanation, and we find support for it in the sharp rebound that retail sales have exhibited since stores reopened in May—and despite continued Covid case numbers and continued alarmist stories in the media.