Today's retail sales data were very much a mixed bag, though it doesn't seem the markets are paying much attention given the ongoing woes of the financial system. Headline sales declined 0.4% in February, though the January sales estimate was revised upward by 0.5%. For the "control" sales aggregate, however, sales rose 0.5%, and there was a substantial, 1.0% upward revision to the January level. (The control sales measure excludes sales at vehicle dealers, building materials stores, service stations, and restaurants, mostly because these store types are frequented by businesses as much as by consumers, but also partly because of their short-term volatility.)
The control sales measure is plotted in the chart, both in nominal (dollar) terms and in real (inflation-adjusted) terms. Sales had softened a bit in November and December, but have rebounded in the first two months of 2023, so far.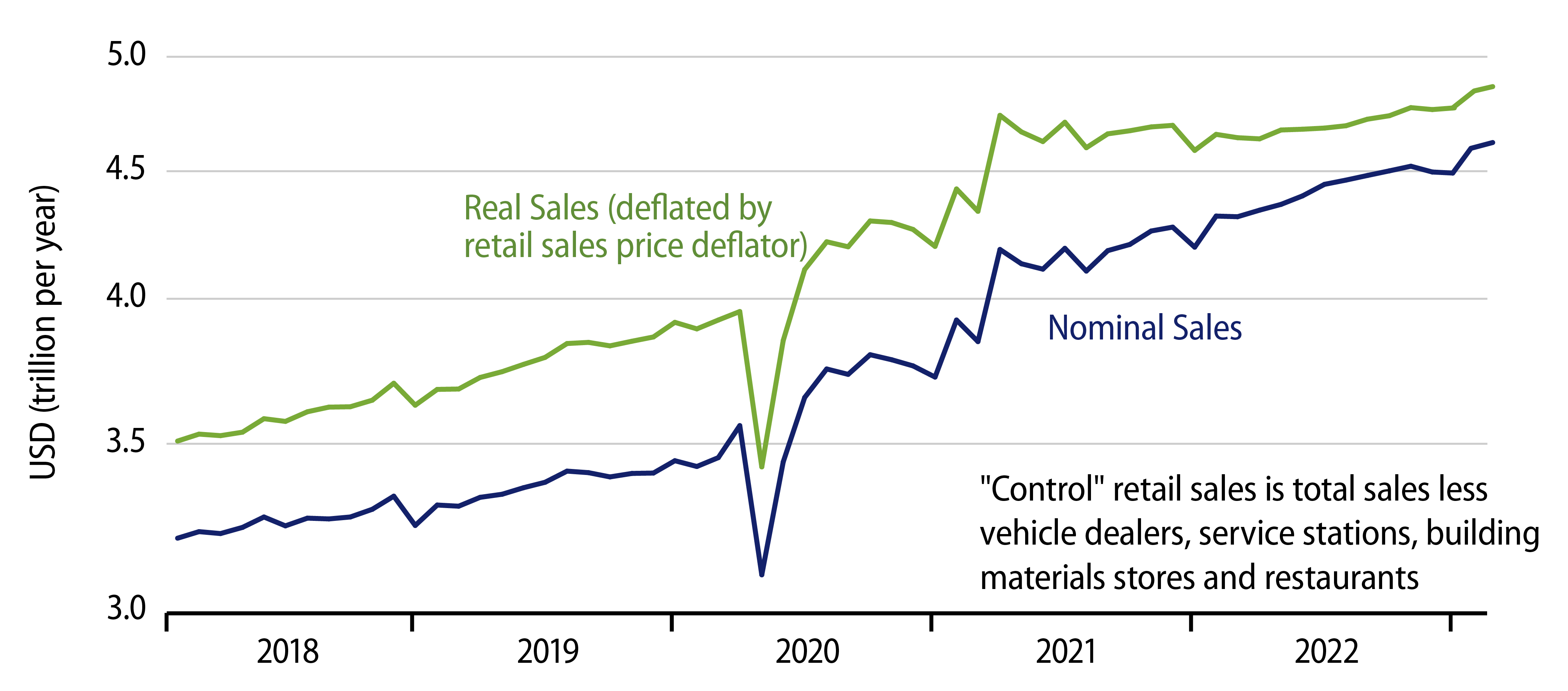 Our take a month ago was that the reported January gains reflected seasonal noise—that both shifting holiday spending patterns and relatively warmer weather in the Northeast in January meant less of a drop-off in sales in January than usual, which was then seasonally adjusted into an increase. Well, there clearly was no reversal of those January gains in February—quite the contrary.
We could throw out the usual excuses: February weather continued to be relatively warm, or the January and February gains were relatively small compared to increases in these months in previous years. However, those excuses are not going to be convincing until the data begin to confirm them. Generally, real retail sales and real consumer spending on goods have been declining for nearly two years, and we don't see anything in the income or consumer sentiment data that would point to a sudden upturn in spending. However, for now, the data indicate a bounce anyway.
The sales data for individual store types were, again, a mixed bag. The headline measure was held down by February sales declines at vehicle dealers. Those came after a larger January gain, and, indeed vehicle sales look choppy and generally flat. Similarly, within the control group, sales have generally been flat lately at durable goods retailers and grocery stores, and a large January gain in restaurant sales was substantially reversed in February.
However, control sales were lifted by noticeable gains at general merchandise (big box) stores and for nonstore (online) vendors. Online shopping would not seem to benefit from relatively warm winter weather, but the gains there do come on the heels of declines in November and December.
All in all, again, retail sales have shown more life lately than we had forecasted to be the case.