Retail sales rose strongly in March, with the headline sales statistic up 9.8% on top of a +0.3% revision to the February sales estimate. We and most Wall Street analysts track a "control" measure of retail sales that excludes vehicle dealers, building material stores, service stations and restaurants (these sectors being especially volatile and also exhibiting substantial patronage from businesses as well as consumers). That control measure was up 6.9% with a +0.1% revision to February, not as strong as the headline numbers, but still a very strong gain.
As you can see from the accompanying chart, control sales have been all over the place since September, showing declines in 4Q, a sharp gain in January, a sharp decline in February and then the strong March gains. The consensus story is that the weak months reflect the waning of government stimulus checks as well as February blizzards in Texas, while the strong gains reflect the mailing of stimulus checks and a March Texas thaw. Our own explanation leans more on volatile seasonal swings around this time of year (pre- and post-Christmas swings in sales) and the disruption of "normal" seasonal patterns by the Covid pandemic.
We'll stipulate for the record that no, even with full cognizance of the seasonal vagaries, we would not have predicted a 6.9% jump in March control sales nor the 9.8% rise in headline sales. Still, as you can see in the 12-month average shown in the chart (green line), averaging ups and downs together produces a relatively steady trend path. That is, neither the months of decline nor those of jump-back seriously disrupt the underlying trend path in place since most of the retail sector reopened in May 2020. So, we will continue to question whether retail activity has really been as erratic—and policy-driven—in recent months as the "raw" data suggest or whether what's really going on is merely an inability of government methods to accurately seasonally adjust the data in these volatile conditions.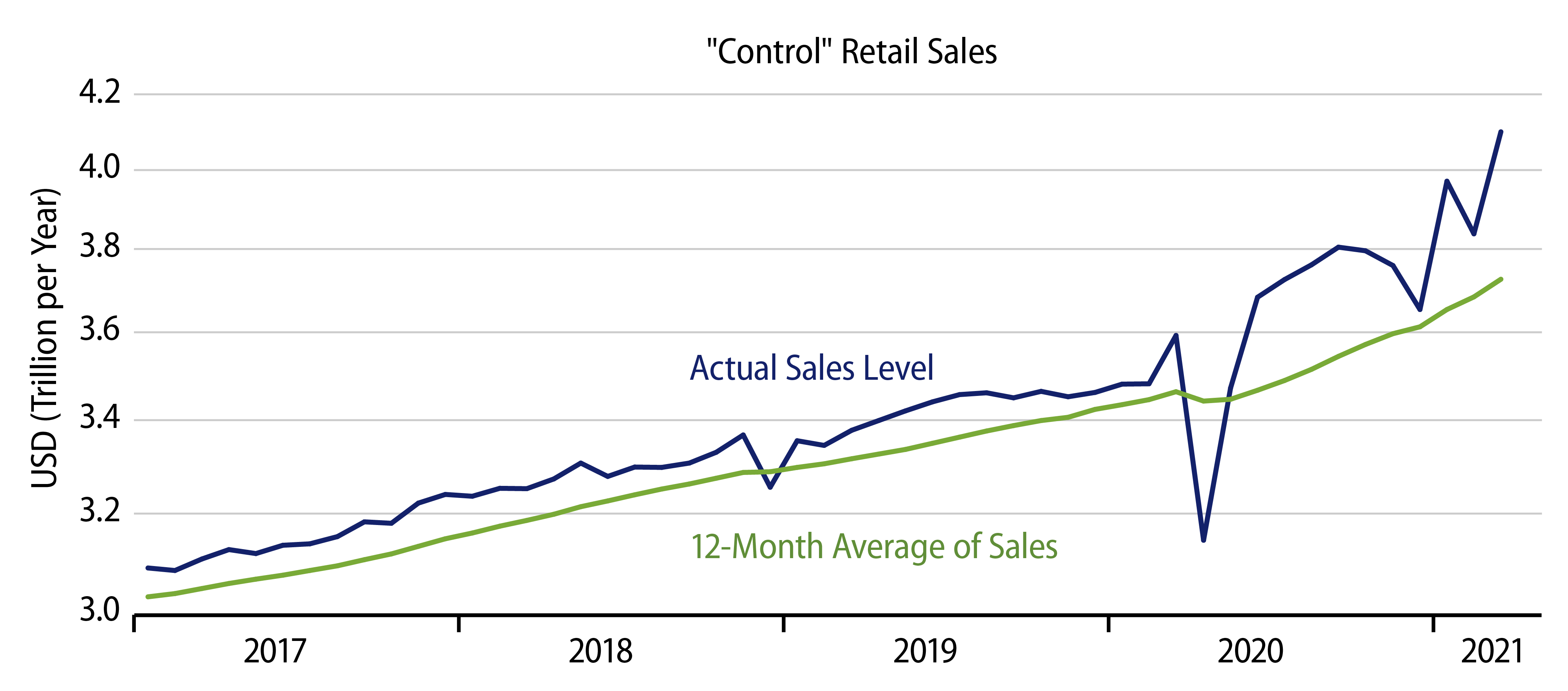 If our story is right, then sales volatility should decline in coming months, now that both Christmas and Easter holidays are behind us. We also would expect some slowing in sales growth—possibly even declines in reported sales—as stimulus checks are banked rather than spent and as sales levels return to more sustainable levels now that households have largely offset the abstinence imposed by last year's shutdown.
Within store types, car dealers and (reopening) restaurants led the way, with March sales gains of 15.5% and 13.3%, respectively (and these sectors also accounting for most of the revision to February headline data). Also registering especially strong gains were books and hobby stores, appliance stores, building materials stores, department stores and gas stations. Notably absent from the "up sharply" group were sales at online retailers, clothing stores and grocery stores. These last three sectors weren't weak in March, but neither were their gains as noteworthy as those of the other store types.