Private-sector nonfarm payrolls grew by 211,000 in December. This was below the 300,000 per month growth range we had expected to hold in late-2021 and even further below consensus estimates, which congregated around 400,000 or more. (Meanwhile, the ADP survey Wednesday showed job gains of 807,000.)
As confounding as this softer gain might seem in view of expectations, it is in line with the trends of recent months, which had shown slowing job growth since last spring. You can see this in the chart.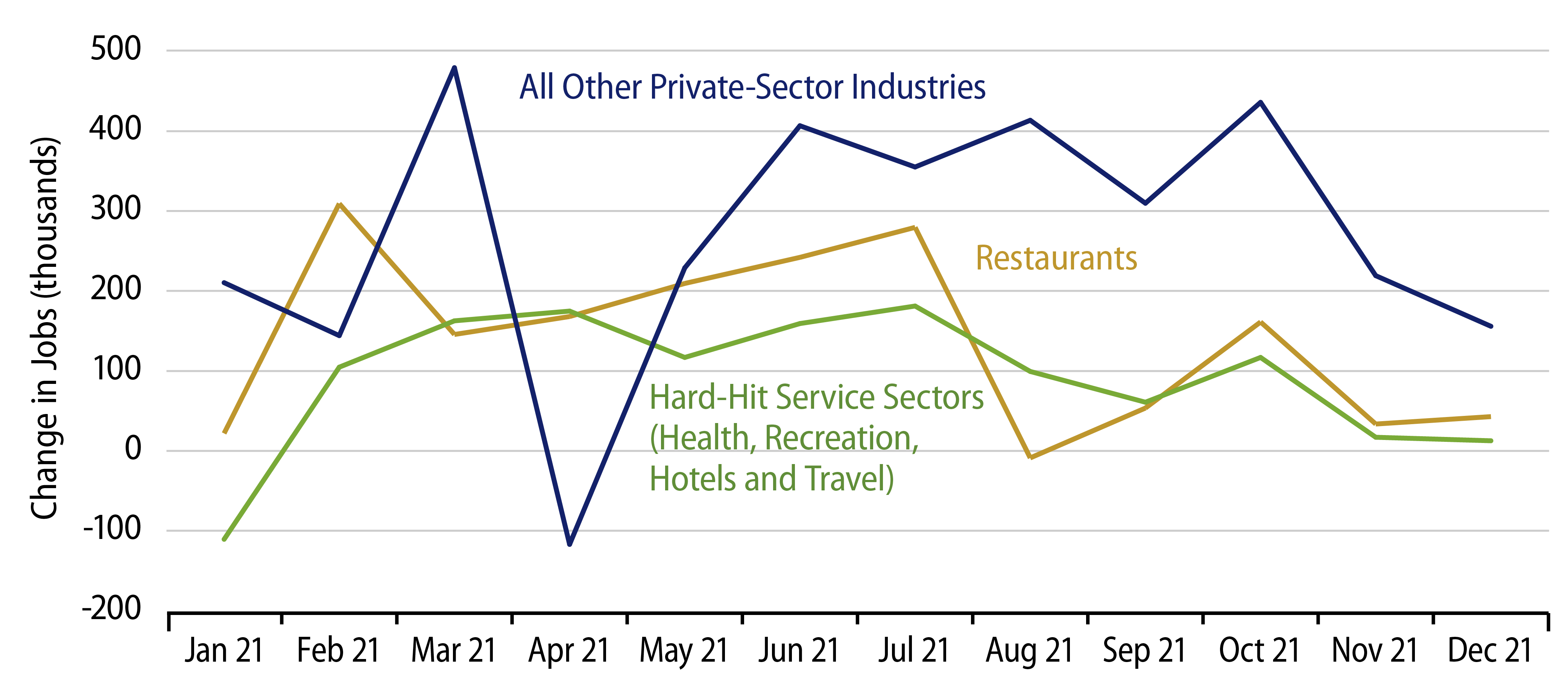 Restaurants had generated much of the stronger job growth early in 2021. By mid-year, however, both restaurant sales and payroll levels had nearly re-attained pre-Covid trends, this despite the lingering restraints restaurants were operating under. We thought restaurant sales and payrolls would top out at June/July levels, and this has indeed happened.
Meanwhile, the other service sectors hardest-hit by Covid restrictions also saw a brief surge in activity and payrolls early this year, as restrictions were eased. However, these sectors too topped out around July, as remaining restrictions and consumer fears inhibited further growth.
In the rest of the economy, recovery is complete—or more than complete in manufacturing and construction. These are seeing some further job growth, but nothing like what they experienced in late-2020.
In the remaining service sectors, employment levels are still way below pre-Covid trends, but even here job growth has recently slowed noticeably in the last two months. It is the slower growth in these sectors which has pulled the jobs gains of November and December below the 300,000 range we were expecting.
Perhaps the yet-slower growth in these "other" sectors in November and December will be followed by better gains in early-2022. Even if this happens, it would take the economy another two years to re-attain pre-Covid payroll job growth trends (at the 2021 average pace for these sectors). If these other sectors continue at the pace of the last two months, it will take much longer.
Meanwhile, we expect labor force growth to pick up further in months to come, now that extended unemployment benefits have expired and the holidays are behind us. If this happens and job growth remains 300,000 per month or less, unemployment will rise. We doubt this was reflected in the Fed's calculus when it discussed possible rate hikes last month, and we doubt that those hikes will in fact occur.