Municipals Posted Negative Returns Last Week
Municipals posted negative returns last week as high-grade municipal yields moved higher across the curve. Munis moved higher in sympathy with Treasuries, which moved higher on favorable economic data and volatility associated with the US federal debt ceiling challenges. Meanwhile, municipal fund outflows continued. The Bloomberg Municipal Index returned -1.18% during the week, the High-Yield Muni Index returned -1.23% and the Taxable Muni Index returned -1.85%. This week we highlight the IRS expansion of the Texas Permanent School Fund (PSF) guarantee program.
Fund Outflows Continue to Challenge Technicals
Fund Flows: During the week ending May 17, weekly reporting municipal mutual funds recorded $187 million of net outflows, according to Lipper. Long-term funds recorded $95 million of inflows, high-yield funds recorded $73 million of outflows and intermediate funds recorded $1 million of inflows. This week's outflows bring year-to-date (YTD) net outflows to $5.8 billion.
Supply: The muni market recorded $7.5 billion of new-issue volume last week. YTD issuance of $128 billion is down 18% year-over year (YoY), with tax-exempt issuance down 11% YoY and taxable issuance down 53% YoY. This week's calendar is expected to drop to $2.6 billion. Large transactions include $850 million South East Energy (Morgan Stanley Gas Prepay) and $674 million New Jersey Transportation Trust transactions.
This Week in Munis: IRS Expands Texas PSF Capacity
In February, we discussed how the Texas Permanent School Fund (PSF) had reached its $117 billion capacity limit and would be restricted in its ability to guarantee the state's school district bonds. Earlier this month, the Internal Revenue Service recalculated its capacity limit formula which expanded the PSF's capacity for the first time since 2009 to $218 billion. This is a significant victory for Texas school districts which faced potential higher borrowing costs due to the program's dwindling capacity.
The PSF bond guarantee allows Texas school district issuers to fund projects at favorable municipal borrowing rates, typically commensurate with a AAA rating. In the 10 years from 2013 to 2022, an average of 96% of Texas school district bonds were issued under the PSF guarantee. As a result of the capacity limit that was reached in January, in the first quarter of 2023, PSF-guaranteed issuance declined to 33% of total issuance and non-PSF guaranteed issuance spiked to over $4.4 billion. This one quarter of non-PSF issuance is approximately equal to the cumulative amount of non-guaranteed debt that Texas school districts issued between 2010 and 2022.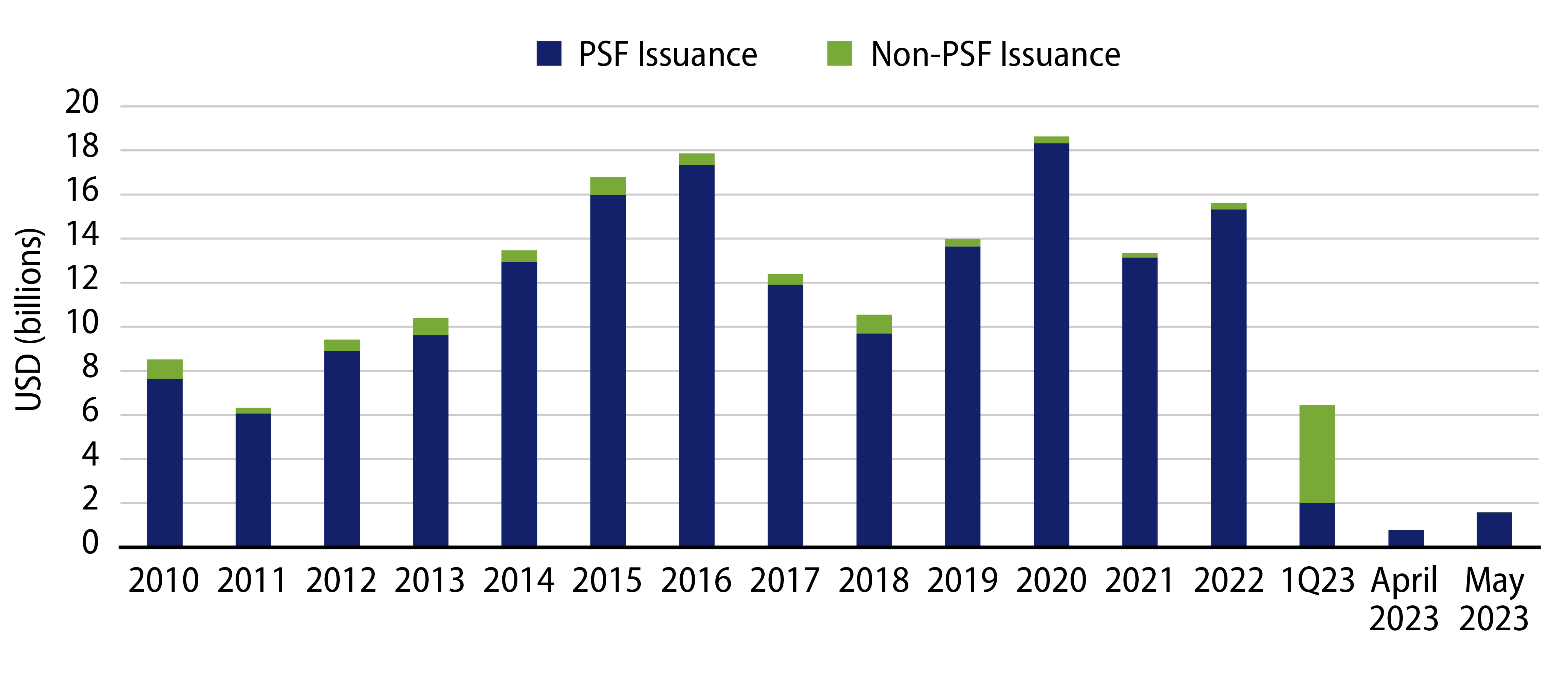 As a short-term solution to help school districts navigate the capacity limit, in March the Texas State Board of Education reduced the PSF's required reserves to 0.25% from 5.0%, which expanded potential capacity to $5.2 billion. Following this measure, we observed approximately $2 billion of PSF issuance return to the market in April and May. However, the near doubling of capacity set by the new formula this month serves as a more sustainable measure that will support the growing Texas population, and provides particular support to smaller school district issuers that would otherwise likely observe higher borrowing costs. Western Asset expects the greater limit could incentivize an uptick in Texas school district issuance, which could alleviate some of the limited supply challenges we have observed thus far this year.