Private-sector jobs rose by 703,000 in July, with the June jobs estimate revised upward by a substantial 146,000. We routinely focus on private-sector jobs in order to emphasize developments in the market economy. Still, it is worth noting that the 240,000 additional job gain reported for the government sector was almost all (231,000 of it) located in public education and reflected unadjusted school jobs not declining as much as usual in July, so that this got seasonally adjusted into a gain. This offsets a similarly large reported decline in education jobs from last September, when unadjusted school jobs did not increase as much as usual thanks to Covid concerns inhibiting school reopenings.
Aside from these technical factors obscuring the government jobs data, private-sector job gains were strong almost everywhere. Manufacturing showed a nice gain of 27,000 jobs, with all of those gains occurring for factory production workers (as opposed to supervisory and support workers).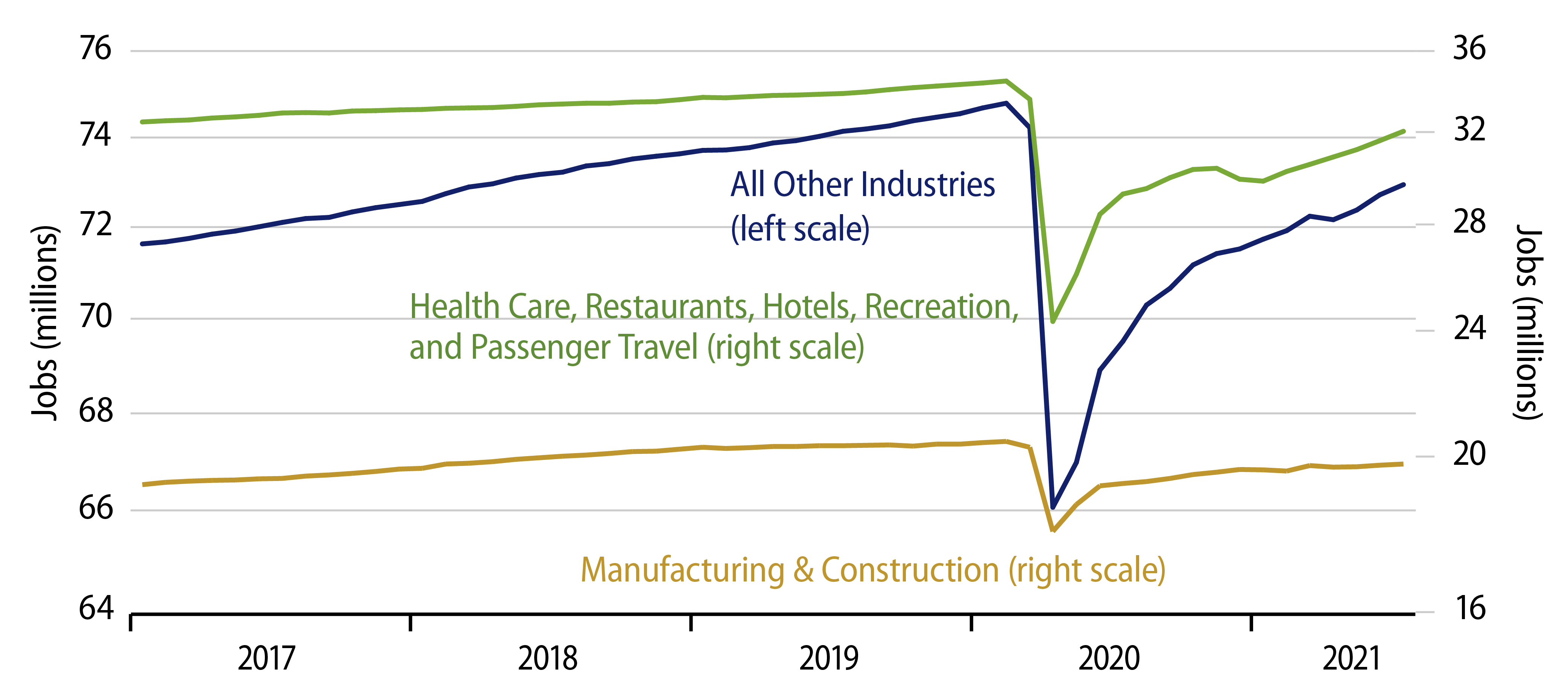 There were exceptionally strong gains in various services sectors that had been reopened only recently after a prolonged Covid shutdown. Restaurants added another 253,000 jobs and now stand just 970,000 (about 9%) shy of pre-Covid levels. Hotels added 74,000 jobs and now are within 264,000 (17%) of pre-Covid levels. Recreation facility jobs rose by 53,000, leaving them within 403,000 (16%) of previous highs. Health care gained 37,000 jobs, bringing them to within 502,000 (3%) of pre-Covid levels. And passenger travel jobs rose by 22,000, leaving those sectors 167,000 jobs (17%) short of pre-Covid levels.
Meanwhile, other service sectors also saw good gains, with jobs there rising by 225,000. These sectors are still 1,400,000 jobs shy of pre-Covid levels and about 3,000,000 jobs shy of the trend path they would likely have attained had the Covid shutdown not intervened. In other words, July job gains were strong and quite well spread out…and there is still a lot more progress that needs to be made.
The restaurant gains were perhaps most impressive of these, as restaurant jobs had already rebounded nicely, and as we have heard so many complaints about restauranteurs not being able to find help. Nevertheless, again, restaurants led the way in July job gains, and that sector is well on the way to a full recovery from Covid woes, trailing only health care among sectors hit especially hard by the shutdown.
The only "plodders" among all these strong gains were the construction and retailing sectors, where construction gained "only" 10,000 jobs and retailing jobs were reported as declining by 6,000 (though with a +39,000 revision to June job estimates). As recounted here previously, both these sectors had already attained full recovery some time ago. Given that homebuilding activity has been pulling back in recent months, we were actually surprised that construction registered any July gains. Meanwhile, retailing jobs have been holding mostly steady in recent months after their strong recovery in 2H21.
Again, there was nothing to dislike in today's report. We just need to see similar prints in the months ahead.