Municipals Posted Negative Returns as Yields Moved Higher During the Week
US municipals posted negative returns this week as yields moved higher. AAA muni yields moved 4 to 7 bps higher during the week. Muni/Treasury ratios generally moved higher as munis underperformed Treasuries in short maturities. Fund flows continued to support favorable technicals. The Bloomberg Barclays Municipal Index returned -0.16%, while the HY Muni Index returned -0.09%. This week we evaluate the airport sector amid improving traffic levels.
Technicals Remain Supported by Robust Muni Fund Flows
Fund Flows: During the week ending April 28, municipal mutual funds recorded $1.6 billion of net inflows, according to Lipper. Long-term funds recorded $1.4 billion of inflows, high-yield funds recorded $630 million of inflows and intermediate funds recorded $55 million of inflows. Net inflows year to date (YTD) reached $41.5 billion.
Supply: The muni market recorded $5.8 billion of new-issue volume during the week, down 51% from the prior week. Total issuance YTD of $142 billion is up 23% from last year's levels, with tax-exempt issuance 23% higher and taxable issuance 30% higher. This week's new-issue calendar is expected to increase to $11 billion (+89% week-over-week). The largest deals include $1.1 billion Washington Housing Finance Commission and $1.0 billion Commonwealth of Pennsylvania transactions.
This Week in Munis: Improving Passenger Traffic Continues to Lift Airports
Improving passenger travel activity, additional federal support and stronger airline growth estimates from the rapid rollout of Covid vaccines are helping to stabilize the outlook of the municipal airport sector. While corporate demand and international travel remain elusive, and an uptick in case counts could temporarily impede the pace of improvement, Western Asset believes that downside risks have largely abated.
TSA traveler throughput improved materially in April 2021, with traffic reaching 60% of 2019 levels. The April levels are above the 39% average TSA throughput reported during the first two months of 2021 and represent a stark improvement from April 2020 when reported passenger traffic fell to 4.7% of 2019 levels. Elevated data through March and April also reflects a more sustained recovery relative to the day-to-day spikes observed during the winter holidays.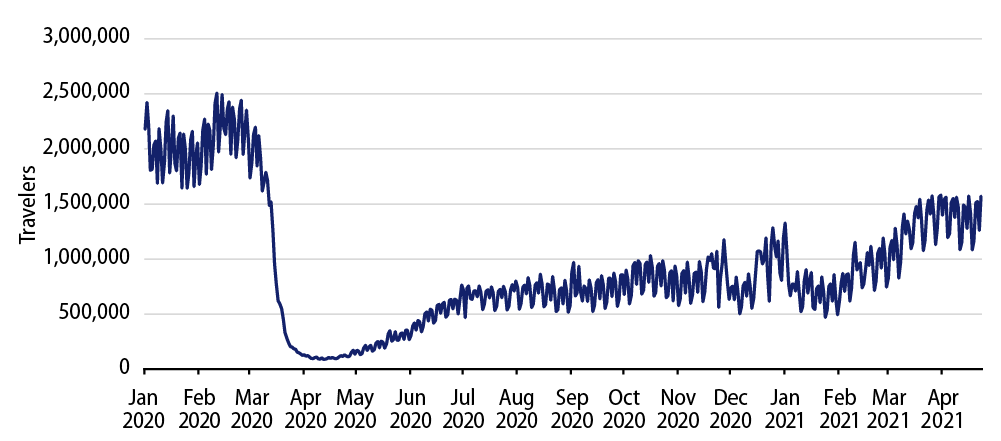 Notably, passenger traffic performance has not been uniform as domestic and more leisure-focused airports have outperformed those with a focus on international and business travel. Leisure travel to ski destinations such as Salt Lake City and Denver drove February passenger levels to 51% and 57% of 2020 levels, relative to 41% that the Bureau of Transportation reported nationally. Alternatively, border closures and work-from-home activity continue to depress international and corporate travel. For instance, international passenger traffic at large hubs such as Los Angeles International and San Francisco International were a meager 15% and 11%, respectively, of February 2020 reported levels.
Airports have received approximately $20 billion in federal aid associated with the CARES Act and the American Rescue Plan, which should support airport balance sheets as traffic normalizes. While large hub travel traffic has lagged some of the smaller leisure travel hubs, large hubs have been greater beneficiaries of federal assistance as federal funds were largely allocated based on total enplanement levels.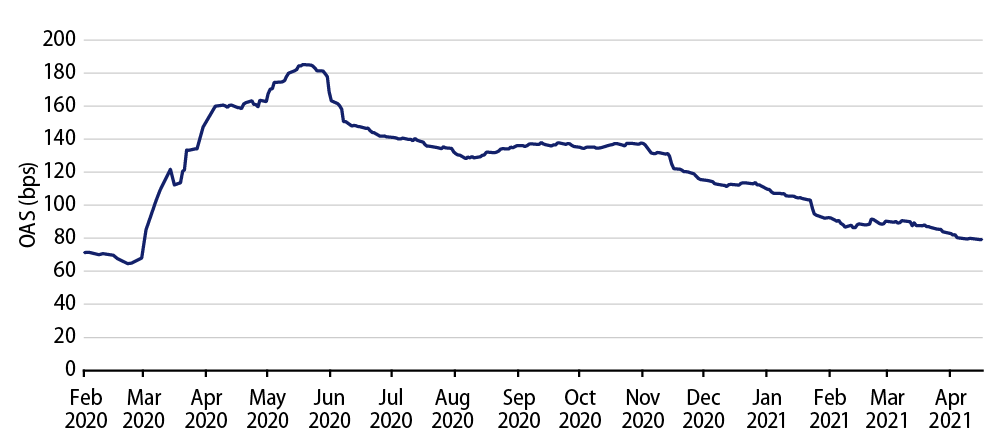 Credit quality of airports has also been supported by the improving prospects of the underlying airlines that occupy the gates, as continued improvement in the financial health for US carriers lessens the risk of major route network changes. US airlines received over $80 billion in federal assistance and a continued recovery in air travel demand was evident in forward guidance during earning releases over the last few weeks. American Airlines noted that demand for domestic leisure travel should allow them to bring back fleet capacity to 2019 levels by mid-summer, while Delta expects its fleet capacity will rise from around 75% currently to the mid-80% level sometime in June. United Airlines, the largest international carrier, also expressed optimism and expects a full return to business and long-haul international travel with business demand starting to come back this fall.
As we move forward and vaccine distribution becomes more widespread globally, we expect the recovery in US airport travel will be sustained over the longer term. While the airport sector has outperformed the broader municipal market over the past year and YTD, sector spreads remain above pre-pandemic levels and Western Asset believes this sector will continue to offer investors value as regional economies reopen and air traffic continues to recover.