Tax-Exempt Municipals Continued to Rally Last Week
Tax-exempt municipals posted positive returns last week as municipals outperformed Treasuries across the curve. High-grade municipal yields moved 23-29 bps lower across the curve, building on the prior week's strength following the easing CPI report. Meanwhile, municipal mutual fund flows turned positive. The Bloomberg Municipal Index returned +1.90%, the HY Muni Index returned +2.60% and the Taxable Muni Index returned +0.66%. This week we touch on the implications of expanded marijuana legalization from the recent midterm elections.
Technicals Improved as Muni Fund Flows Turned Positive
Fund Flows: During the week ending November 16, weekly reporting municipal mutual funds recorded $605 million of net inflows, according to Lipper. Long-term funds recorded $1.2 billion of inflows, high-yield funds recorded $386 million of inflows and intermediate funds recorded $178 million of outflows. The week's inflows follow 12 consecutive weeks of outflows and reduce the year-to-date (YTD) net outflows to $112 billion.
Supply: The muni market recorded $11 billion of new-issue volume last week, up 131% from the prior week. Total YTD issuance of $339 billion remains 16% lower than last year's levels, with tax-exempt issuance trending 5% lower year-over-year (YoY) and taxable issuance trending 52% lower YoY. This week's new-issue calendar is expected to price just $1 billion of new-issue volume, given the holiday-shortened week. Larger deals include $505 million Tennessee Gas Supply (Tennergy Corporation) and $204 million Utah Telecommunication Open Infrastructure Agency transactions.
This Week in Munis: Marijuana Legalization Expands
Recreational use of marijuana was on the ballot in five states during this month's midterm election cycle. Maryland and Missouri voted to approve the legalization of recreational cannabis use, while voters in North Dakota, South Dakota and Arkansas voters turned down cannabis measures. Following these outcomes, 23 states have now legalized cannabis for recreational use, providing an additional source of tax revenue for these issuers. Each state has earmarked the use of those tax revenues for varying purposes, typically ranging from education and public safety to drug prevention programs.
Early adopters of legalized marijuana provide some insight on the impact that legalization can have on state revenues. Colorado and California, which have been collecting recreational cannabis taxes since 2014 and 2018, respectively, have observed strong tax revenue growth since becoming operational. Colorado's marijuana tax collections grew 54% in the first three years (2014 to 2017), before slowing to 14% annually from 2017 to 2021 as the market matured. Similarly, California's cannabis tax collections experienced over 60% growth in both 2019 and 2020, before slowing to 25% in 2021. Despite these relatively high growth rates, marijuana tax collections are still a modest proportion of the states' overall budgets. Colorado's $423 million generated from fiscal year 2021 marijuana tax collections comprised just 1.9% of the state's general fund revenue, while California's $1.3 billion of 2021 marijuana tax collections comprised just 0.8% of its general fund revenue.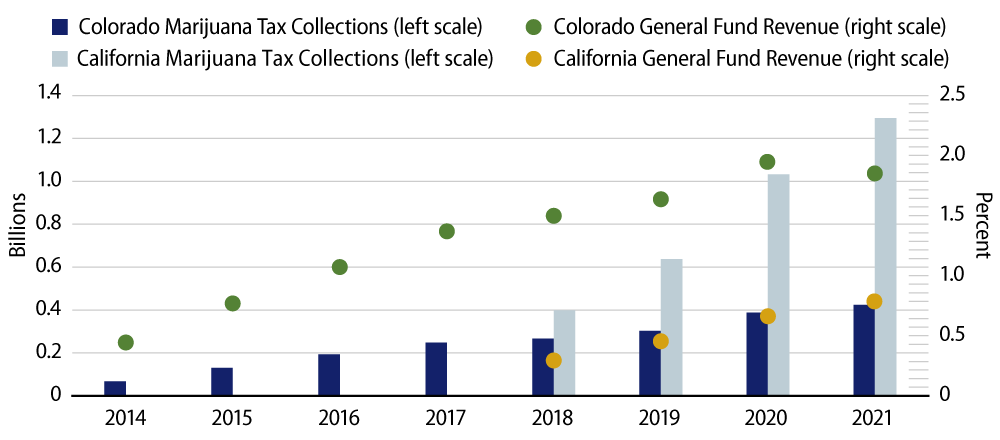 Western Asset expects tax collections from cannabis sales will continue to grow, as estimates suggest that the legal marijuana market could bloom from $14 billion in 2019 to $30 billion in 2023, according to the Tax Foundation. However, as marijuana legalization expands to other states, we expect competition to increase and growth rates to mature more quickly. Notably, several states have focused taxation on marijuana's market price with offsets to increase the tax rate if market prices decline as production continues to expand throughout the US. For example, New Jersey has planned rate increases if the price per ounce decreases to specific levels in order to mitigate revenue volatility. While we do not anticipate revenues to comprise a major source of tax revenue, the potential collections can bolster necessary school and safety funding, and provide just another revenue source that can add to revenue diversity and potential flexibility in times of stress.