Total housing starts rose a strong 5.8% in December to a rate of 1.669 million per year, with November's level revised upward by a bit more than 2%. We follow single-family starts more closely, because of their higher dollars-per-unit and because of the volatility in multi-family activity. Single-family starts were up a staggering 12.0% in December to 1.338 million per year, from already spectacular November levels.
The accompanying chart focuses on the last four years of activity, and you can see the lurch upward in homebuilding since the general Covid shutdown ended in June. Just as impressive, though, is the fact that recent starts levels are way above anything seen since before the global financial crisis (GFC) housing bubble burst in 2005.
Over the course of the post-GFC economic expansion, single-family starts peaked around 0.9 million per year. So, December levels are nearly 50% higher than those previous post-GFC highs. Total starts achieved a post-GFC expansion peak level around 1.3 million per year, so December's levels are nearly 30% above that.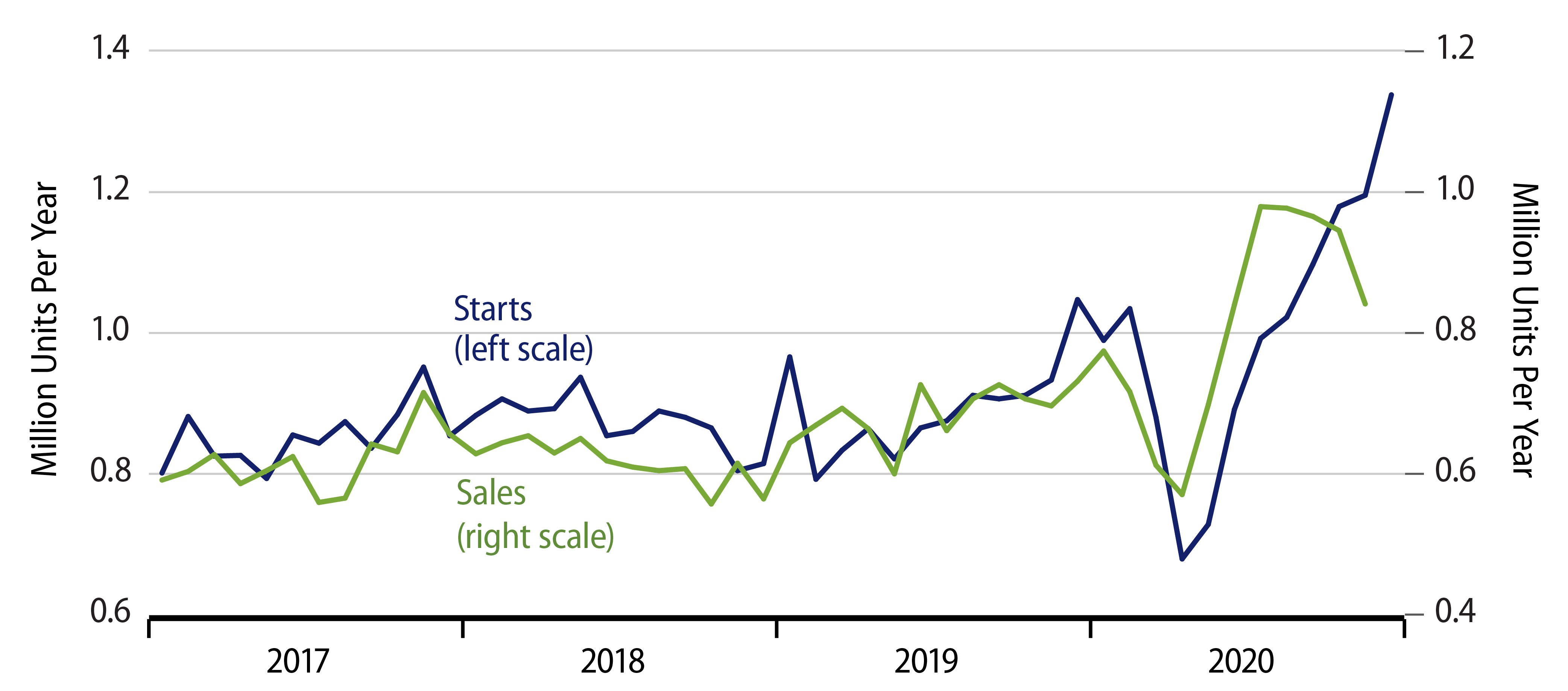 While down somewhat in December, multi-family starts are still hovering at their post-GFC high. So, while 2020's homebuilding spurt has occurred mostly in the single-family area, it has not come at the expense of multi-family construction.
Meanwhile, some of the recent burst in homebuilding merely made up for homes not started during the Covid shutdown last spring, but this is not the whole story. Thus, for all of 2020, single-family starts averaged 1.0 million per year, up from 0.9 million in both 2018 and 2019. So, even after offsetting depressed start levels during the shutdown, the recent surge has still brought homebuilding to levels not seen in 15 years.
Back during the post-GFC expansion, economists such as myself lamented the fact that (total) homebuilding then was unable to re-attain levels consistent with population growth, about 1.4 million to 1.5 million per year. We blamed it partly on an overhang of excess housing left over from the pre-GFC housing bubble, but mostly on younger Americans compelled to live at home or in groups due to the sluggish economy.
Homebuilding activity became only marginally better when the economy improved over 2017-19. However, for some reason, it has come all the way back—and then some—in the aftermath of the shutdown.
Our take has been that homebuilding was merely making up for the spring enforced shutdown, so that building levels would pull back in 2021, as pent-up demand for housing was sated. Does the fact that homebuilding has so much more than offset that lull suggest a more significant, sustainable "nesting" of younger Americans? Obviously, we'll have to find out. But in order to sustain recent starts/building levels, new-home sales are going to have to bounce again, as these have pulled back since July.