Private-sector industries increased employment by 471,000 in July and there was even a slight +18,000 revision to the June estimates. The reported July gains were the largest since early this year. So, if you are looking for signs that the economy is falling into recession, there was nothing in today's report to advance your view.
We have been countering the notion that the economy fell into recession in 1H2022, but we have been impressed both by the severity of the Federal Reserve's (Fed) rate hikes so far this year, as well as by signs of plunging homebuilding activity and a turn toward declines in manufacturing output. So we, too, were expecting some indication of slowing growth in today's payroll report and we, too, were surprised by the lack of any such indications.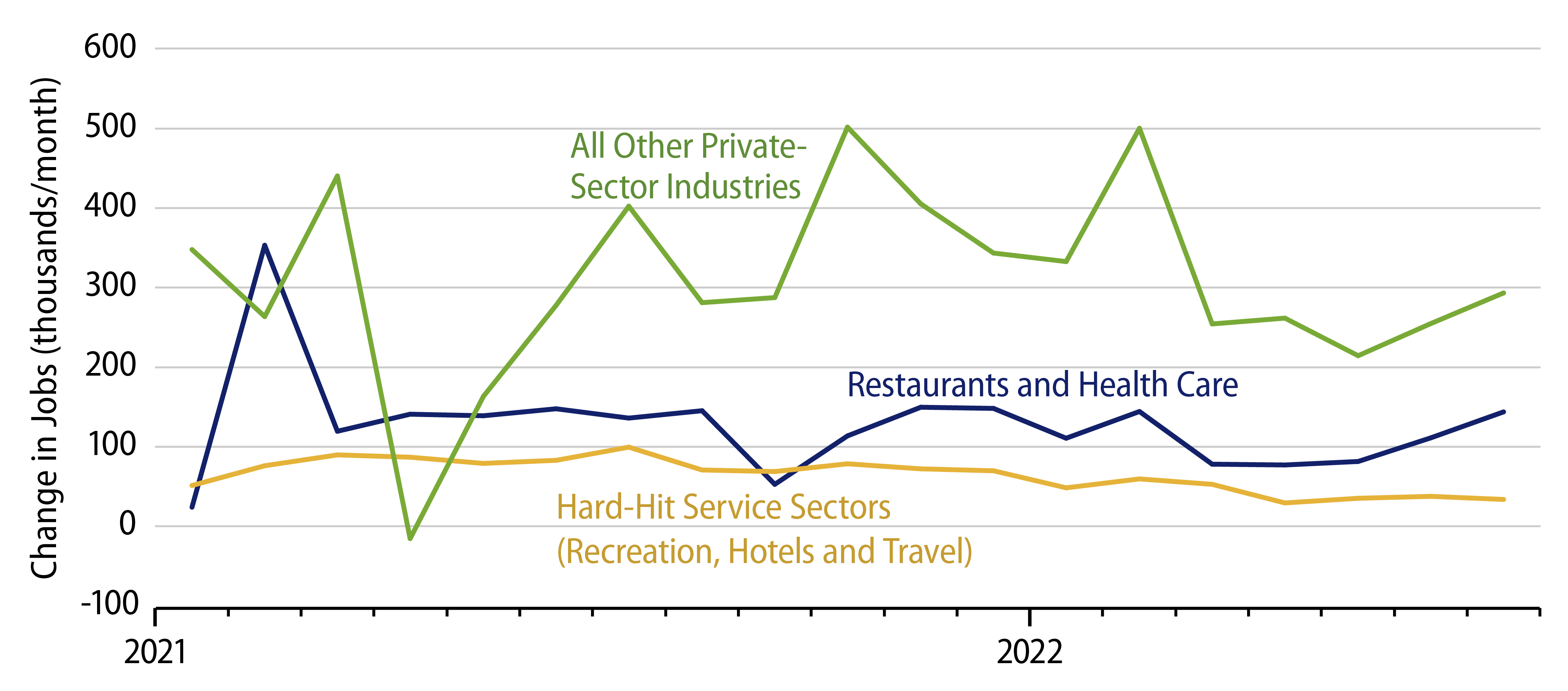 Substantial job growth was widespread across economic sectors. Notably strong gains were registered by professional service, health care and food service sectors. The latter two sectors were hit especially by Covid shutdowns in 2020. Activity levels there then recovered nicely in late-2020 and early-2021, but staffing levels have remained somewhat depressed relative to pre-Covid trends. In July, at least, job gains there were more substantial and pulled these sectors closer to pre-Covid norms.
Other sectors hit hard by Covid shutdowns were recreation, accommodations and travel. While these sectors continue to struggle and are at staffing levels far below pre-Covid norms, they have managed to eke out at least some job gains in recent months. Among these, only accommodations failed to add jobs in July. In other service sectors, job gains have been steady in recent months and continued so in July.
Two sectors where slowing output growth has been apparent are construction and manufacturing, but you wouldn't know that from their job growth trends. Indeed, construction sectors added 32,000 jobs in July (a 0.4% monthly advance) despite across-the-board declines in real construction spending in recent months. Manufacturing added 30,000 jobs in July, even though the Fed reported declining factory output in both May and June.
Maybe factory and construction payrolls are just late to reflect the recent softening in output there, or maybe employers in these sectors are still striving to restore more normal staffing levels after working short-handed through most of the post-shutdown period. Either way, there were no signs of weakening conditions for either of these sectors in today's payroll report.
Wage growth does continue to slow, with the all-worker average wage measure rising 0.5% in July, while the production-worker measure rose 0.4%. At annualized rates of 5% to 6%, these measures are still rising faster than is consistent with 2% or less inflation, but they have slowed enough from 2021 rates of increase to imply that 6% or higher inflation is not going to be sustained.
There is reason to think that the Fed's hiking regime and slower output growth across most of the economy will both eventually work to drive slower job growth. However, there was no sign of such slowing in the payroll employment data, at least through July.