Private-sector payrolls rose by 243,000, with 134,000 of upward revisions to the July estimate. In pre-pandemic days, those gains cum revisions would have been headline news strong. However, we are way past the pre-pandemic days, and market expectations were set around another strong jobs gain in August showing the economy making steady progress toward regaining the jobs lost during the shutdown. The actual news fell well short of expectations.
Yes, public school jobs declined slightly, confounding expectations. There are technical issues underlying the school jobs data, as we alluded to in this post a month ago. Still, even in the non-education private sectors, the August gains were below what the consensus was looking for.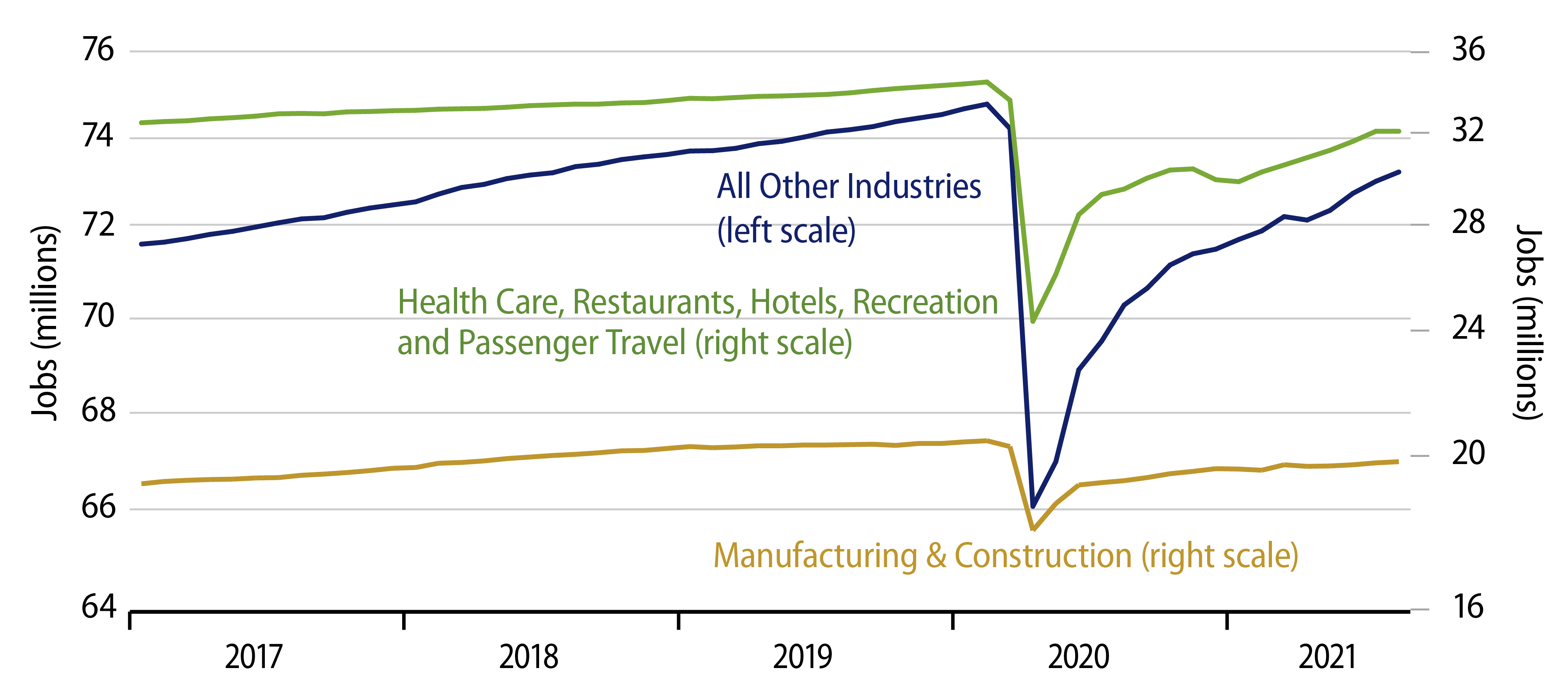 The main culprit underlying this disappointment looks to be the five industries most affected by the Covid shutdown in spring 2020: health care, restaurants, recreation, accommodations and travel. With a general reopening of these sectors early this spring, jobs gains there had been strong recently, 464,000 jobs in July and more than 300,000 in each of the five preceding months. However, these sectors on net were unchanged in August, as restaurants and health care lost jobs, while gains in recreation, accommodations and travel suddenly slowed.
Of these five, health care is the largest, and it has actually seen zero job growth throughout the year. Restaurants are the next largest, and these jobs had been growing strongly for quite a while, almost reaching pre-Covid levels, before stalling in August. With new workers reportedly hard to find, it may be that the best months for restaurant job growth are behind us. Still, the other hardest-hit service sectors are all way below pre-Covid jobs levels, and the sluggishness there in August job gains is harder to fathom.
Meanwhile, in other service sectors, August job growth was just fine, with gains of 232,000, only slightly slower than the 278,000 gains seen in preceding months and well above the pre-Covid trend growth of about 100,000 per month. In other words, in service sectors other than the hardest-hit five, August saw gains on par with those of the last six months. At the current pace, it will take another two years for these sectors to regain pre-Covid trends, but that timeline is no different from what appeared to be the case a month ago.
Elsewhere, manufacturing jobs and workweeks continued to rebound modestly but decently. Construction continued flat, as it has been throughout the year in line with flat construction spending,
Again, the disappointment in the August job gains resides in the sudden cessation of growth in Covid "epicenter" sectors of restaurants, recreation, accommodations and travel. Whether this is spurious bad data or a sign of things to come remains to be seen.