Single-family housing starts declined by 2.3% in December, but this decline was largely offset by upward revisions to the starts data for October and November. These changes follow a substantial bounce in starts in October.
As you can see in the accompanying chart, the November starts gain did not clearly reverse the downtrend single-family starts had evinced since late-2020, and the December declines don't change that. Meanwhile, new-home sales continue around their summer lows. Eventually, builders' supply of new homes must be consistent with homebuyers' demand, and the data of the last year indicate that builders have not pulled back activity quickly enough to keep up (down?) with the decline in demand.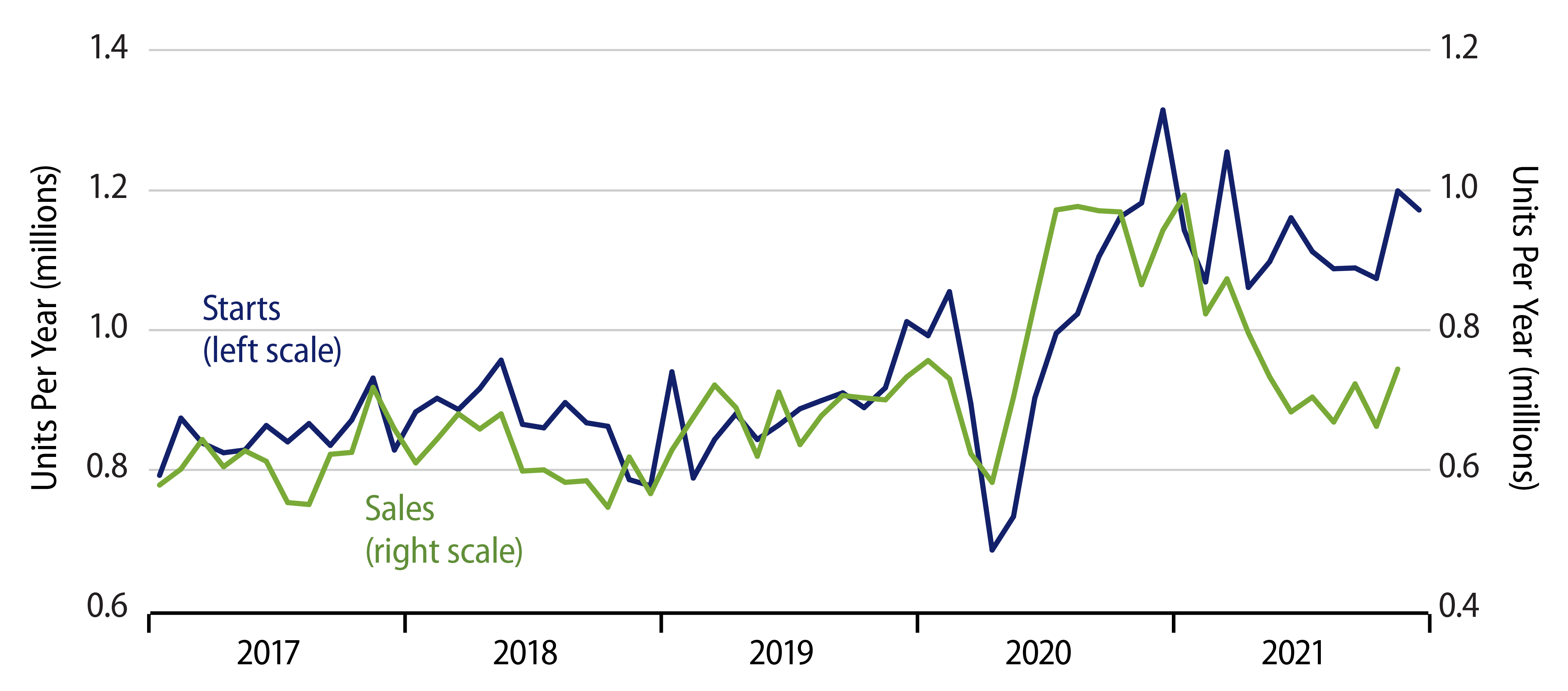 Consistent with these somewhat disparate movements is that inventories of unsold new homes have been climbing for more than a year now and were recently topping six months' worth of sales, compared to "normal" inventory levels around four months' worth of sales. Barring a huge December increase (data to be reported next week), it is likely that new-home inventories rose further in December.
Another factor pointing in this direction is the regional composition of housing starts. Most of the November spike in starts occurred in the South and West, which account for about 80% of US single-family home building. Such starts in the South rose 15.1% in November, but then dropped 8.2% in December. In the West, single-family starts rose 7.5% in November, but then dropped 14.6% in December.
The national starts data would have been sharply weaker but for activity in the Midwest, where starts rose 50.8% in December, after having flatlined over the previous seven months. And, no, new-home sales in the Midwest had not shown any gains through November that would justify the December spike. More likely, relatively mild December weather prevented the sharp before-seasonal-adjustment declines there that would typically occur in December, resulting in a big gain after seasonal adjustment. If we're right on this, the December spike in Midwest starts will be reversed—and then some—in months to come.
Our underlying story is that housing activity is in the process of returning to pre-Covid norms. While an initial rush of euphoria upon reopening combined with a rush to the exurbs to give a brief housing surge in 2020, new-home sales in all regions of the country have indeed pulled back to pre-Covid levels since then.
Builders have been a little slow in responding to this demand pullback, mostly in the South. However, again, absent a sudden resurgence in demand—which we don't see happening—the longer builders fail to reduce construction rates further, the more probable a glut of new homes becomes. Our expectation is that housing construction will likely continue to provide a drag on US growth during 2022, just as it did in the last three quarters of 2021.