Municipals Posted Record Negative Returns in First Quarter
US municipals posted negative returns during the week, closing out record negative quarterly returns. High-grade municipal yields moved 2 bps higher in short maturities and 1 bp lower in long maturities. Munis underperformed Treasuries across the curve, resulting in ratios above 100% in long maturities. Market technicals remained weak as fund outflows and supply increased. The Bloomberg Municipal Index returned -0.04%, while the HY Muni Index returned -0.10%. This week we highlight positive fundamental data releases overshadowed by the record negative returns during the quarter.
Market Technicals Remained Weak as Fund Outflows and Supply Increased
Fund Flows: During the week ending March 30, weekly reporting municipal mutual funds recorded $2 billion of outflows, according to Lipper. Long-term funds recorded $1 billion of outflows, high-yield funds recorded $486 million of outflows and intermediate funds recorded $583 million of outflows. The week's fund outflows extend the current outflow streak to 12 consecutive weeks, contributing to $22 billion of year-to-date (YTD) net outflows.
Supply: The muni market recorded $10.5 billion of new-issue volume, up 15% from the prior week. Total YTD issuance of $102 billion is in line with last year's levels, with tax-exempt issuance trending 13% higher year-over-year (YoY) and taxable issuance trending 35% lower YoY. This week's new-issue calendar is expected to remain near $10 billion. Largest deals include $1.4 billion New York Transportation Development Corporation and $1 billion Triborough Bridge and Tunnel Authority transactions.
This Week in Munis: Negative 1Q Returns Overshadow Favorable Fundamental Data Releases
The Bloomberg Municipal Index's -6.23% return in the first quarter marks the worst first-quarter performance in the market's history, and the worst total return for any quarter in more than 40 years. During the quarter, AAA municipal yields moved 104-138 bps higher across the curve, outpacing comparable Treasury yield increases of 55-120 bps. The record negative performance observed in the first quarter came as positive fundamental data was released from the Census and Bureau of Labor Statistics in recent weeks.
State and Local Revenue Collections Hit Record High
Fourth-quarter 2021 Census data highlighted that state and local governments collected $559 billion of tax revenue in 4Q21, up 12% from 4Q20. Calendar-year 2021 state and local revenue collections of $1.9 trillion came in 15% higher than 2020 record-setting levels, driven by increases in corporate income tax receipts (+58%), individual income tax receipts (+22%), sales tax receipts (+16%) and property tax receipts (+5%).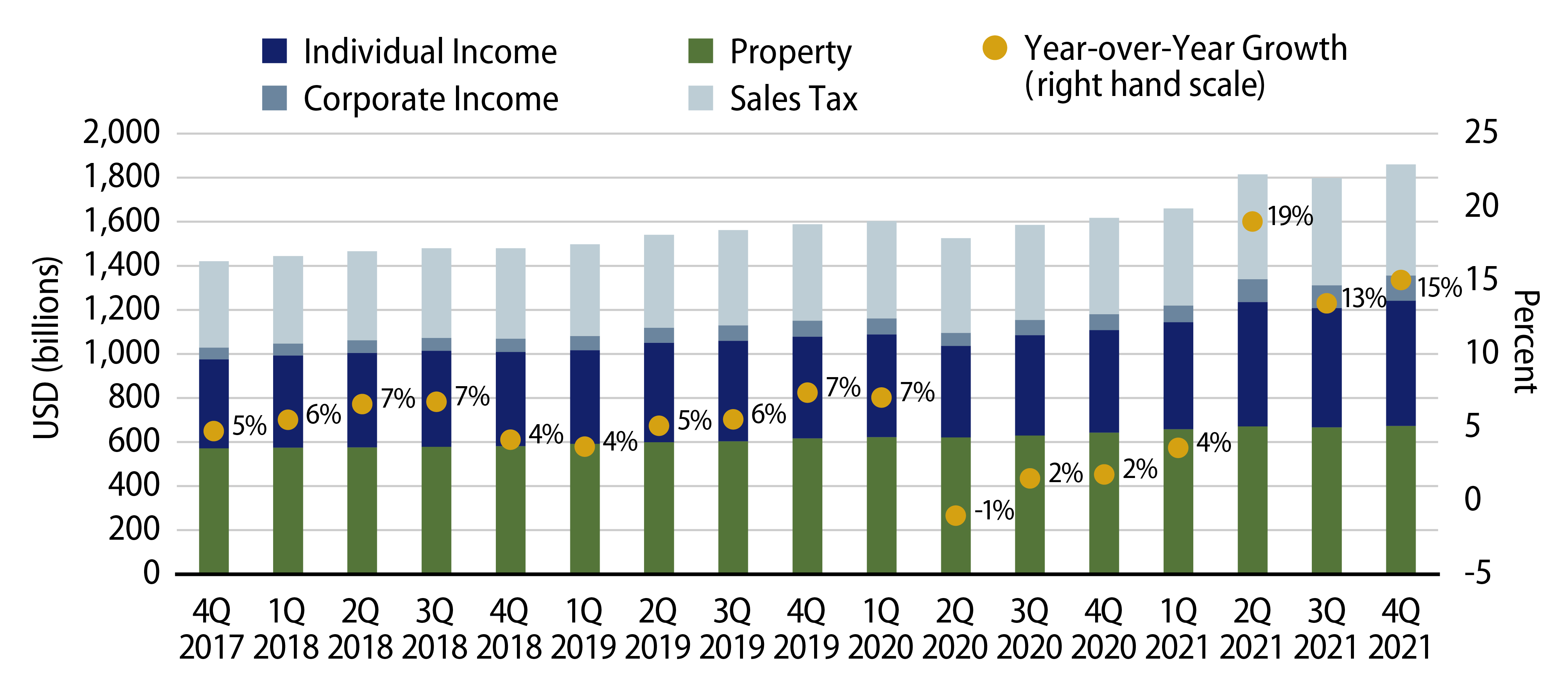 State and Local Payrolls Remain Below Pre-Pandemic Levels
As the US labor market continues to demonstrate strength with an additional 1.7 million of nonfarm payrolls added YTD through March, state and local payrolls increased just 24,000 YTD. While national nonfarm payrolls remain just 1% below pre-pandemic highs, state and local payrolls remain 4% below pre-pandemic levels. Within state and local hiring, education employment has consistently improved from May 2020 lows, while non-education employment continues to decline from an initial recovery observed in the first half of 2021. While payroll underperformance can be indicative of the labor shortage challenges faced nationally, lower payrolls also highlight state and local budgetary flexibility and potential spending reductions. When paired with record revenue collections, budgetary prudence has contributed to robust growth in state reserves over the prior fiscal year.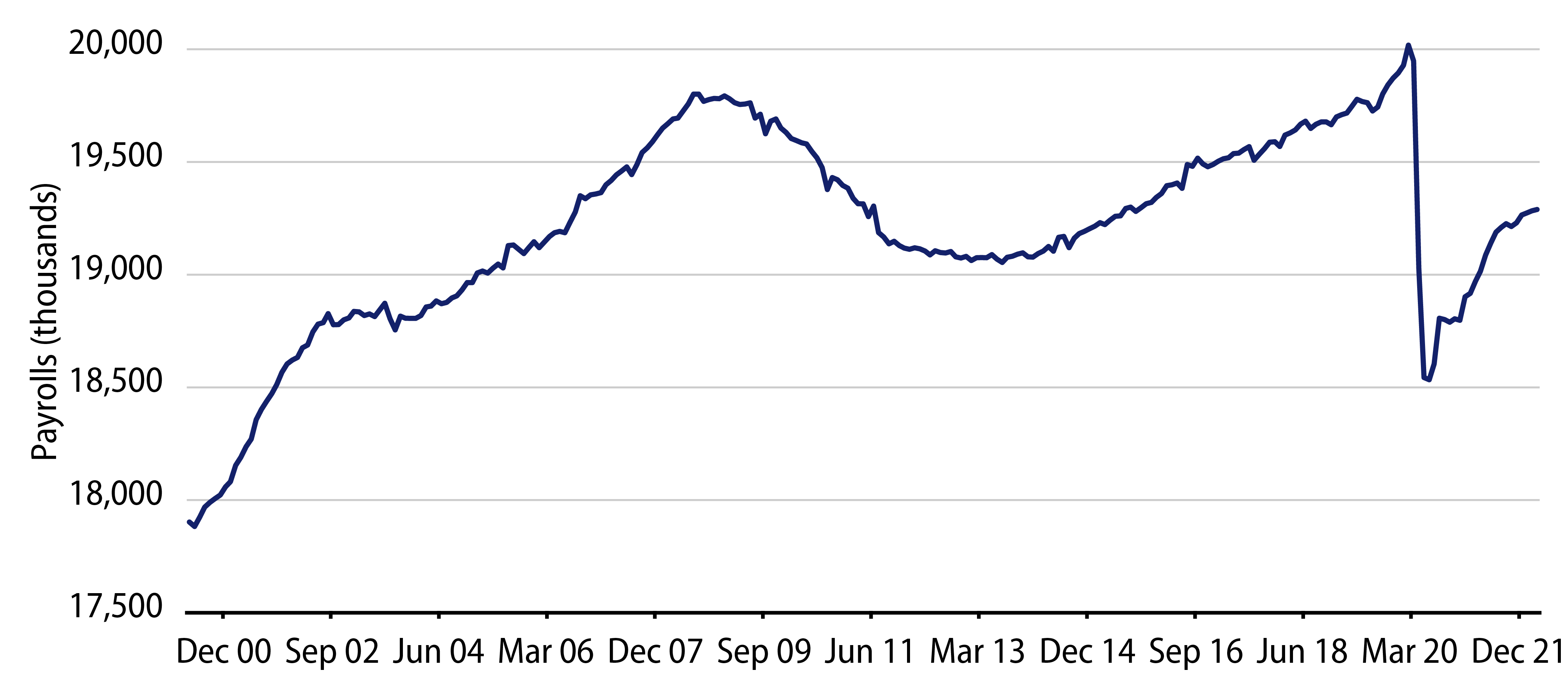 The relative illiquidity of the municipal asset class (versus high-grade taxable fixed-income) often leads to valuation overshoots versus fundamentals during bouts of market volatility. Western Asset believes this has been exemplified by the past quarter's historic negative performance during a period of improving fundamental data. While short-term losses are often difficult to swallow, the prevalence of potentially oversold conditions in a fundamentally sound market provides active managers with a plethora of opportunities to deliver higher levels of long-term, tax-efficient income.