The Consumer Price Index (CPI) came in essentially flat in July (actually down a very slight -0.02%), led by a roughly 8% decline in petroleum products. Outside of food and energy, the so-called core CPI rose 0.3%, also a substantial slowing from the prints of recent months.
While the core CPI rose more than the headline number, it is worth noting that the bulk of that gain came from shelter costs, specifically a 0.5% increase in renters' rents and a 0.6% increase in owners' equivalent rents (essentially, what homeowners pay themselves each month to occupy their residence). These two items alone account for 40% of the core CPI. For the rest of the core, prices rose only 0.1% in July.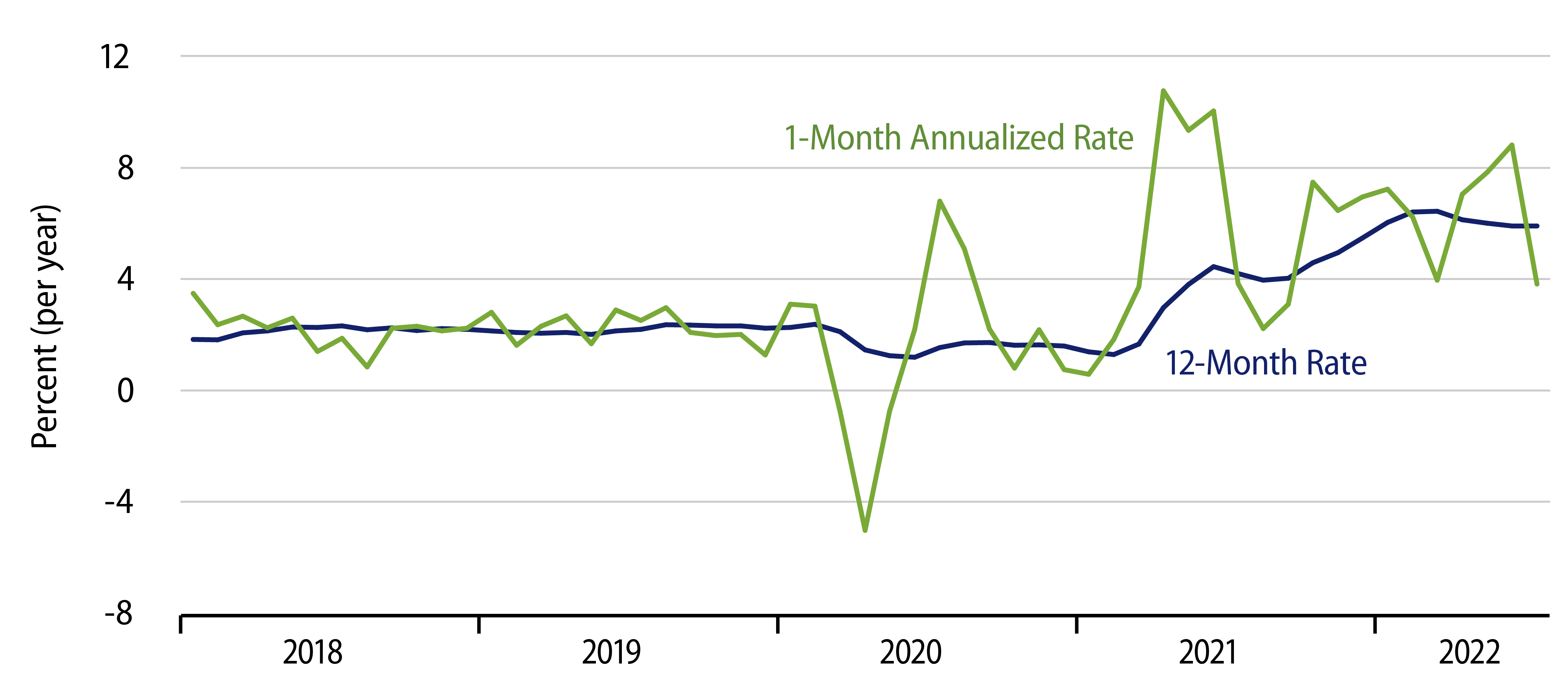 We are not questioning the fact that the shelter cost increases are a real bite on residents. Rather, our point is that with homebuilding declining sharply recently and home prices moderating, we think it is likely that occupants will soon see relief on shelter costs. The problem is that even if that relief indeed comes quickly, the technical glitches within the CPI are such that this will not show up in reported consumer prices until many months later.
Meanwhile, we should note that the very soft print for core prices other than rents was due in great part to a 9.5% decline in car rental fees and a 7.8% decline in air fares. Both of these items were prominently rising sharply in recent months, so it is nice to see some retracement here. Other core items moderated as well, but car rental and air fares led the way.
One area where prices did NOT moderate in July was food prices, which turned in a 1.1% increase, on par with the gains of recent months. Here, though, there is an interesting dichotomy. Prices of processed foods rose sharply in July, while those of fresh foodstuffs moderated. For example, fresh fruit and vegetable prices rose only 0.1% in July, while processed fruit and vegetable prices rose a much heftier 1.6%. Meat and meat product prices showed similar disparities. Maybe this is random noise, but perhaps it reflects pipeline issues, with processed food prices rising in response to past increases in fresh food prices. In that case, some future moderation in processed food prices can be expected if fresh food prices continue to rise at a slower pace.
The bottom line, of course, is that after many months of virulent price increases, the July slowing is just one month's data. We'll have to see continued prints in a similar vein before we can conclude or even assert that inflation is coming down.
We ourselves have been predicting a decline in inflation for so long—and have been disappointed for so long—that we can't take too much solace from one month's data. Still, it is nice to see a more friendly print, and it could be said that developments in the economy—slowing growth almost everywhere—argue for further improvements on the inflation front. We'll see.