Headline retail sales decreased by 0.7% in December, with the November sales total revised downward by 0.3%. Lately, we have been tracking a "control" sales measure that excludes sales at vehicle dealers, service stations, building material stores and restaurants, thus abstracting from retail sectors that are heavily frequented by businesses as well as consumers. That measure declined by 2.0%, with the November sales level revised downward by 1.1%.
A media headline we read this morning said the retail sector was "pounded by the pandemic again." This may be true with respect to restaurants, where sales declined 4.5% after a 3.4% decline in November, when renewed shutdowns of restaurants began to be incurred. However, for the rest of the retail sector, a more valid description might be that consumers are pulling back after having quenched pent-up demand.
That is, while retail sales have indeed declined for the last three months, the December sales levels are still up fairly sharply from a year ago. Total retail sales show a 2.9% net increase from December 2019. The control sales measure shows a whopping 6.4% increase from December 2019. Needless to say, the economy as a whole is not up 6.4% from a year ago, nor even up 2.9%. Nominal GDP is set to register a decline of about 2% from 4Q19, with total employment down even more sharply.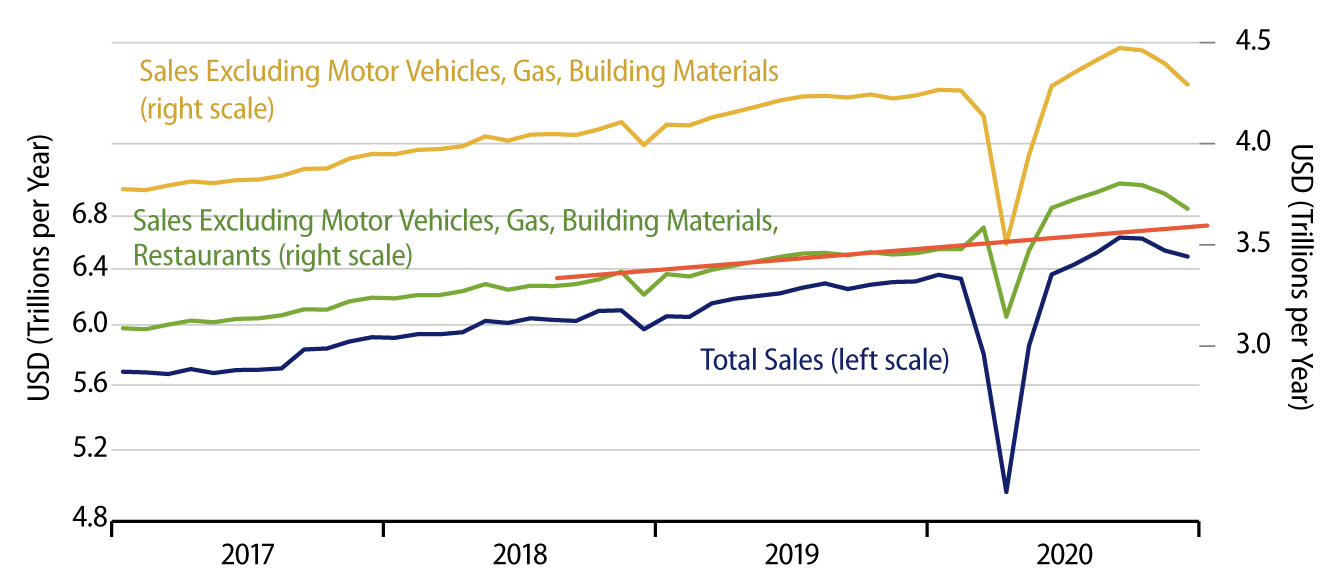 We have been warning for months that consumers were due for a pullback, after summer shopping rates quenched pent-up demand created during the spring, when stores were closed and customers were forced to stay home. Items not purchased during the spring general shutdown were instead purchased during the summer, and with "normal" summer shopping occurring as well, sales levels then rose way above pre-Covid trend levels. As that pent-up demand was sated, it was only to be expected that sales levels would decline back to normal.
That is likely all we are seeing. As is clear in the accompanying chart, all aggregate sales measures are still up substantially from a year ago, even while the overall economy is down. The red line we have drawn to simulate pre-Covid trends is still well below December 2020 actual sales levels, even after three months of declines. Again, this measure is still up 6.4% over a year ago, while the pre-Covid trend growth path was about 3.2% per year.
For restaurants, December 2020 sales were down 21.2% from December 2019. There is no question that the pandemic and related shutdowns have taken a toll there. For the rest of retailing, however, the 4Q20 declines are likely more a return to normal than a pandemic-induced plunge.