The unprecedented closure of large swaths of the US economy related to the COVID-19 pandemic has contributed to an enormous amount of stress on tenants, property owners and lenders alike. While many market participants have focused primarily on the retail and hospitality sectors, an increasing amount of concern has been directed at the office sector. In our view, much of the concern goes beyond the near-term impact of tenants failing to pay rent during the quarantine period. Rather, it is largely centered on whether or not there will be a need for as much office space in the future and what changes will need to be made to ensure employees' safety and comfort. In all likelihood, it will take years for these questions to be answered; however, it is not clear that those answers will be uniformly negative for office assets or for their debt and equity investors.
There are a number of factors that will determine the shape and trajectory of this critically important property type. Here we describe three of the factors that we believe will be the most significant in shaping the office of the future.
1. Work From Home
Beyond the financial impact related to the closure of most commercial properties in the US over the last two to three months, the migration of millions of Americans from traditional office settings to working from home (WFH) has had perhaps the most significant impact. In recent weeks, many of America's largest financial and technology companies including Microsoft, Facebook, Amazon, Morgan Stanley, Capital One and Nationwide have announced plans to allow large numbers of employees to WFH for an extended period of time or even permanently. This crisis has proven that some jobs can be done from home, which has led many companies to reconsider their office needs.
We already saw the impact of this in the first quarter when office leasing activity fell by over 30% compared to the first quarter of 2019. We expect to see additional and more severe declines over the remainder of the year. Beyond that, the trend will depend on the economic recovery, which in turn is dependent on the spread of the virus and availability of therapeutics and a vaccine, as well as the success or failure of WFH. Assuming the economy recovers over the next year or two, our view is the WFH movement will not result in a large amount of office vacancies, as we believe employee collaboration and innovation are harder to achieve in a systematic WFH environment, but clearly the sector will continue to face challenges.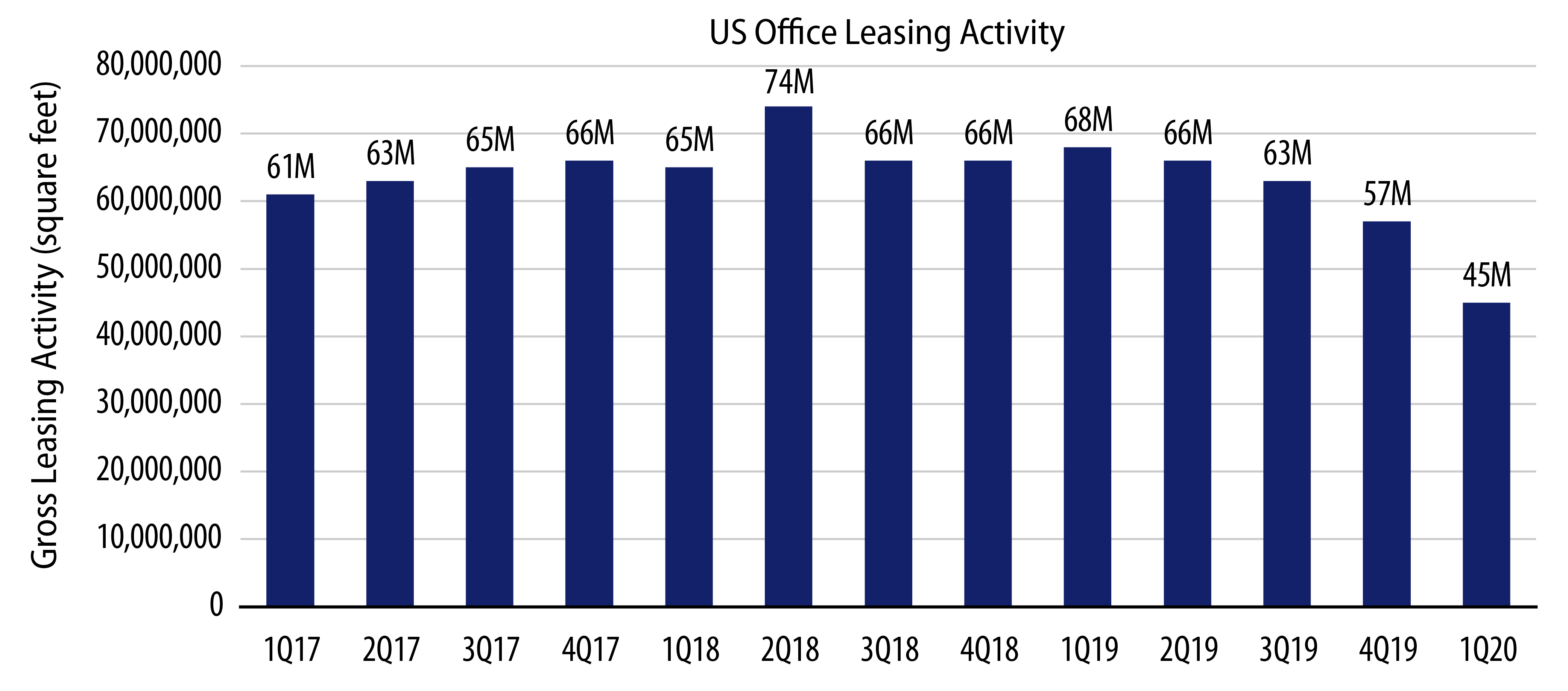 2. Changes to the Workplace
What and how many changes will be required to protect employees and their employers is an open question that many lessees and lessors are beginning to grapple with as the reopening phase begins. Some of the most obvious changes will be more frequent cleaning of common areas and workspaces, touchless elevator controls, doors and bathrooms, hand sanitizer stations, HVAC systems with better filtration capabilities, changes to building entries, modifications regarding the flow of people in corridors and of course more physical distancing. This last change could be the most impactful to the future viability of office space as a product. It also presents lessors with a counterintuitive challenge in the use of space. For more than a decade,
the square footage (sf) per employee for American office workers has declined
from 211 sf in 2009 to 194 sf by the end of 2017. In the age of social distancing, this long-standing trend is very likely to reverse, resulting in an increased need for office space per employee. We also expect to see more amenities offered and an increased use of break and communal space. The impact on each user, building and market will vary. But, in general we believe the net impact of these changes will make working from the office—not WFH—the more attractive option.
3. Changes in Locations
The concentration of large numbers of workers in central business districts might not be a trend of the past, but we expect to see a meaningful trend developing over the short and longer term to "spread out" workers. This new trend will have a negative impact on the highest profile cities and buildings and a positive impact on tier-2 cities and suburban offices. In recent years, there has been a flood of capital into gateway markets and many of the largest and highest profile office buildings have traded at historically high multiples relative to the net operating income generated. This emerging trend will cause large unrealized and eventually realized losses for equity investors and we expect the same for debt investors as well.
At Western Asset, we have had a cautious view regarding many of these office-related assets that have been financed through the securitization market. As a result, we expect our client portfolios to be well protected from the negative impact that decentralization will have on many "trophy" assets. While the future and permanency of WFH is impossible to predict in the present moment, we think any significant shifts of the workforce out of the traditional office setting will be more than offset by the additional space required during an upcoming economic expansion and for the office of the future.