The Census Bureau announced today that single-family housing starts declined by 4.7% in September to a rate of 892,000 per year, from an August level that saw only tiny revisions from what was reported a month ago. That September decline mostly reversed a 4.0% increase in August, so, as you can see in the accompanying chart, the September level for single-family starts is only slightly below that for July.
Does the slight net decline from July to September portend a possible bottoming-out of homebuilding activity? Not even close. Our guess is that single-family housing starts have to decline another 35% before they hit bottom. The backlog of unsold new homes is so crushing that the supply of yet more homes has to drop substantially further before inventories of unsold new homes can be worked down.
In past posts, we've shown a chart comparing single-family starts with sales of new, single-family homes. New-home sales have been running recently at rates around 600,000 per year. Since owner-builds show up in starts, but not in sales, a normal gap between single-family starts and sales would be around 200,000 units. Even that allowance would have starts needing to fall to 800,000 per year merely to prevent further accumulation of unsold inventories. To work inventories lower, starts would need to drop to around 600,000 per year.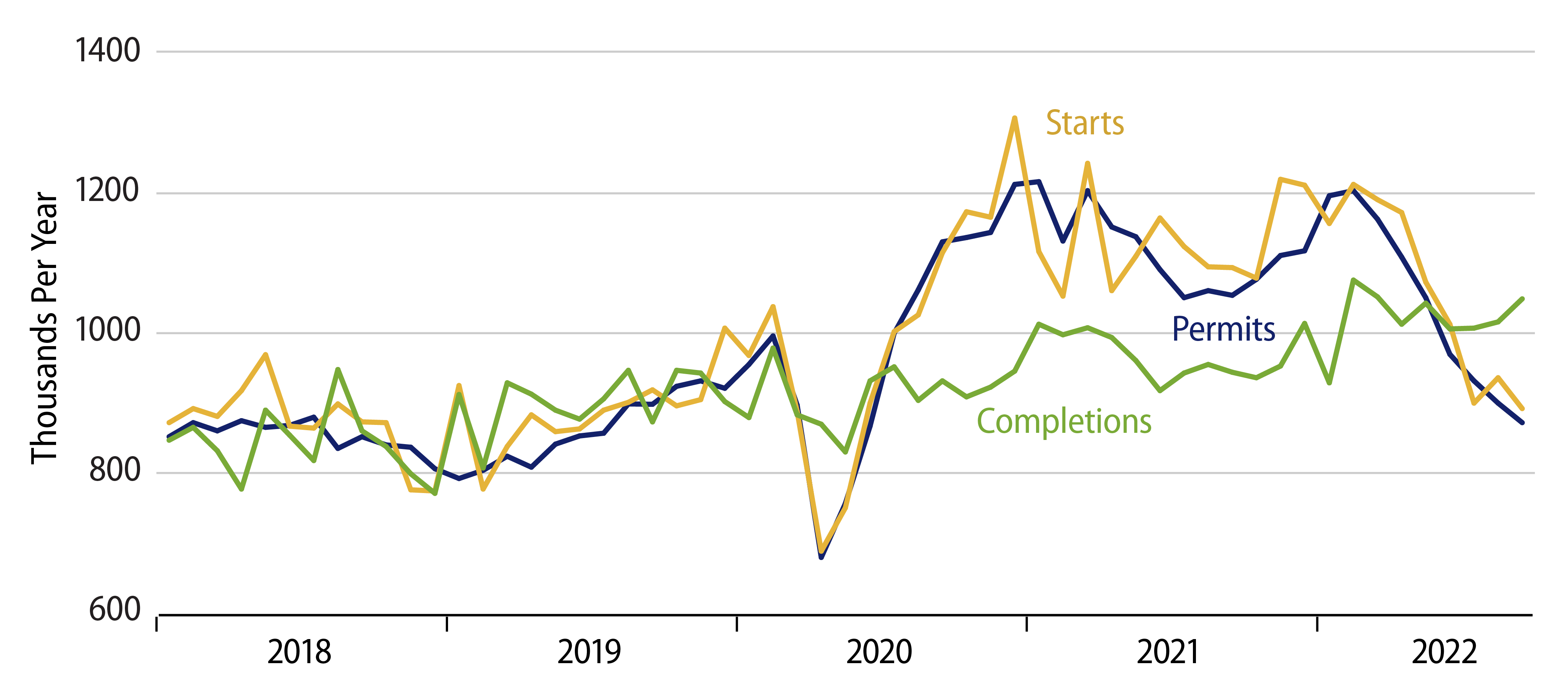 And that number could be a bottom only if new-home sales can hold recent levels despite the continued upturn in mortgage interest rates. Homebuilders have begun to slash prices in order to move product, and it will be interesting to see next week whether September new-home sales sustained the price-induced gains announced for August. Even if they do, there is every reason to think starts will fall further.
The interplay among starts, sales and inventories is normal across a business cycle. What is extraordinary presently is the divergence between housing starts and completions, as depicted in the accompanying chart. It usually takes about six months to complete a newly started home, and as you can see in the chart, permits, starts and completions of single-family homes moved in line with each other prior to the pandemic, with completions moving up and down with starts after a lag of about six months.
Beginning in late-2020, however, just after the Covid shutdown, housing starts ramped up sharply, but completions never rose commensurately until the middle of 2022. In other words, the process of completing newly started homes has stretched out and the number of homes under construction soared.
Initially, it was likely that builders were stretching out the construction process because of a shortage of materials. However, since early-2021, new-home sales have dropped much more sharply than starts, and it is our contention that builders further stretched out the construction process because they were unable to move product. (Most new homes are sold before they are completed, and sales of homes unstarted or under construction have dropped especially sharply.)
It is a very interesting fact that there are more homes under construction presently than there were at the peak of the housing bubble in 2005, despite substantially lower rates of household formation and much lower rates of housing starts. Granted, this overhang is even more acute for multi-family housing than for single-family, but the overhang among single-family housing is pressing as well. Again, starts will have to drop further to address this situation, and home prices will likely have to decline substantially.