Foreign trade data released today for December showed real exports rising by 3.2%, while real imports rose by 2.3%. Because the volume of imports is so much larger than that of exports, imports still rose in dollar terms by more than did exports, so that the merchandised trade deficit increased. Still, the December increase in the trade deficit was smaller than what was suggested by an "advance" indicator of the trade deficit published in late-January.
In other words, foreign trade was a drag on US growth in 4Q, but not as much of a drag as previously believed. As a result, it is likely that today's trade data will drive an upward revision of 4Q GDP when those data are reported later this month.
The foreign trade data reflect a "restocking" of US merchant inventories that is ongoing. As previously reported, inventory investment was a big contributor to 4Q GDP growth. A big chunk of that inventory restocking is occurring with respect to imported goods, as congestion and throughput at US ports is alleviated.
As you can see in the accompanying chart, US imports had already attained pre-Covid trends early last year, and the late-2021 increases in imports occurred on top of that. That is, the flow of imports has stepped up substantially over the last year, and, opposite generally flat consumer spending on merchandise since March 2021, the rate of addition to inventories got quite rapid in 4Q21.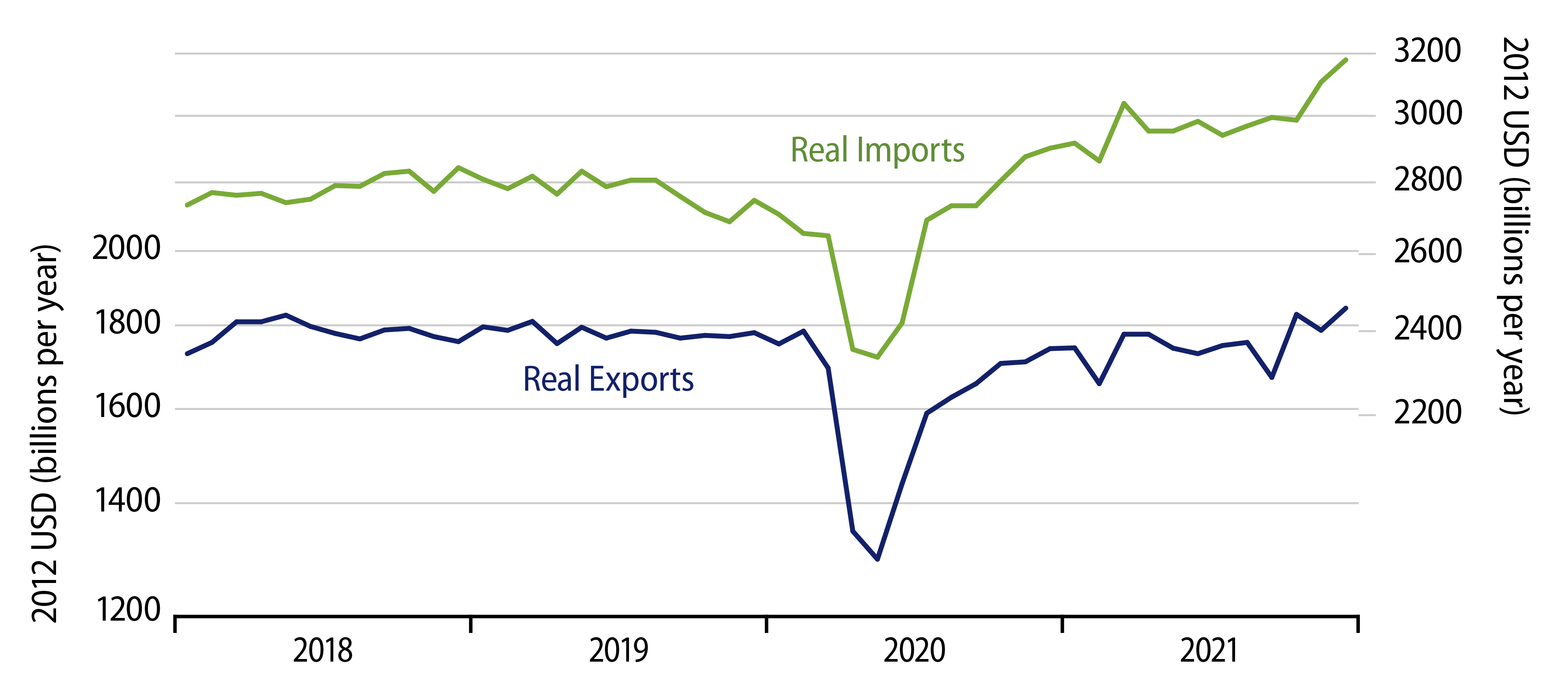 We think this replenishment of inventories will be a major factor working to moderate goods prices in the near future. Goods demand rebounded faster in late-2020 and early-2021 than did the combined flow of domestic production and imports, contributing to depleted inventories and rising prices. These forces have reversed course in recent months, and we believe a similar reversal of goods pricing is in the works. It cannot come too soon. Suffice it to say that we don't think Fed policy was the cause of the price flare-up, and as goods prices begin to ease, the pressure on the Fed to hike rates should begin to subside.
Now the aforementioned rise in imports was already fully represented in the advance trade data referenced here. The wrinkle in today's detailed December trade data was a nice rise in exports, something that was NOT reflected in the advanced data. It is the bounce in exports that will work to revise 4Q GDP upward.
As inventories become fully replenished in 2022, it would not be surprising to see imports pull back from their current elevated levels, alongside goods prices. Meanwhile, the downside risk for exports is that ongoing repercussions of the omicron outbreak will sustain restrictions abroad and so inhibit global recovery. We'll be watching these two possible trends in 2022.