Real GDP growth in 4Q was estimated today to have been 6.9%, compared to 2.3% in 3Q. The estimate today was in line with the Street forecasts we had seen, but higher than our own expectation of 5-point-something percent growth and even more above the outline we provided three months ago, when commenting on the 3Q data. At that time, we expected 4Q growth to come in in line with what was seen in 3Q, i.e., about 2%.
What happened? Mostly inventories. When discussing the 3Q data, we pointed out that domestic demand had slowed noticeably, but that 3Q GDP was boosted a bit by inventories. Well, the boost to growth in 4Q was much larger even than what we saw in 3Q.
GDP measures total domestic output of goods and services. If you subtract inventory investment from that aggregate, you get total final sales of goods and services (by US merchants, exports being a "final sale" so far as the US is concerned). Subtract foreign trade from final sales, and you get domestic demand: purchases by domestic residents of all goods and services.
In 3Q, real domestic demand grew by 1.6%, but allowing for purchases of imported goods, real final sales grew only 0.1%. Add in the boost from inventories, and you get the 2.3% 3Q GDP growth.
For 4Q, real domestic demand grew 2.1%, pretty close to what we saw in 3Q. Factor in foreign trade, and real final sales grew by 1.9%, a bit better than what we saw in 3Q. Fold in the boost from inventories, and you get the 6.9% growth in GDP.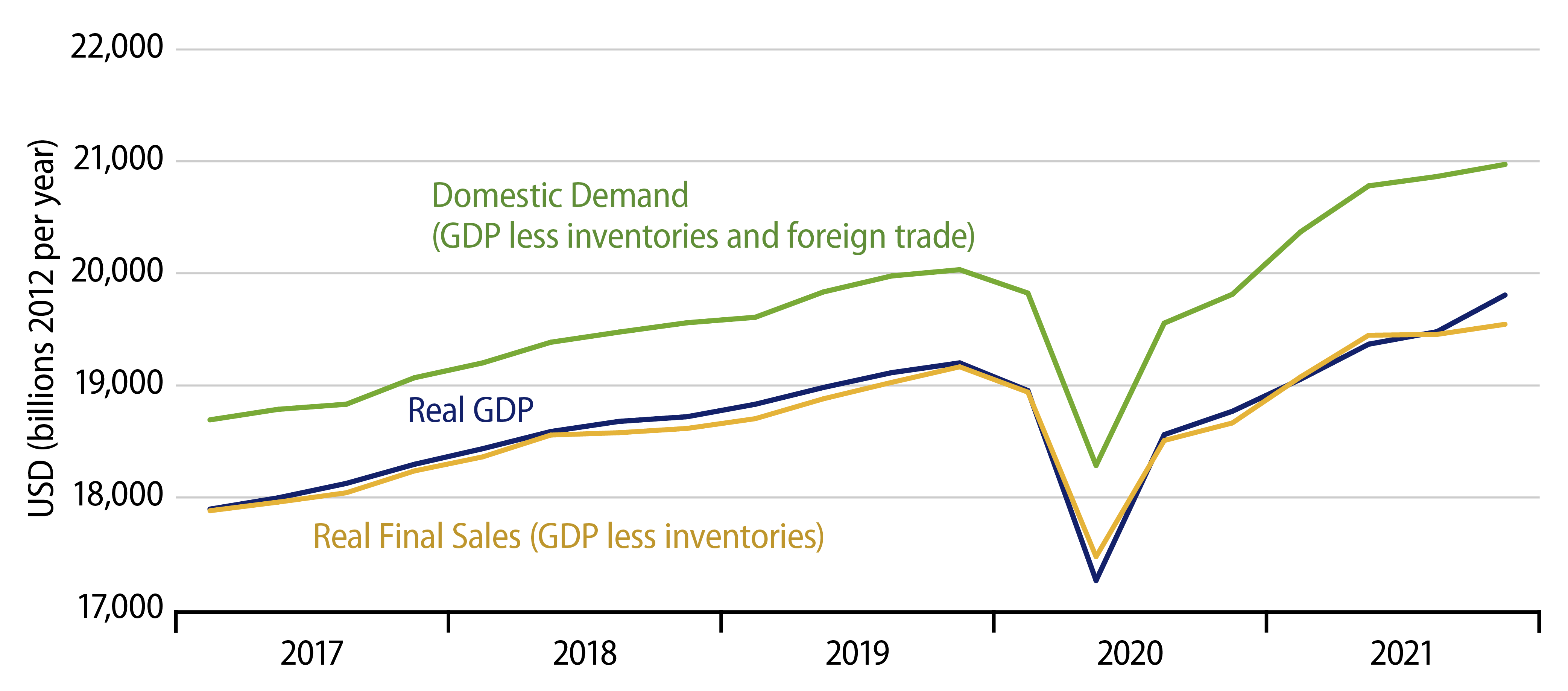 In summary, comparing 4Q to 3Q, domestic demand grew at about the same modest pace, foreign trade was less of a drag, and inventories provided hugely more boost in 4Q than 3Q, a whopping 5% in 4Q. Consumer demand for goods was soft virtually throughout the second half of 2021. Excluding motor vehicles, consumption of goods rose only slightly in 4Q, up 1.3%, not enough to fully offset a 1.5% rate of decline in 3Q.
After a surge in goods spending, consumers have been shifting back to services over the last six months, with total real consumption growing at about the same rate as was seen prior to the pandemic. We expect this to continue in early-2022, with a further slowing possible due to omicron surge effects. Meanwhile, it is hard to see inventories continuing to grow at the same rate as in 4Q.
And if the rate of inventory growth slows any from its torrid 4Q pace, that will result in a drag on 1Q GDP growth. In other words, absent an acceleration in demand, 1Q growth could be well below 2%.
So, surely GDP growth outperformed expectations in 4Q. However, the stage is set for likely much slower growth in 1Q.