Headline retail sales declined -3.0% in February, though that drop was offset somewhat by a huge, +1.9% upward revision to the January sales estimate. As for "control" sales, excluding car dealers, building material stores, service stations and restaurants, February sales saw a decline of -3.5%, partially offset by a +2.1% revision to the January estimate. (Remember, January has already seen very sharp sales gains, and these revisions made the January gains even stronger.)
Nature or nurture? You often hear psychologists—or, at least, amateur psychologists—cite these conflicting causes when explaining aberrant human behavior. Look at the pattern of monthly sales levels in the accompanying chart, and it is hard not to portray it as "aberrant."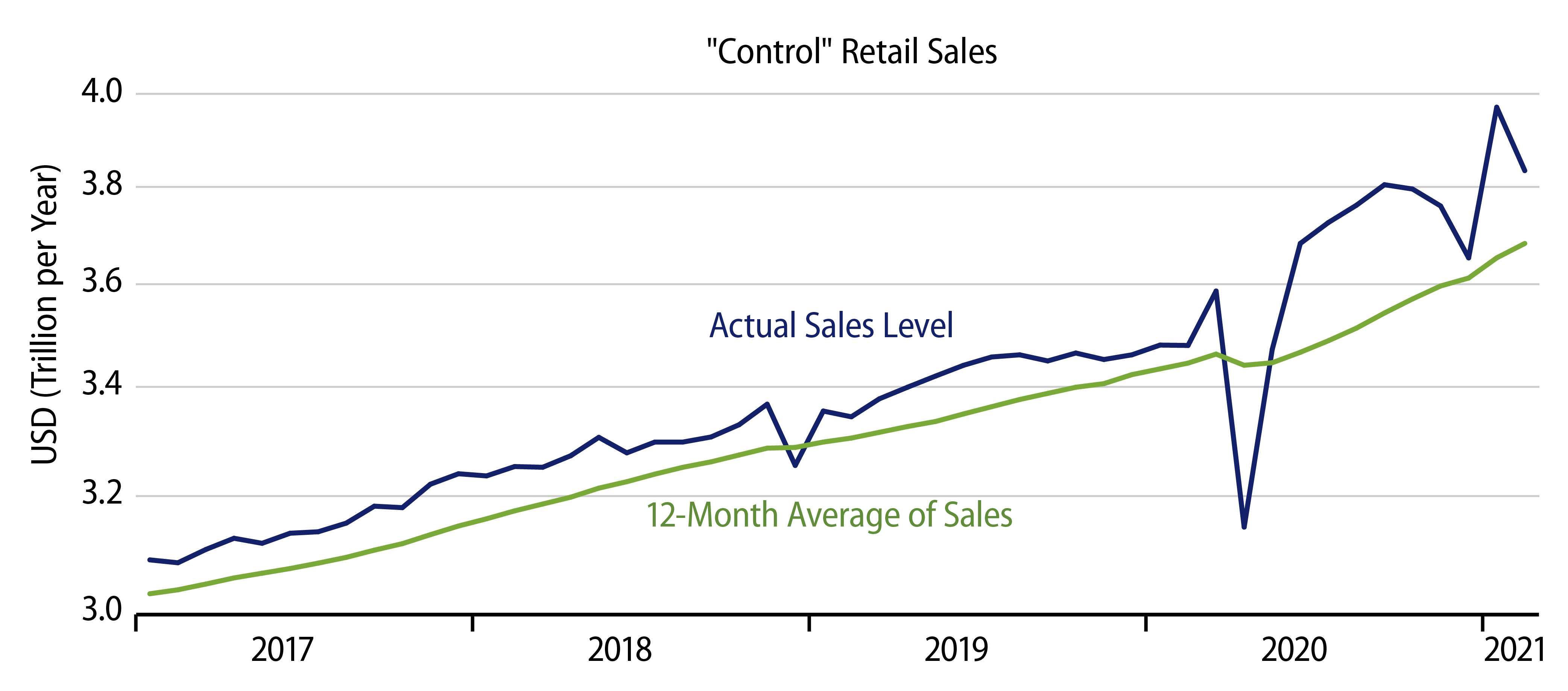 "Nature" here could refer either to the blizzards and blackouts that buffeted Texas in February or to the government's inability to smoothly seasonally adjust the data amid seasonal swings exacerbated by Covid and blizzards. "Nurture" could apply to government stimulus checks mailed in January. We didn't mention these a month ago, but Wall Street analysts made much of them.
In addressing the nature versus nurture debate here, we still believe the seasonal adjustment issue is dominant, though there are surely enough aberrant swings in these data to support a number of explanations. With respect to the effects of stimulus efforts, other government data indicate that personal saving in January rose nearly as much as did aid payments. So, it is hard to credit the stimulus payments as the main driver of January sales gains. By the same token, with most of the stimulus checks still unspent in February, there wasn't any shortage of funds then to blame the February sales declines on.
As for the blizzard, in years past, destructive winter storms buffeting the Northeast have wrought comparable sales swings. For this year, the question is whether the Texas blizzard and accompanying power outages were sufficiently widespread and protracted to drive the reported sales declines. We simply aren't going to know this for sure until we see how sales behave in the March and April data.
As for sketchy seasonal adjustment, notice in the chart that the 12-month moving average of sales continues to move smoothly higher and hold well above pre-Covid trends. In other words, beneath the wild monthly swings, underlying levels of retail sales have looked healthy throughout recent months and show no ill net effects from the pandemic (with lost income more than offset by government largesse).
The question is whether the recent stimulus checks are stoking yet stronger sales gains. We don't believe this to be the case, but the recent data are wild enough to support any take on this question.
As for individual store types, we mentioned last month that January gains were remarkably ubiquitous, and the same can be said of the February declines. Even nonstore (online) retailers saw a sales decline in February. It is hard to blame that on blizzards, but not impossible. Out of 12 major store types reported by Census, only service stations showed a sales gain in February, and that gain would seem to be due more to higher gas prices than to higher volumes. For most of these store types, the February declines are only fractions of the January gains, and underlying sales trends for these generally look good.