Private-sector payrolls rose by 662,000 in June, with May data revised upward by 31,000. Typically, we focus on a measure of private-sector jobs that excludes the especially seasonally volatile construction and retailing sectors. That measure showed gains of 602,000 in June, with May essentially unrevised, as construction reported declines of 7,000 jobs, while retailing reported gains of 67,000.
You will notice also that our private-sector tally differs substantially from the 850,000 gains announced for total nonfarm payroll jobs. The 188,000 jobs gain reported for government jobs consisted of 224,000 jobs gained in state and local education, with other government jobs declining by 36,000.
Why would schools be adding jobs in June, at the end of an academic year? They didn't really. Before seasonal adjustment, public education jobs actually declined by 313,000 in June, as schools recessed. Because so many schools were Covid-shuttered in the first place, there weren't as many teachers as usual to release for the summer, so the smaller-than-usual decline was seasonally adjusted into a reported gain. The vagaries of education jobs are a major reason why we focus on private-sector jobs in the first place.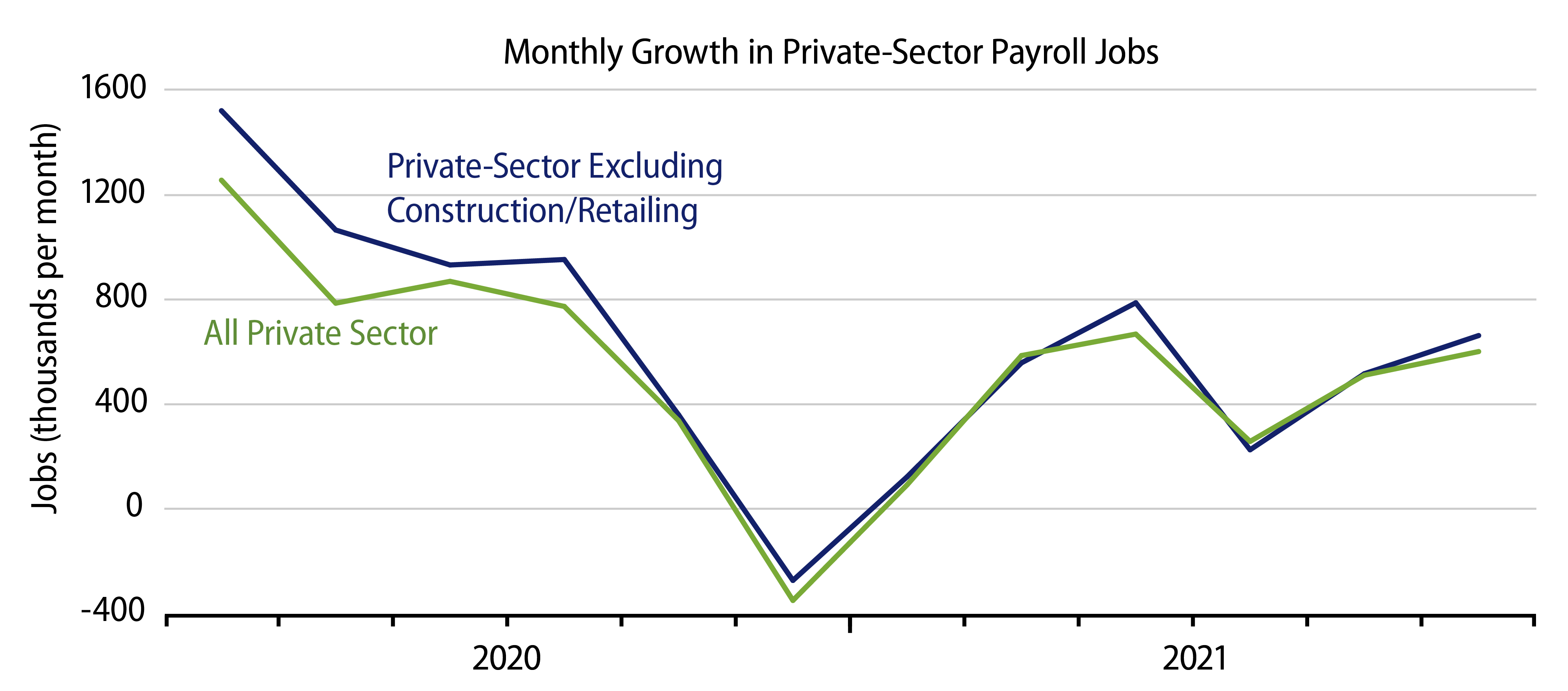 Even apart from the reported government gains, the 662,000 increase in private-sector jobs is still an improvement from the pace of the previous two months, where gains were 226,000 and 516,000 for April and May, respectively. Exhibit 1 suggests that it is the relatively soft April gain that is the outlier, that stronger May and June gains are merely in line with the prevailing pace of the last nine or 10 months.
This take is borne out by a look at job gains at the industry level. The strongest job gains in June were in food services (+194,000), accommodations (+75,000) and recreation venues (+74,000), all industries that have been reopened only in the last few months. And, indeed, in each of these sectors, as strong as the June gains were, they were not a major departure from the pace of previous months. The same could be said for private-sector service jobs excluding these three industries.
Looking again at Exhibit 1, last summer and fall, especially strong job gains were essentially across-the-board, as the economy in general—other than selected service industries—reopened. With the third Covid wave and consequent renewed shutdowns around year-end, job growth noticeably slowed, only to rebound again early this year as the third wave subsided.
Growth has generally resumed over the last six months. However, with manufacturing and construction essentially fully recovered, and the same for other industries not critically constrained by Covid shutdowns, recent gains, while strong by historical perspectives, are not as spectacular as those of last summer and have fallen behind, in turn, market expectations. And then there is that anomalous, soft gain in April.
On balance, then, private-sector job growth looks to have been pretty stable throughout this year. June levels of private-sector payroll jobs were about 8.6 million jobs lower than the trend path the economy was on prior to last year's shutdown. At the pace of recent months, it will take another two years to get back to pre-Covid growth trends. This is not as fast a recovery as seems to have been built into market pricing earlier this year, hence ongoing Fed caution and a pullback in bond yields over the last few months.