Headline retail sales declined by 1.2% in December, with the November sales level estimate revised lower by 0.6%. We and other analysts typically focus on "control" sales, which exclude sales at vehicle dealers, gas stations, building material stores and restaurants, to focus on more consumer-oriented retailers. That control aggregate showed a 0.7% decline, with November sales levels revised lower by 0.1%, as much of both the December declines and the November revisions occurred at gas stations and restaurants.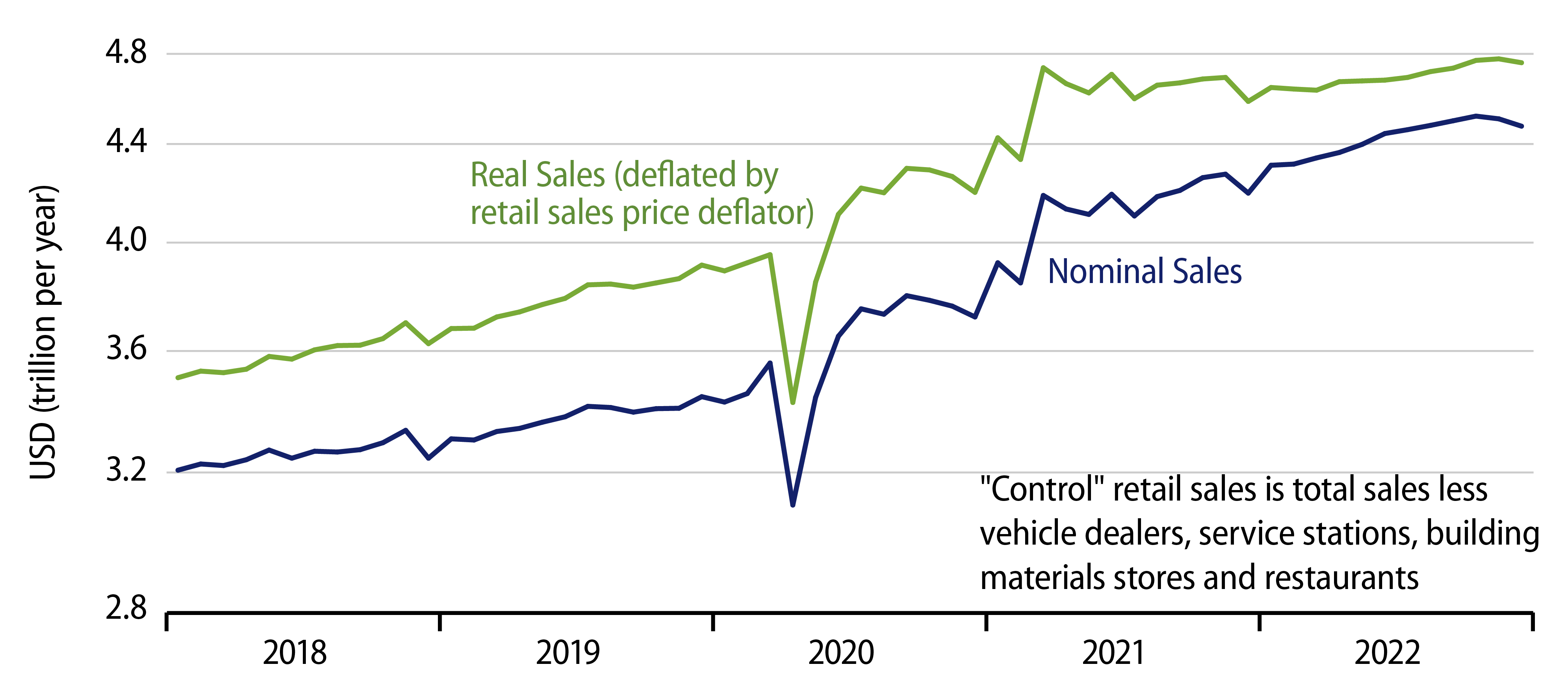 As daunting as these sales declines might sound, they are really merely in line with the patterns of the last 21 months. First, notice that retail prices have been dropping for the last three months, and they declined by about 0.3% in December, such that real—inflation-adjusted—sales declined only modestly. Second, sales this time of year are subject to heavy seasonal adjustment, thus heavy seasonal volatility. It is likely that both the announced sales increases for October and the announced sales declines for December merely reflect earlier Christmas shopping by consumers, a shift that government seasonal adjustment routines have not yet fully captured.
So, third, when you allow for price swings—both the sharp retail price increases of late-2021 and early-2022 and the declines of recent months—and keep in mind holiday seasonal volatility, real retail sales activity looks to be about on the same flat trend that has held since March 2021. Over the 21 months since then, consumers have held real spending on merchandise essentially flat and concentrated their spending growth in services that have been gradually recovering from a Covid-induced slump. Again, this process has generally continued in recent months.
It might be that consumer spending on both goods and services has softened slightly further in very recent months. We would expect this to occur, as real household incomes have not re-attained pre-Covid trends, thanks to millions of adults leaving the labor force. Consumers could not be expected to draw down savings, forever, to sustain living standards. However, it is much too early to say that such a shift is in place.
In the meantime, individual store types generally showed the same type of incremental December sales declines as did the control aggregate. Gas station sales have dropped noticeably in recent months, but that obviously reflects falling gas prices. Real purchases there have actually bounced, as consumers have used gas price relief as an opportunity to top off tanks and drive some extra miles. Elsewhere, furniture store and restaurant sales showed the most noticeable declines (though even these were modest). It might be that these reflect declining home sales and incremental belt-tightening, respectively, but, again, we'll have to wait for more data to draw such conclusions more surely.
All in all, the December retail sales report was clearly NOT an indication of consumer strength, but it is not yet clear whether it points to a meaningful, further step down in the pace of consumer activity or merely a continuation of ongoing trends.