Sales of new homes declined 12.6% in July, for a cumulative decline of 39.1% from their level of December 2021 and down 49.3% from their recent high of August 2020. Despite accompanying sharp declines in single-family housing starts, inventories of unsold new homes continued to increase in July, to where they were equal to 10.8 months' worth of sales.
Last year, the common claim among housing analysts was that homes were in extremely short supply, citing low inventory-to-sales ratios for existing homes. We pointed out at the time that inventories of unsold new homes were already at six months' sales, and we were skeptical of the tight-housing claims. Regardless of whether we were right a year ago or whether rising mortgage rates and high prices killed an otherwise healthy new-home market, present conditions clearly point to further sharp declines in homebuilding activity.
With new-home sales hitting new lows, this means that single-family housing starts—and with them, construction spending—will have to attain yet lower levels to work off the glut of unsold new homes that has built up. Owner-builds show up in starts but not in sales, and the scales in the chart here are adjusted for this fact. Our contention is that when the (blue) starts line lies above the (green) sales lines, inventories of new homes will be accumulating, and vice versa when it lies below.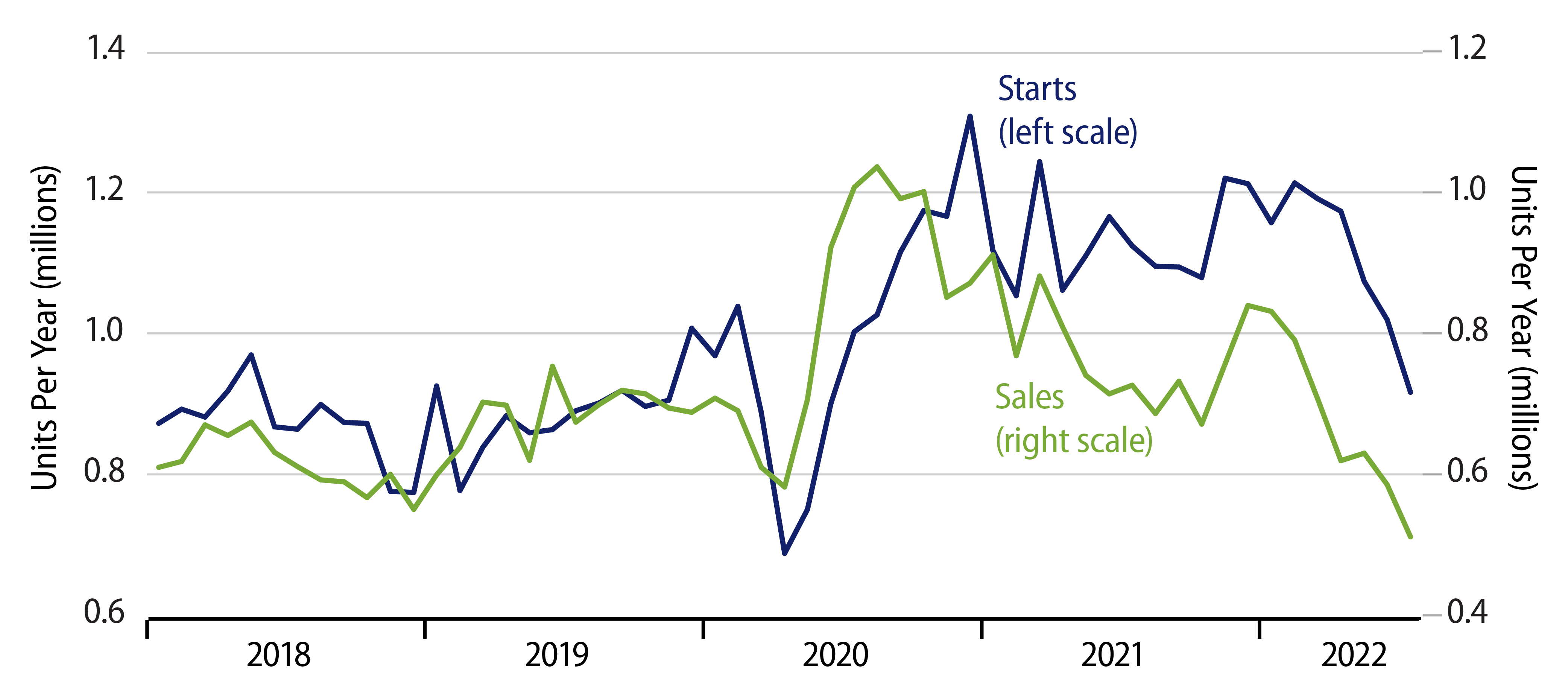 At the new, lower July level for new-home sales, it appears that single-family housing starts will have to drop below 0.6 million units per year before new-home inventories can begin to be worked down. That portends another 34% drop in single-family starts on top of the 24.5% drop we have already seen in the last five months.
Meanwhile, at nearly 11 months' sales, the inventory-sales ratio for new homes is near the highs attained at the nadir of the 2005-2009 housing plunge. By all these measures, homebuilding has a long way down to go before some modicum of stability can be hoped for.
Sales declined in all regions of the country, and in all regions, July sales levels were well below pre-Covid norms. The one possible ray of sunshine in today's report is that sales prices for new homes bounced in July, partially offsetting price declines reported for May and June. Both median and average sales prices for July were below April highs. Our guess is that new-home sales prices will be dropping further in months to come, but, again, July price data were not in accord with that contention.