Headline retail sales declined 1.1% in July, though the June sales estimate was revised up by 0.6%. The control sales measure excludes car, gasoline, building material and food service sales. It also declined by 1.1% in July, but with a 0.7% upward revision to the June estimate.
The July sales release marked the fourth straight month that sales fell short of market expectations, but still remained above the trend path that was in place prior to the Covid shutdown. You can see these patterns in each of the sales aggregates plotted in the chart.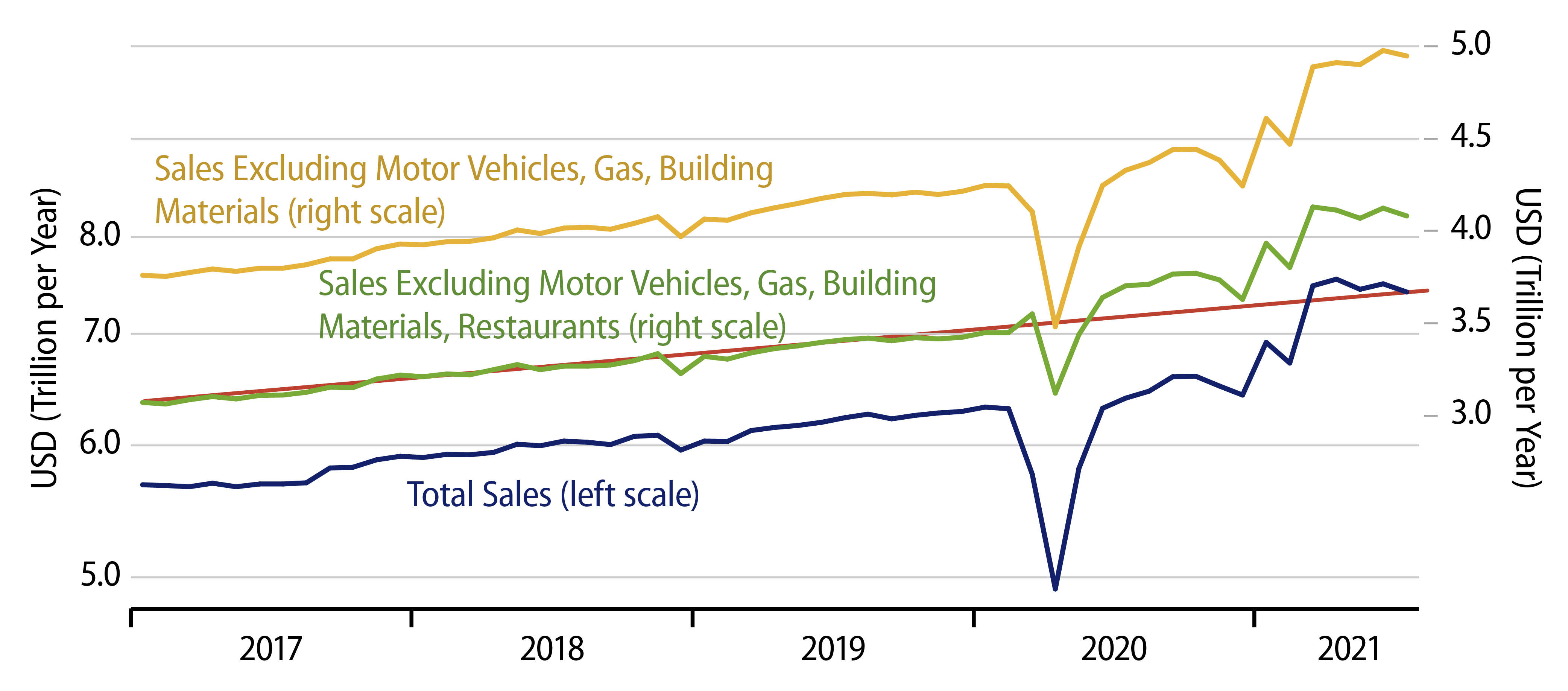 Consensus analysts have been looking for strong sales growth, similar to the increases seen early in the year, in the belief that consumers will start to spend the extraordinary benefits hurled at them by the federal government. Our belief has been that said benefits will be saved, not spent, since they are only a temporary benefit, not a source of permanent income. We have been expecting sales levels to pull back toward pre-Covid trend paths, as pent-up demand accumulated during last year's shutdown is spent. Suffice it to say that the actual sales data since March have been right in between these two polar opposites, showing soft growth, but with sales levels that, again, remain noticeably above pre-shutdown trends.
Declines in sales were widespread. Sales of motor vehicles, building materials, furniture and recreational products have all declined markedly in recent months, as have sales for department stores and online retailers. For all these store types, sales levels remain well above those seen prior to the 2020 shutdown, even after the recent marked declines.
Meanwhile, gas station sales continue to move higher, though much of this is higher gas prices. Clothing store sales have also continued to rebound, likely regaining some market share from online vendors, and ditto for electronics and appliance merchants. Restaurant sales continue to rebound from their prolonged Covid shutdown.
All in all, this is decidedly not a weak retail environment. It is just not seeing the continued strong growth that some pundits have been expecting.