Total retail sales rose 0.3% in October, on top of a +0.5% revision to the September level, in data released this morning by the Census Bureau. Street analysts typically track a "control" sales measure that excludes sales at car dealers, gas stations, building material stores and restaurants. This is because businesses frequent those store types about as much as consumers, and the intent is to focus on consumer spending trends. That control measure rose 0.1%, though with a +0.9% revision to September.
The October sales gains are said to have matched expectations, though no one is likely to have expected the substantial upward revisions to September data. In other words, the news was relatively upbeat. As is often the case, though, the details of the report provide some nuance to the picture. That is, all of the October rise in controls sales and most of the upward revision to September occurred within "nonstore" retailers, or online vendors.
Sales for these vendors rose another whopping 3.1% in October, with the September level revised up by 2.1%. Nonstore vendor sales are up a huge 27.9% from pre-Covid (February) levels. In contrast, control sales at "brick-and-mortar" retailers were reported declining by 1.0% in October, partially offset by a +0.4% revision to September. Sales there are up 3.4% from February levels.
Here, too, there is nuance. The blue line in the chart shows reported levels of control sales excluding nonstore vendors, and the straight red line there is our best guess at extrapolating the sales trends of 2019 and pre-Covid 2020. As you can clearly see, even after the October decline, control sales at brick-and-mortar retailers remained well above the trend path of the last two years.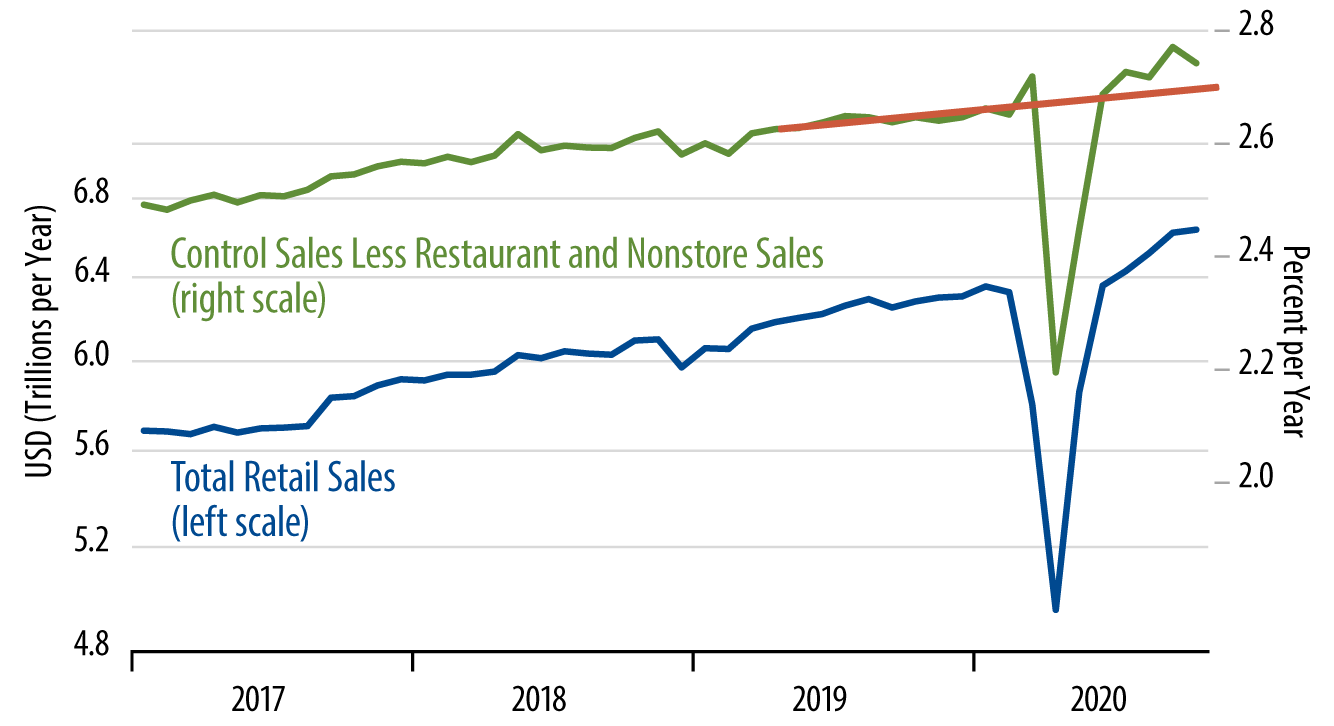 In my previous blog posts (formerly called By the Numbers), we have attributed above-trend sales levels to the sating of pent-up demand, as consumers in recent months spent more than usual in order to make up for spending forcibly reduced when the economy was shut down over March-May. Such restocking appears to have continued to occur in October, at a reduced rate, but that is only to be expected. The fact remains, though, that what further spending growth is occurring is largely confined to cyber spending, and online purchases are likely capturing an outsized share of consumers' restocking as well.
Overall, today's data are supportive of the economic recovery. We have been warning for some time of a possible slowing in the pace of retail sales growth, as consumer restocking was completed. There has actually been less such slowing than we expected. Meanwhile, even as the recovery continues, it will remain a challenging environment for traditional retailers, as calls for continued social distancing strain the environment for in-person shopping.