Total US housing starts declined 2.0% in June to a rate of 1.56 million units per year. The more important single-family starts measure dropped more substantially, by 8.1%, to a rate of 0.982 million units per year. Cumulatively, single-family starts are down 24.9% from the high achieved briefly in December 2020.
This decline is not enough. As indicated by the chart, single-family starts are still running well above the rate of sales of new, single-family homes. The scales of the chart are adjusted to account for owner-builds, which show up in starts but not in sales. When the blue line is above the green line in the chart, the inference is that inventories of unsold new homes are rising. That has been the case for the last 19 months, and in our view, builders are awash in a glut of unsold new homes.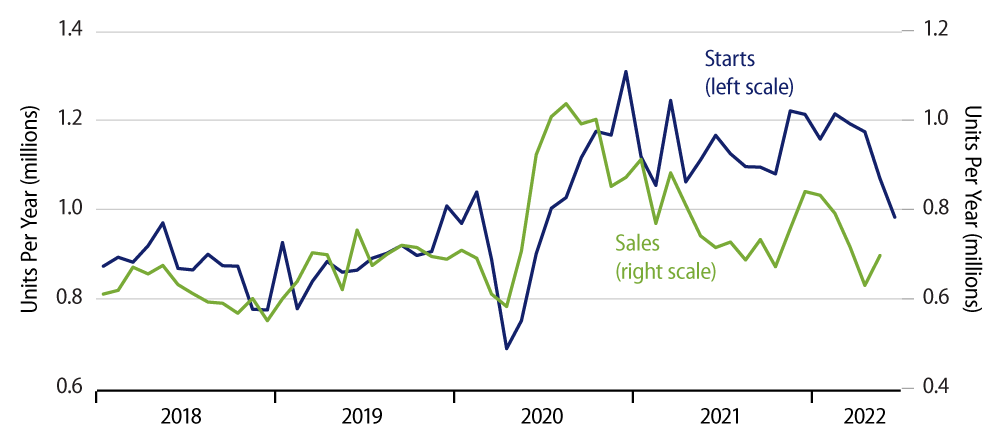 As of the May data, inventories of unsold new homes were equal to almost eight months' worth of sales, compared to "normal" levels of about four months' sales. Should new-home sales decline again in June, as seems likely, unsold inventories could rise above 9 months' sales.
In other words, single-family starts need to decline another 20% just to prevent inventories from rising further. They need to decline substantially more than that to begin to pare down excess inventories. The bottom line is that single-family home construction is going to be a significant drag on GDP growth for quite a while, barring a sudden surge in new-home sales, and new-home sales have been declining for almost two years, even before mortgage rates started rising and prices grew outlandish.
I know you hear continually that there is a shortage of homes for sale. If that statement is true, it applies only to the existing-home market. Inventory-sales ratios for new versus existing homes have diverged radically over the past two years, with the former rising sharply and the latter declining. It is true that such a divergence has not previously occurred over the span of these data, so it is not clear which measure is more telling. However, to hold to the narrative of a housing shortage, you need to completely ignore the new-home sales and inventory data, and that is an unwarranted ignorance.
Meanwhile, our analysis so far has ignored the multi-family sector, but there the statistics are even more alarming. Builders continue to start new multi-family units at a rate well above the peaks of this century. However, multi-family unit completions have not increased commensurately. That is, construction times are being extended dramatically. Builders attribute this to a shortage of materials, but it is hard to believe that this is all that is going on here.
Currently, there are 856,000 multi-family units under construction. At the peak of the early-2000s housing boom, there were about 450,000 multi-family units under construction. We are likely not too far away from a severe glut of multi-family units to match that currently in place for single-family homes.