The Census Bureau today announced that sales of new homes dropped -16.6% in April from revised March levels. Furthermore, that March level was revised downward by -7.1% from the previous estimate. All told, new-home sales dropped -29.6% from December through April. Granted, new-home sales data are volatile and subject to considerable measurement error, but these declines are much larger than normal measurement errors. Note also that these declines have occurred before the full ascent of mortgage rates to the 5.5% level in recent weeks.
We are perhaps not one to talk up these declines too much, as we have been predicting a substantial decline in homebuilding for some time, which has been exceedingly slow in the making. However, given the gap between levels of housing starts and new-home sales, as indicated in the chart, it is hard to see how homebuilders can continue in coming months without slashing starts and construction rates.
The chart adjusts for the respective scales for starts and sales to take account of owner-builds, which show up in the starts data, but not in the sales data. Based on this reckoning, housing starts would have to fall 30% from recent levels to bring them into line with current sales levels and prevent further accumulation of unsold inventories.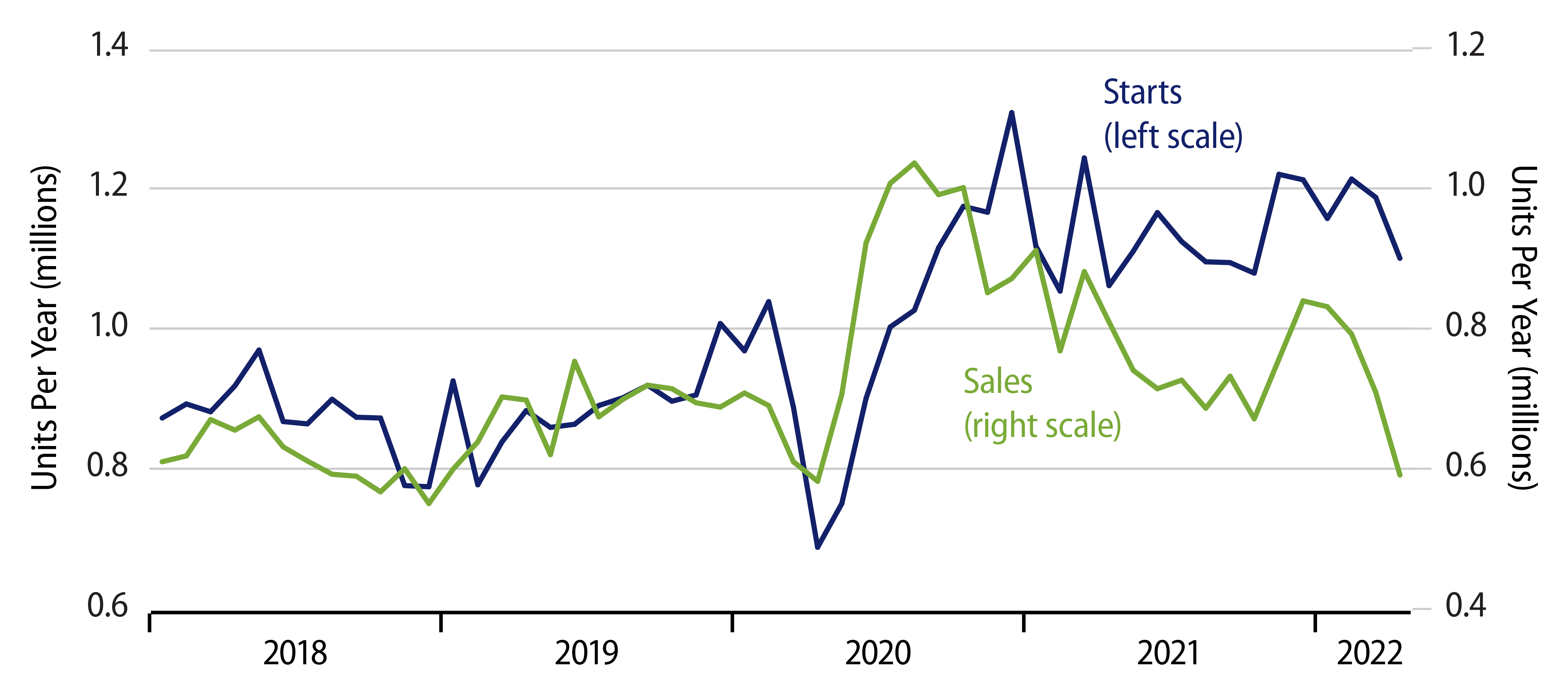 As it is, inventories of unsold new homes have already accumulated enough in recent months to equal nine months' worth of sales. Inventory-sales ratios for new homes have not been this high since late-2007, which was more than two years into the housing bubble collapse of 2005-2009.
Others have gainsaid the importance of new-home inventories for two reasons: 1) inventories of existing homes are very low, and 2) inventories of completed new homes are low. But there are problems with both excuses.
Concerning existing homes, inventories of these typically reflect both a buyer and a seller. An existing home for sale is generally being offered by a current homeowner who is looking to buy somewhere else. So, a low level of existing homes for sale likely just reflects low turnover rates of housing at present. In contrast, inventories of new homes reflect the demand/supply balance/imbalance of additions to the nation's housing stock.
As for inventories of completed homes being low, the overwhelming majority (around 75%) of new-home sales are homes either under construction or not yet started. Completed homes are always a small portion of the new-home market, so low inventories there are generally not that informative. Furthermore, builders have been slowing down construction rates, ostensibly to prevent unsold homes from being completed and wearing on overhead. So, here too, completed home inventories may be irrelevant.
It has been commonly reported recently that the number of homes currently under construction is at an all-time high. Some take this as news of strength. However, given the ongoing declines in new-home sales and the build-up of inventories of unsold new-homes, we think this can hardly be seen as an indicator of strength.
Meanwhile, the one possible positive in today's report is that new-home sales prices continue to rise. Is this a light at the end of the tunnel or, in view of plunging sales and accumulating inventories, the glare of an oncoming train?