Municipal market yields moved modestly higher amid heavy new-issue volume. We continue to see an appetite for tax-exempt yield, as municipal mutual funds recorded a sixth consecutive week of inflows, further paring year-to-date (YTD) outflows. This week in munis, we explore the potential implications associated with infrastructure proposals currently circulating around Washington.
The Muni Market Posted Modestly Positive Returns
AAA municipal yields moved 2-3 bps higher across the curve this week, underperforming a relatively unchanged Treasury market. Municipal/Treasury ratios have stabilized following a few months of volatility, remaining range-bound between 110% and 125%, which is still above longer term averages. The Bloomberg Barclays Municipal Index returned 0.06%, while the HY Muni Index returned 0.23%
Technicals Softened as Heavy Issuance Mostly Offset Strong Inflows
Municipal mutual funds reported $1.7 billion of inflows, a sixth consecutive week of inflows, according to Lipper. Long-term funds recorded $990 million of inflows, high-yield funds recorded $148 million of inflows and intermediate funds recorded $122 million of inflows. Municipal fund net outflows now total $9.8 billion YTD.
The muni market recorded $15.9 billion of new-issue volume last week, up 45% from the prior week. YTD issuance of $189 billion is 8% above last year's pace, primarily driven by taxable supply, which remains approximately 2.9x over last year's levels, while tax-exempt supply is down 10% year-over-year. We anticipate approximately $7 billion in new issuance this week, led by $1.1 billion Massachusetts GO bonds and $281 million in taxable state of Wisconsin transactions.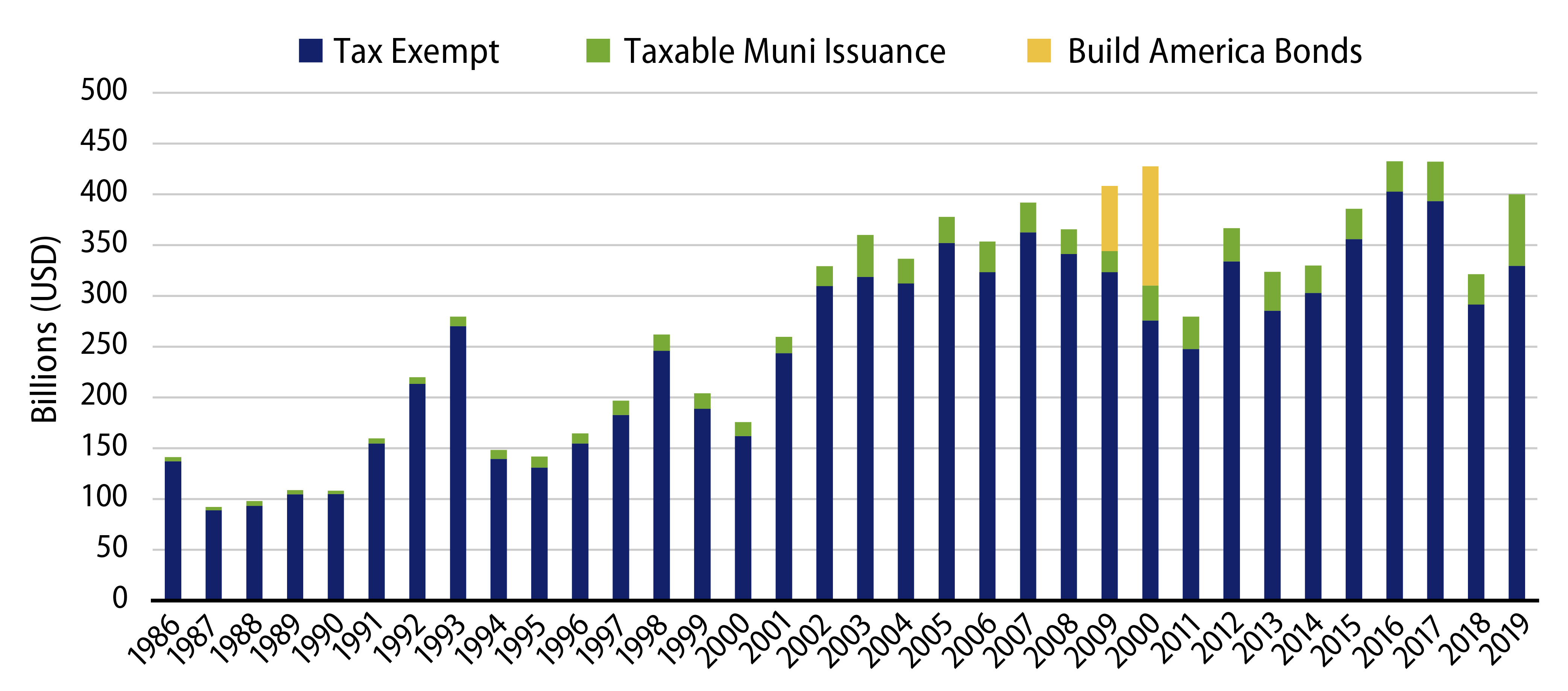 This Week in Munis: Infrastructure Proposals Could Directly Impact the Tax-Exempt and Taxable Muni Market
On Thursday, June 18, House Democrats pitched a $1.5 trillion infrastructure plan, and scheduled a vote ahead of the July 4 recess. The Trump administration has separately discussed a $1 trillion infrastructure measure. Neither side has disclosed how an infrastructure package would be funded, but the House Ways and Means Chairman proposed floating new bond measures, including a permanent reinstatement of Build America Bonds (BABs).
As a reminder, following the great financial crisis (GFC) in 2009, the Obama administration introduced BABs, which provided municipal issuers federal subsidies to issue $181 billion of taxable municipal debt in 2009 and 2010. A bipartisan agreement on infrastructure, and any reinstitution of BABs, would have direct implications on both the taxable and tax-exempt municipal market. As municipalities were incentivized to issue taxable municipal debt in 2009 and 2010, tax-exempt issuance fell 20%. Due to increased global awareness of taxable muni debt, we could see an even higher cannibalization of tax-exempt debt with a permanent reinstatement of BABs, particularly given very low Treasury rates.
The prospect of lower tax-exempt supply serves as another positive technical factor to the tax-exempt market that has faced declining net new issuance. Meanwhile, the measure would likely accelerate already growing taxable supply levels, potentially offering value to global investors faced with low (to negative) global government rates.