Muni Inflows Turn Positive for the Year
AAA municipal yields moved 6 bps lower across the curve, trailing Treasuries. Municipal mutual funds recorded a twelfth consecutive week of inflows, turning net flows positive for the year. The Bloomberg Barclays Municipal Index returned 0.36%, while the HY Muni Index returned 0.55%. High-yield muni returns are now flat for the year following declines of nearly 20% in March.
Positive Technicals Persist
Fund Flows: During the week ending July 29, municipal mutual funds inflows were $1.8 billion, according to Lipper. Long-term muni funds recorded $890 million of inflows, high-yield muni funds recorded $181 million of inflows and intermediate muni funds recorded $116 million of inflows. Municipal fund net inflows YTD total $3.1 billion.
Supply: The muni bond market recorded $7.6 billion of new-issue volume last week, down 26% from the prior week. Issuance of $247 billion YTD is 29% above last year's pace, primarily driven by taxable issuance as tax-exempt issuance is unchanged year-over-year. We anticipate approximately $8 billion in new issuance this week (+5% week-over-week), led by a $1.4 billion LA MTA transaction and a $900 million Taxable State of Hawaii transaction.
This Week in Munis: Taxable Spread Opportunities Abound
Low taxable Treasury rates, and favorable economics for issuers to advance refund tax-exempt municipal debt with taxable issuance has led to heightened taxable issuance. Taxable municipal issuance, inclusive of corporate CUSIPs, reached $91 billion at month-end, according to Bloomberg. This issuance is on pace to double 2019 taxable issuance, which was already at its highest level since the Build America Bonds program.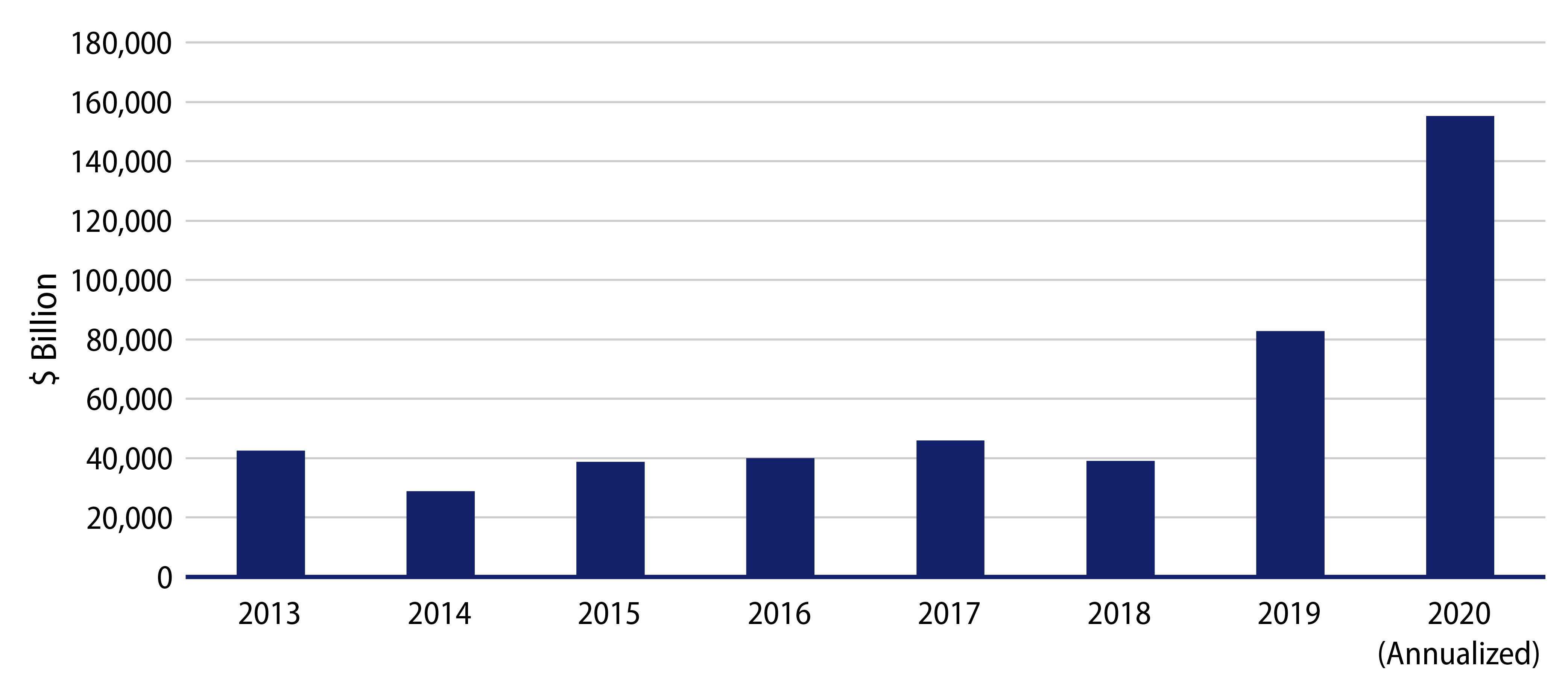 We continue to recognize increased foreign interest in taxable municipals. Low to negative global government interest rates and declining hedging costs have contributed to increased foreign demand of taxable municipals. Moreover, favorable sub-sovereign capital treatment of general obligation bonds, as well as infrastructure qualification for certain revenue liens have also been supportive of foreign bank and insurance demand.
Foreign municipal demand has increased 29% over the last five years to $107 billion, according to the Federal Reserve. As global growth and rates continue to grind lower, we anticipate foreign interest in the municipal bond asset class to persist, particularly given favorable relative valuations versus other fixed-income asset classes despite lower default rates.