Private-sector payrolls rose by 906,000 jobs in October, above expectations and hugely above the 365,000 gain projected by the ADP survey. We focus on private-sector payrolls in order to gauge developments in the market economy. This focus is especially relevant presently, when Census hiring/terminations as well as vagaries in school employment have distorted government payroll data.
Thus, total nonfarm payrolls rose by "only" 638,000 in October, thanks to a 268,000 decline in government jobs. Termination of temporary Census workers appeared to drive 139,000 of that decline. In addition, state and local education jobs showed a decline of 159,000, as schools were slow to reopen for the fall term. That is, before seasonal adjustment, public education jobs rose by 285,000, but because that was a smaller gain than usually occurs in October, the number was seasonally adjusted to a decline of 159,000.
The numbers show jobs growing nicely virtually wherever they are allowed to, that is, wherever Covid strictures are not preventing such growth. Construction jobs rose by 84,000. Manufacturing jobs rose by 38,000. As we saw with the 3Q GDP report last week, the construction and goods-producing sectors showed a very strong rebound in output in 3Q, with 3Q output levels there near (construction) or above (goods-producing) pre-Covid levels.
Jobs have been slower to rebound in these industries, but there is still a decent pace of recovery even there. Thus, both construction and manufacturing employers have rehired roughly 65% of the workers "displaced" during the Covid shutdown. What's more, today's October data reflect the start of 4Q, and the strong job gains portend another strong quarterly growth rate for GDP in 4Q.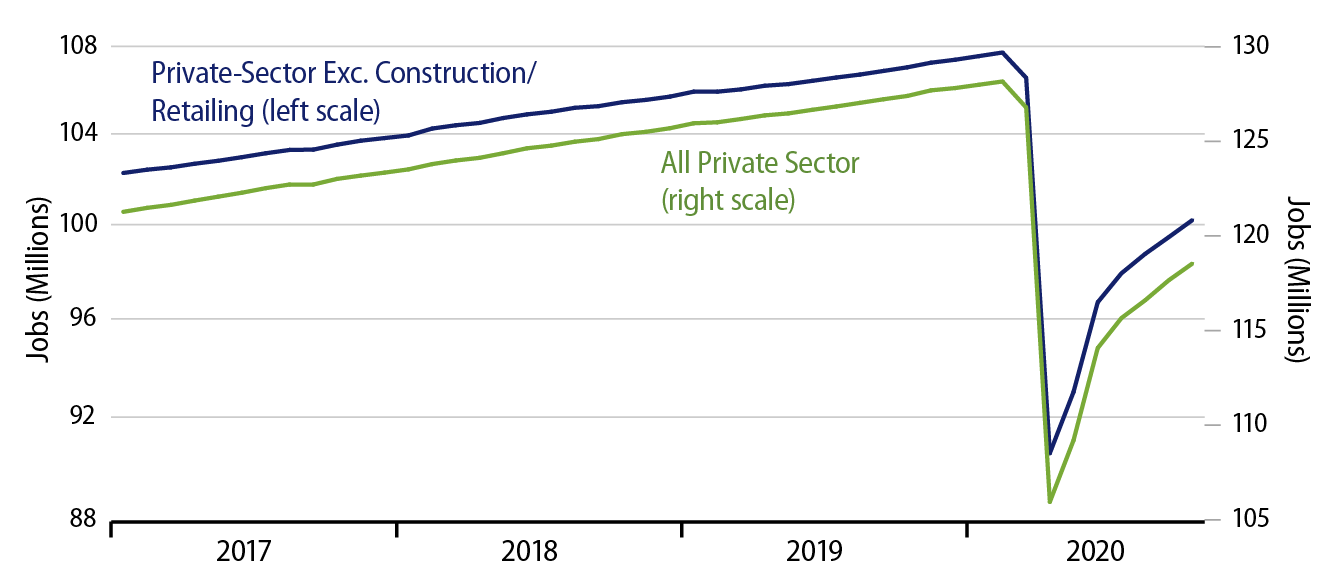 In the service sectors, the post-shutdown recovery has been more halting, but it is impressive there that some pace of recovery still continues. Across the five hardest-hit service sectors of healthcare, restaurants, recreation, accommodations and travel, October job gains totaled 236,000.
Restaurants added 92,000 jobs in October and are back to within 17% (4.3 million jobs) of pre-Covid levels. Health care added 58,000 jobs and is back within 4% of pre-Covid levels. Recreation and accommodations saw smaller but still substantial gains (recreation up 44,000 and accommodations up 34,000). Only passenger travel foundered, and it even showed a net gain of 8,000.
Our guess is that the US economic recovery will continue, as long as the government allows it to. Along those lines, we don't see a further stimulus package being as essential. In our view, the official data indicates that the government aid already provided will be sufficient to fully offset ongoing, Covid-induced personal income losses at least through March 2021. And should the payroll data continue in line with today's report, that estimate would prove to be on the cautious side.