Municipal Yields Moved Slightly Higher
AAA Municipal yields moved 1-2 bps higher across the curve. The Bloomberg Barclays Municipal Index returned -0.06%, while the HY Muni Index returned 0.01%. Following a Labor Day payroll weekend, we checked in on state and local employment trends.
Technicals Continue to Soften Amid Heavy Supply
Fund Flows: During the week ending September 2, municipal mutual funds reported a 17th consecutive week of inflows at $139 million, according to Lipper. Long-term funds recorded $238 million of outflows, intermediate funds recorded $102 million of inflows and high-yield funds recorded $145 million of outflows. Municipal mutual fund net inflows YTD total $15.2 billion.
Supply: The muni market recorded $14.1 billion of new-issue volume last week, up 27% from the prior week. Issuance of $304 billion YTD is 29% above last year's pace, primarily driven by taxable issuance, which is up over 265% from last year's levels. We anticipate approximately $7 billion in new issuance this week (-50% week-over-week), which is considered high for a holiday-shortened week. The largest deals include $1.1 billion New York City TFA and $807 million Oregon State Department of Transportation transactions.
This Week in Munis: Labor Day and Muni Payrolls
Well publicized, pandemic-related budgetary challenges have led to unprecedented payroll declines for state and local governments. States and local municipalities shed approximately 1.5 million jobs (-7.5%) from highs in February to the lows observed in May. Local governments observed the majority of that decline, losing 1.3 million jobs, or 8.5% of the February workforce over this period. States, by comparison, lost 273,000 jobs, or 4.7% of the workforce.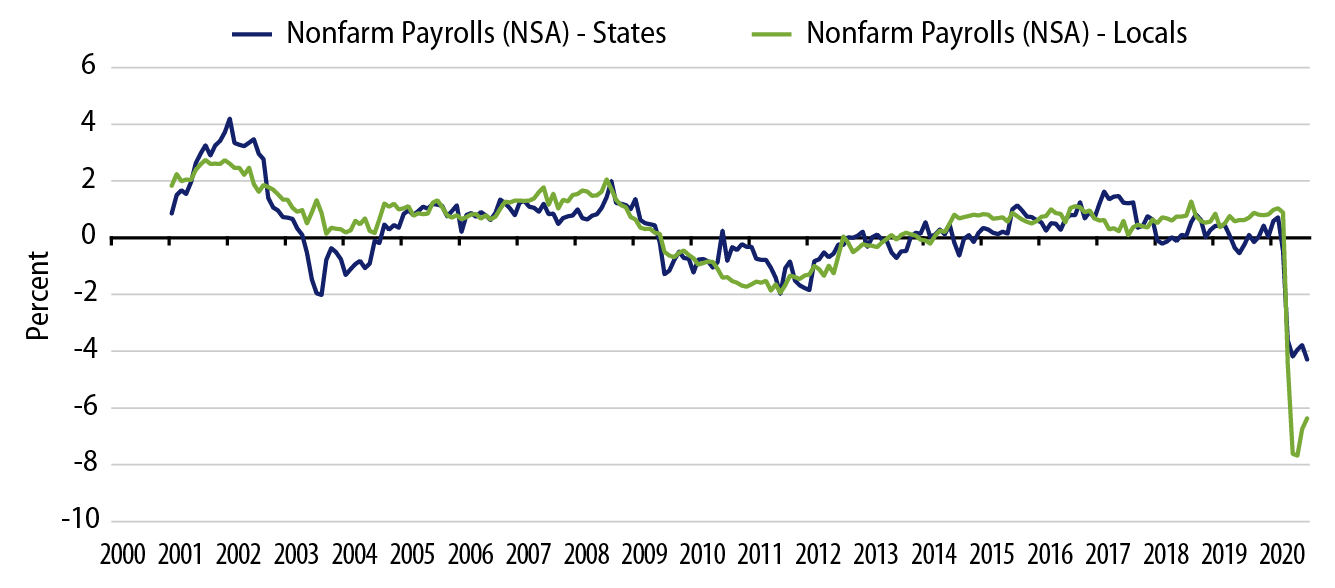 On Friday US payrolls increased by 1.4 million and the unemployment rate fell to 8.4%. Local government payrolls increased by 95,000 jobs, while state government payrolls declined by 2,000 jobs. Since the May lows, states have only recovered 25,000 jobs while locals recovered 346,000.
Considering more granular payroll data by state from February through July, Hawaii, New York and Vermont had the largest payroll declines. Idaho was the only state to observe growth in payrolls over this period (+0.3%).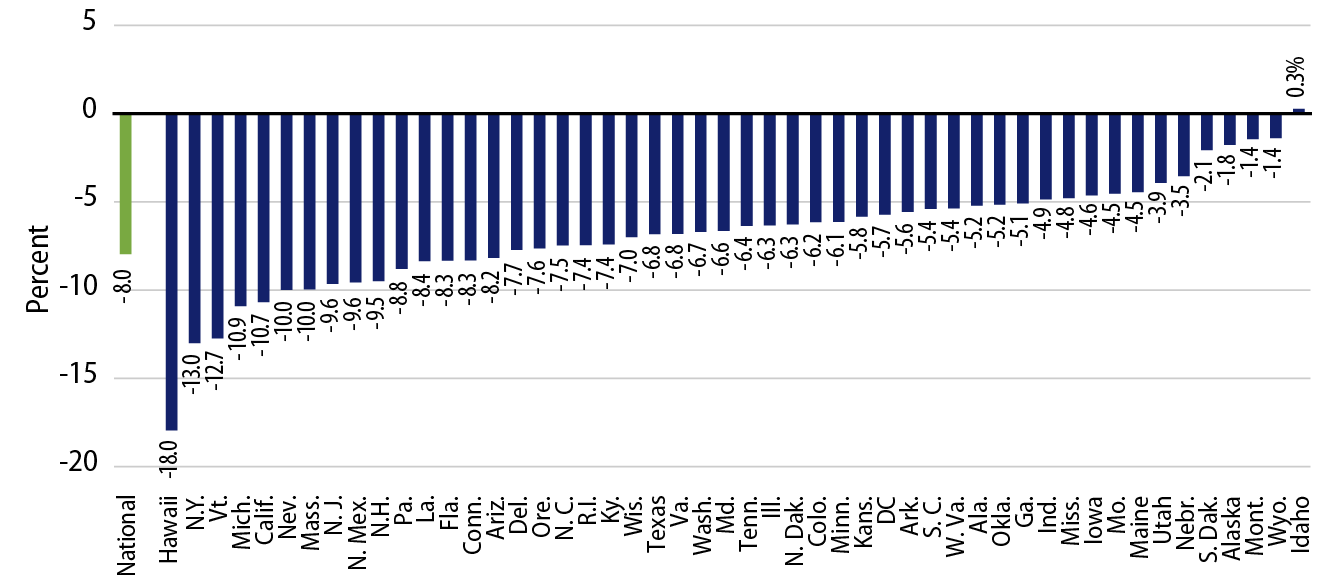 We continue to believe the majority of states and local governments will maintain adequate budgetary flexibility needed to weather revenue challenges associated with COVID-19. This flexibility, in our view, can come at the expense of discretionary expenses, payrolls and economic growth. According the Bureau of Economic Analysis, state and local government spending comprises approximately 14% of GDP. Absent meaningful federal aid to compensate state and local governments for revenue shortfalls, we anticipate this austerity measure will weigh on payrolls and economic growth over the medium term.