While some investors may have just begun the process of integrating ESG (environmental, social and governance) into their portfolios, ESG is not a new concept. The term was coined almost 15 years ago—in 2005 to be precise—by the UN Global Compact, and the UN Principles for Responsible Investment (UNPRI) launched the following year. Support for ESG has grown consistently and rapidly since then, with the number of signatories now exceeding 2,300 and signatory assets under management totaling around $90 trillion.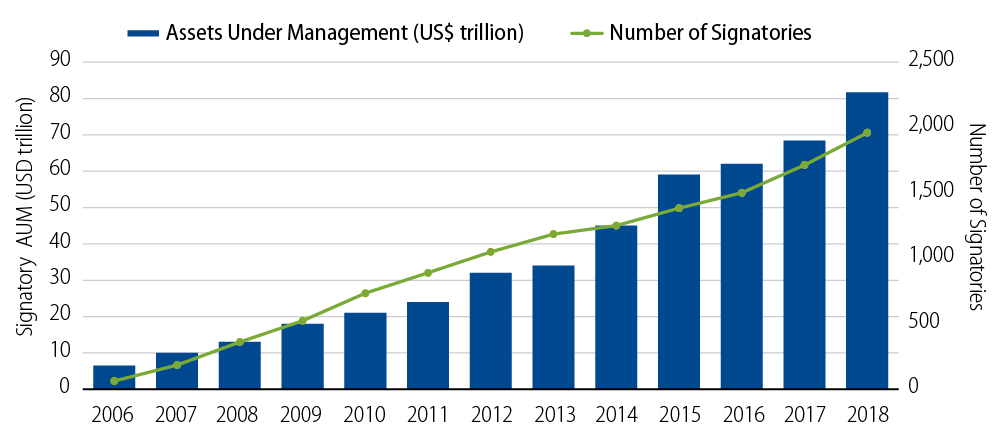 Through our conversations with clients and other capital markets participants, we have observed a meaningful acceleration in this trend particularly over the past two years. Many investors that initiated due diligence on ESG out of curiosity or in response to stakeholder pressure are now taking steps to invest in a future that is not only wealthier but also healthier and cleaner.
ESG in the Spotlight at the Milken Institute Global Conference
This commitment to ESG was readily apparent last week at the 22nd Annual Milken Institute Global Conference. Each year the event brings together investors and innovators to discuss topics not only related to finance but also healthcare, biotechnology, public policy, education, technology, entertainment and sports.
Around this year's theme of "Driving Shared Prosperity," a variety of thought leaders presented their ideas to address the two overarching challenges of our time—climate change and income inequality. Speakers representing both the public and private sectors discussed the environmental and social considerations around infrastructure expansion in developing countries, and the importance of female inclusion to economic growth. There were several powerful sessions that related to important ESG topics, including: agricultural technology and how to ensure a sustainable food supply for all human beings; advancing diversity and economic inclusion in the corporate world, entertainment and developing countries; innovations in drug development and surgical technologies to improve public health; and how to improve the American educational system and prepare the workforce for the disruptions of artificial intelligence.
Alongside all of this, some of the world's largest institutional investors reiterated their support for financing a sustainable future and the need for collective action to reduce the systemic risks posed by conducting "business as usual." In short, ESG was woven through the entirety of the conference. When the most powerful leaders across the globe direct their focus to ESG, the rest of the world should take note.
Western Asset is honored to have participated in the 2019 Milken Institute Global Conference. As a signatory to the UNPRI and as a long-term fundamental value investor, we are committed to advancing the integration of ESG into the investment process, engaging with management to push for positive change and increasing the adoption of ESG through collaborative initiatives. We applaud the Milken Institute's vision of prosperity for all and remain very much aligned with its mission.