Total retail sales declined 1.1% in November from an October level that was revised lower by 0.2%. The "control" sales measure tracked by Wall Street analysts declined by 0.5%, with no revision to October. (This control measure excludes sales at vehicle dealers, gas stations, building material stores and restaurants, as the first three store types are frequented by businesses as much as by consumers and as restaurants are considered a service industry.)
The holiday season sales data always have a number of crosscurrents foaming within them, and the turbulence in current data is multiplied many times over by the effects of COVID-19. Thanksgiving and Black Friday shopping traditionally incite big increases in unadjusted (raw) sales, and the government's seasonal adjustment techniques have to attempt to distill the signal from very loud seasonal noise. With said seasonal adjustment based on previous years' experience, November sales gains less sharp than those of previous years are reported as declines.
To compound this problem, recent sales levels for a number of retail sectors have been unsustainably large, as consumers restocked following enforced abstinence during the spring shutdown. Finally, with the latest Covid resurgence, new shutdowns are hitting various regions and sectors, restaurants most prominently.
Net of all these crosscurrents, our take is that the 0.5% decline registered in control sales in November is not bad. As you can see in the chart, even with declines over the last two months, both sales measures shown still sport November levels well above the trend path that was in place prior to the COVID-19 shutdown. Consumers are not restocking as ardently as they were in September, but November spending levels were still more than decent.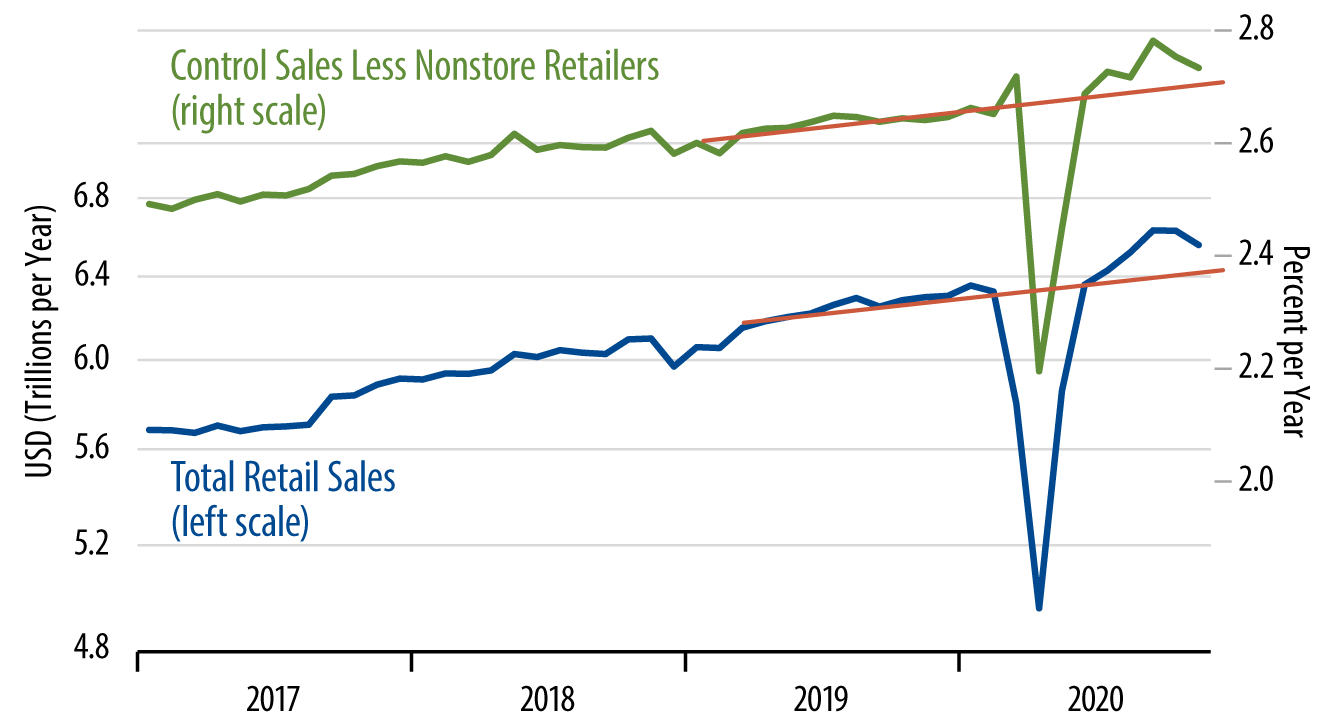 Keep in mind, as well, that the sales aggregate represented by the blue line excludes online (nonstore) shopping, where sales are booming. Nonstore sales rose again in November and stood 29.1% above November 2019 levels. Again, even without this boost, control sales at brick-and-mortar retailers were up 3.5% from year-ago levels.
Concerning the components of total sales not included in the control group, vehicle sales slipped a bit in November, but were still up 6.4% from a year ago. Building material store sales rose further in November and stood 18.7% above November 2019. The drags on headline retail sales were two poster-child Covid casualties: gas station sales, down 17.1% from a year ago, and restaurants, down 17.2%. The heady sales gains of summer are behind us, but consumers have still held in well recently—where they are still allowed to shop.