Total US housing starts rose 12.2% in August, paced by a 28.0% increase in multi-family starts. Single-family starts rose a much more modest 3.4% in August, with downward revisions to June and July data offsetting about half that rise.
As you can see in the accompanying chart, the reported August gains do little or nothing to reverse—or even suspend—the downtrend in single-family starts in place over the last nine months. Even during the worst of the 2005-2009 housing crash, single-family starts registered occasional one-month gains equal to or larger than what was reported today for August.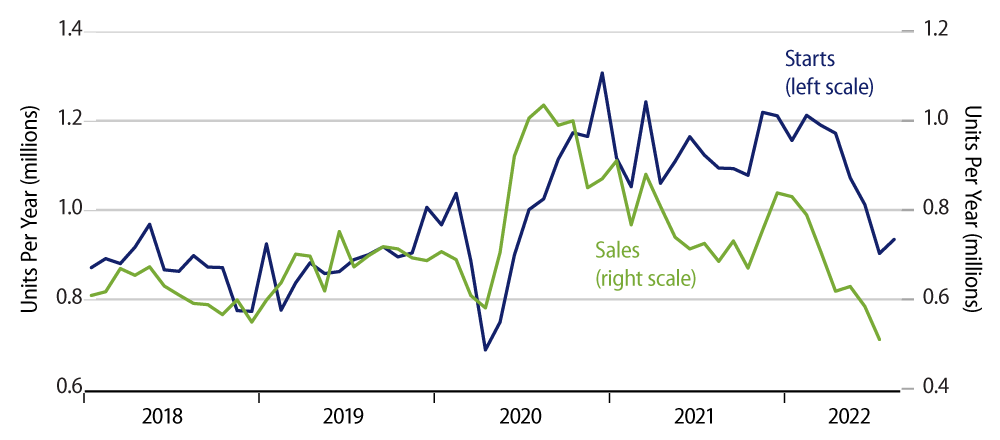 Meanwhile, the scales of this chart have been adjusted to account for owner-builds, which show up in starts, but not in new-home sales. By this reckoning, even after the net declines of the last nine months, current levels of single-family starts are still way too high to arrest the continued build-up of inventories of unsold new homes.
As of July, new-home inventories equaled 11 months' worth of sales, an overhang exceeded only at the early-2009 nadir of that housing crash. With August start rates apparently well in excess of absorption rates, it is almost sure that new-home inventories rose further in August, pushing the inventory-sales ratio still higher. We have been bearish on single-family homebuilding for over a year, and we see nothing in this report to challenge that assessment.
Meanwhile, the sharp increase in multi-family starts points to an even more severe dearth of product in that sector. For the last two years, starts of multi-family units have vastly exceeded completions of such units. In other words, the number of multi-family units under construction continues to grow dramatically, reaching 890,000 in August, compared to a 2005-2009 high of 453,000 units. Other Census data show a net decline of 161,000 over the last three years in the number of occupied rental units, even as 1,082,000 multi-family units have been completed in that span.
Yes, leasing agents claim to have seen an excess of demand for rental housing, and it is certainly the case that rental rates have been rising over the last two years. And, yes, the multi-family construction and rental property occupancy data might not be fully compatible with each other. Still, the contrasts between these are disturbing, and the continuing gap between starts and completions of multi-family units all by itself points to a coming glut in that sector.