Municipals Posted Positive Returns Last Week
The AAA muni yield curve steepened during the week, moving 1 bp lower in 5-years and 2 bps higher in 30-years. US munis underperformed the Treasury rally, sending Municipal/Treasury ratios 3% higher in both 10- and 30-years. The Bloomberg Barclays Municipal Index returned 0.04%, while the HY Muni Index returned 0.10%. This week, we highlight the improvement in the health care sector this year.
Technicals Continue to Drive Outperformance
Fund Flows: During the week ending July 14, municipal mutual funds recorded $2.2 billion of net inflows. Long-term funds recorded $1.6 billion of inflows, high-yield funds recorded $654 million of inflows and intermediate funds recorded $263 million of inflows. Municipal mutual funds have now recorded inflows 60 of the last 61 weeks, extending the record inflow cycle $128 billion, with year-to-date (YTD) net inflows also maintaining a record pace of $66 billion.
Supply: The muni market recorded $11 billion of new-issue volume during the week (+154% week-over-week). Total issuance YTD of $242 billion is 13% higher from last year's levels, with tax-exempt issuance trending 19% higher year-over-year (YoY) and taxable issuance trending 2% lower YoY. This week's new-issue calendar is expected to decline modestly to $10 billion of new issuance. The largest deals include $839 million Salt Lake City International Airport and $660 million State of Oregon Education District transactions.
This Week in Munis: Health Care Headlining Sector Performance
The health care sector has been a top performing investment-grade municipal sector YTD. Through July 14, the sector returned 2.99%, outperforming the Bloomberg Barclays Municipal Bond Index by 221 bps and leading all investment-grade municipal sectors. The relatively higher yielding sector has benefited from an appetite for yield amid the unrelenting positive technical factors observed in the municipal marketplace, and constructive recent developments have also strengthened fundamental prospects for the sector.
As the vaccine rollout has limited the spread of the COVID-19 virus, health care utilization has steadily improved. Hospitals have reported rising patient volumes, including non-emergency procedures. While most hospitals did not receive support from the most recent American Rescue Plan, the sector largely benefited indirectly from the federal expansion of coverage options for the uninsured, scaling up vaccine distribution and increased funding for Covid- and PPE-related supplies.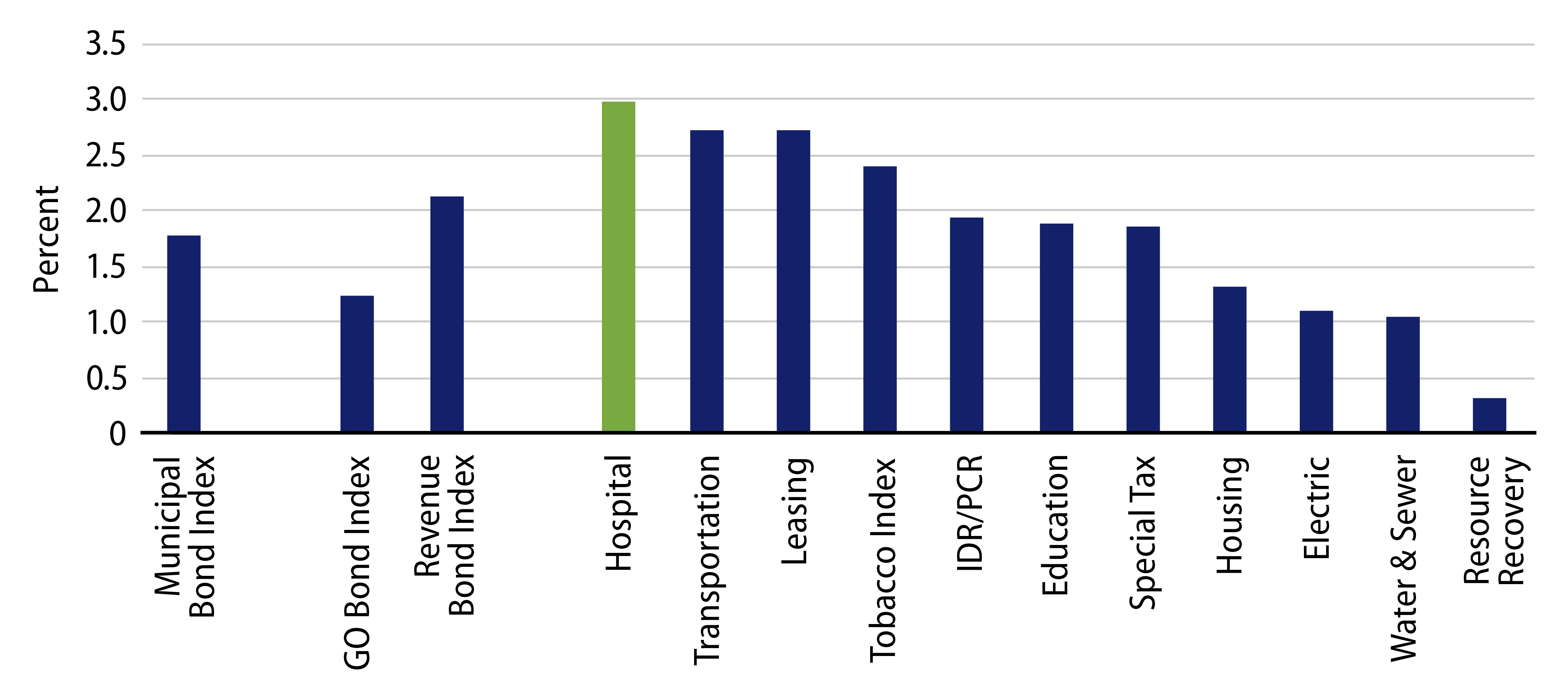 Looking forward, we expect that an ongoing labor recovery will continue to taper uninsured volume and contribute to more profitable commercial volumes. Federal and local policy initiatives focused on expanding Medicaid coverage could also further contribute to health care fundamentals. President Biden has proposed a Federal Public Option as an insurance alternative for states that have not expanded Medicaid eligibility. Just this month, Oklahoma became the latest state to adopt Medicaid expansion. Legislators in Texas are also exploring a path to expand Medicaid at the local level.
With health care spread levels tighter now than in recent history we continue to be selective on health care credit, and are monitoring the potential impact of easing of restrictions that could lead to an uptick in Covid exposure. While patient volumes have improved, we do not expect a full retracement to pre-pandemic levels until public confidence on the safety of health care facilities has been restored.