Headline retail sales rose by 0.7% in August, with the July sales estimate essentially unrevised. Excluding sales of vehicle dealers, building material stores, gas stations and restaurants, so-called "control" sales rose 2.5%, though with a -0.7% revision to July.
In pre-Covid days, these gains would have been impressive, and there are likely commentators in New York and Washington who will lionize these data. However, coming after four months of flat-to-declining sales prints, the August gains don't really move the needle in the three lines displayed in the chart.
Furthermore, the sales gains were narrowly confined to a few store types, and for most of those, seasonal factors look to have been in play. That is, before seasonal adjustment, those store types actually showed relatively large sales declines that were then seasonally adjusted into gains.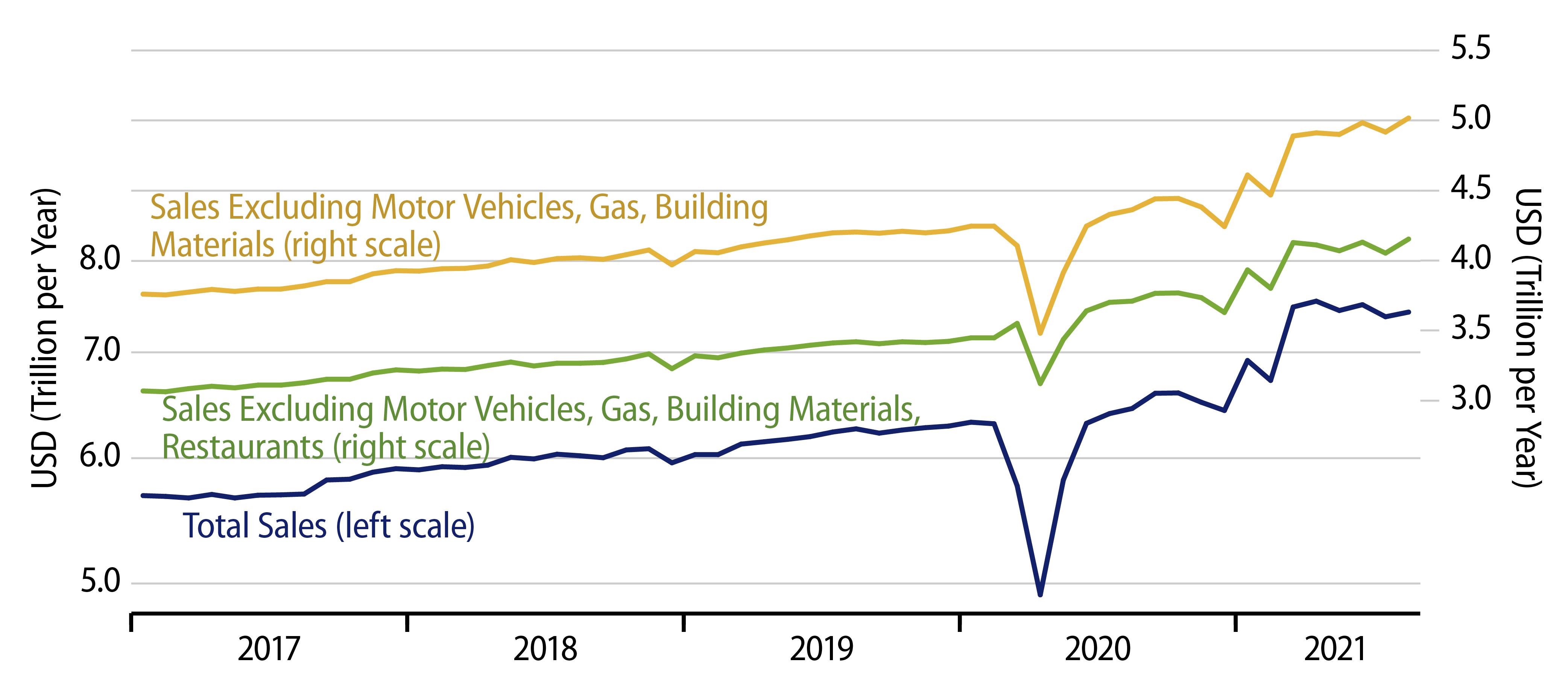 In other words, actual sales at those stores did not decline as much in August as usually is the case. This is not to knock the government's seasonal adjustment techniques. Rather, the point is that shoppers did not exactly "clog the aisles" in August, even for the stores where substantial gains were reported.
Leading the reported August sales gains were nonstore (online) (+5.3%), furniture (+3.7%) and general merchandise retailers (department stores) (+3.5%), with more modest gains at groceries (+1.9%), miscellaneous retailers (+1.4%) and building material stores (+0.9%). Among these, sales declined prior to seasonal adjustment at nonstore retailers, groceries and miscellaneous retailers.
Meanwhile, sizable sales declines were reported for sales at motor vehicle dealers (-3.6%), electronics stores (-3.1%) and sporting goods stores (-2.7%). We'll note that electronics and sporting goods stores eked out very small gains in adjusted data, which then were adjusted into declines. In other words, these stores did not enjoy the substantial sales gains that usually occur in August.
All told, the August sales report was quite a mixed bag, hence the "patchwork" description in the title. Given the amount of measurement error that always underlies these data in any given month and given the reality of downward-trending sales over the previous four months, our conclusion is that the August report does not change the narrative concerning consumer spending.
After a binge in the early months of the year, consumer spending on merchandise has generally been retreating back toward the growth trends that were in place prior to the onset of pandemic, this despite the massive amounts of stimulus that the federal government has paid out.
If the data could put together four to six months of gains such as those reported for August, that would change the picture. Maybe August marks a start to such a change, but given the vagaries detailed here, we are inclined to think otherwise.