While there are many measures of inflation, the Consumer Price Index (CPI) is both highly visible and the most widely used measure. Equity and fixed-income markets rallied on November 10 upon the release of the October 2022 CPI data, which showed a smaller increase than expected. Could this be a signal that inflation has peaked, and year-over-year inflation will fall even more quickly than the market expects? We believe so.
While individual components will always be volatile from month to month, we believe momentum is on the side of lower realized inflation.
Here's a look at the breakdown of inflation components from October's CPI report that excited the market so much.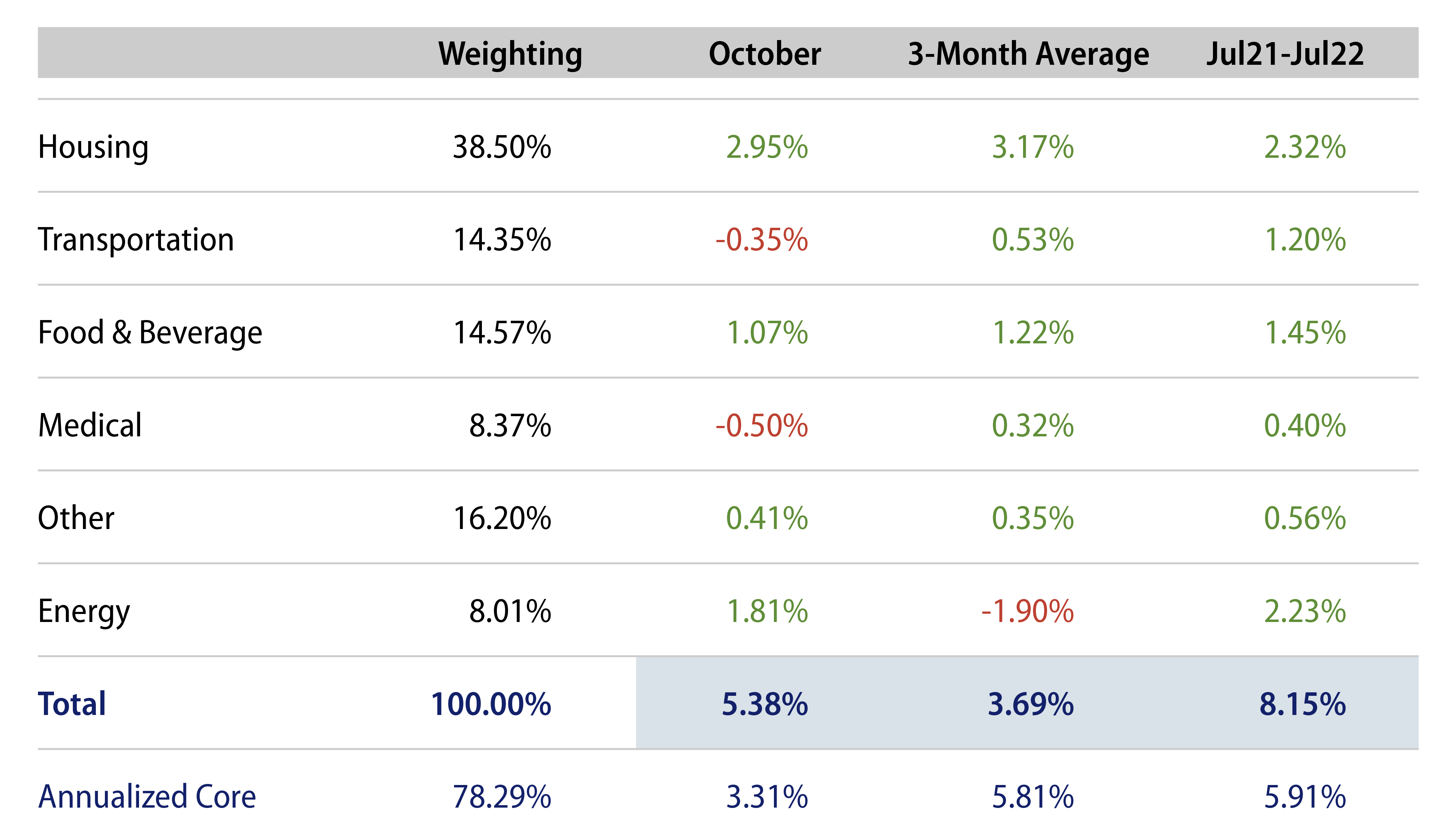 The housing component includes derived and observed costs for shelter (owned homes and rents), utilities and furnishings. Note that shelter is highly correlated to home prices, but with a 12-18 month lag. While this lag smooths the data, it also misses in real time the key inflection points. We expect that the recent fall in housing prices will show up in the official CPI figures in early 2023.
For transportation, we expect that both new and used car pricing should stabilize. Chip shortages that impacted the supply of new cars are largely behind us. In addition, the 2021 run-up in used car prices has also recently receded. While these prices may not fall further, they should be more stable going forward.
Energy is a volatile sector, subject to global supply shocks (e.g., sanctions on Russia including its oil; shutdown of the Nord Stream pipeline to Europe) that impact CPI. But the futures markets currently indicate a fall in energy prices, which should reduce the energy component of CPI in the coming months.
Admittedly, inflation measures remain uncomfortably high. October's core CPI annualized rate of 3.31%, which includes the large increase from housing, remains above the Fed's 2% inflation target. But the data are turning, and we are optimistic that we are on a downward path.
For more details about our inflation outlook please see our new paper, Prospects for Inflation's Decline