Private-sector payrolls gained 877,000 jobs in September, with a +40,000 revision to the August employment estimate. Press coverage this morning appears to be focusing on the 661,000 gain in total payroll jobs, which is said to have been below expectations. The difference between the two aggregates stems from a 216,000 decline in government jobs.
That government decline, in turn, was driven by a 231,000 decline in local government education jobs, i.e., those in primary and secondary schools. This reported decline is a seasonal blip. Because many local schools are still shut down due to Covid concerns, the unadjusted tally of local education jobs did not increase as much in September as it usually does, and this less-than-normal increase, then, was seasonally adjusted into a decline. Thus, before seasonal adjustment, local government education jobs rose by 661,000. Again, this was less than the near-million increase that usually occurs in September, hence the reported decline on a seasonally adjusted basis. If and when local schools fully reopen, the reported payroll data will likely recoup these losses.
In commenting on the jobs data last month, we stated flatly that even though recent jobs gains were smaller than what was seen in May and June, that was not an indication of a sputtering post-shutdown recovery so much as a recovery returning to a more expected, less frantic pace. This comment is equally applicable to the September data.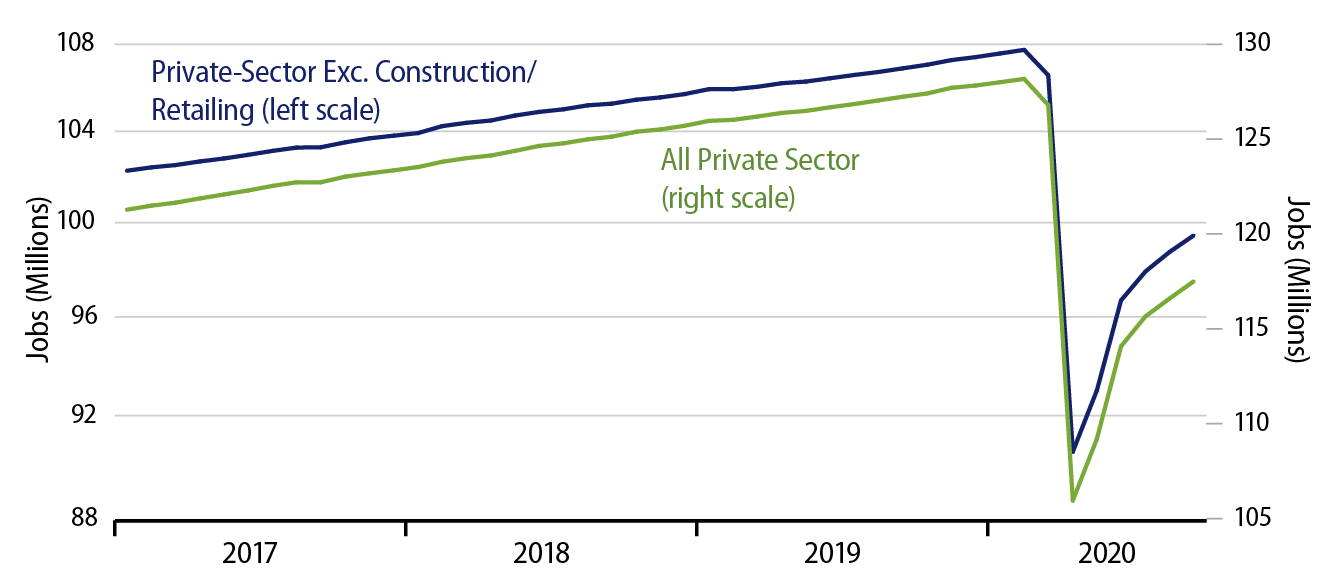 After such a jolt as was imposed on businesses in March and April, there will be some lost activity that is recovered immediately, but the remaining losses will be recouped only gradually. Both employers and workers need time to assess how much of their livelihood is still viable. Again, we believe it is commendable that the last few months' gains have been as large as they have.
A highlight of the September report was a 66,000 job gain in manufacturing alongside a substantial increase in factory workweeks. Domestic demand for manufactured goods has rebounded strongly since April. Supply has responded with a lag, but the gains there continue, and, barring a renewed shutdown, goods production should catch up with demand. The same can be said even more emphatically for the construction sector.
For many service sectors where shutdowns are still largely in place, it is a different story. Rebounds in some of these sectors have been middling at best. The accompanying table substantiates this point. As we have said before, hard-hit health care and restaurant establishments have rebounded impressively in recent months, but passenger travel, recreation and accommodations, where social distancing and other restrictions are most oppressive, have barely bounced.