Homebuilders got something of a reprieve in May, as sales of new homes bounced from the calamitous levels of April. New-home sales rose 10.7% in May from an April level that was revised up by 6.6% from what was announced a month ago. While the May sales rates look better than what was announced a month ago, they do not erase the downtrend that has been in place this year and for the last two years.
As of the April data, new-home sales had shown a 29.6% decline from December 2021. With today's announced gains and revisions, that net decline from December through May is now 17.0%, and the May 2022 sales level is down 32.8% from the high-water mark achieved in August 2020.
In the chart, we have adjusted the scales for sales and starts so that when the lines coincide, inventories of unsold new homes are stable, unchanged. As suggested by the chart, sales have been falling short of starts and inventories of unsold new homes have been rising continuously since October 2020. And note that even with falling starts and rising sales in May, starts still "exceeded" sales then. Census data show a 7,000-unit increase in May in inventories of unsold new homes.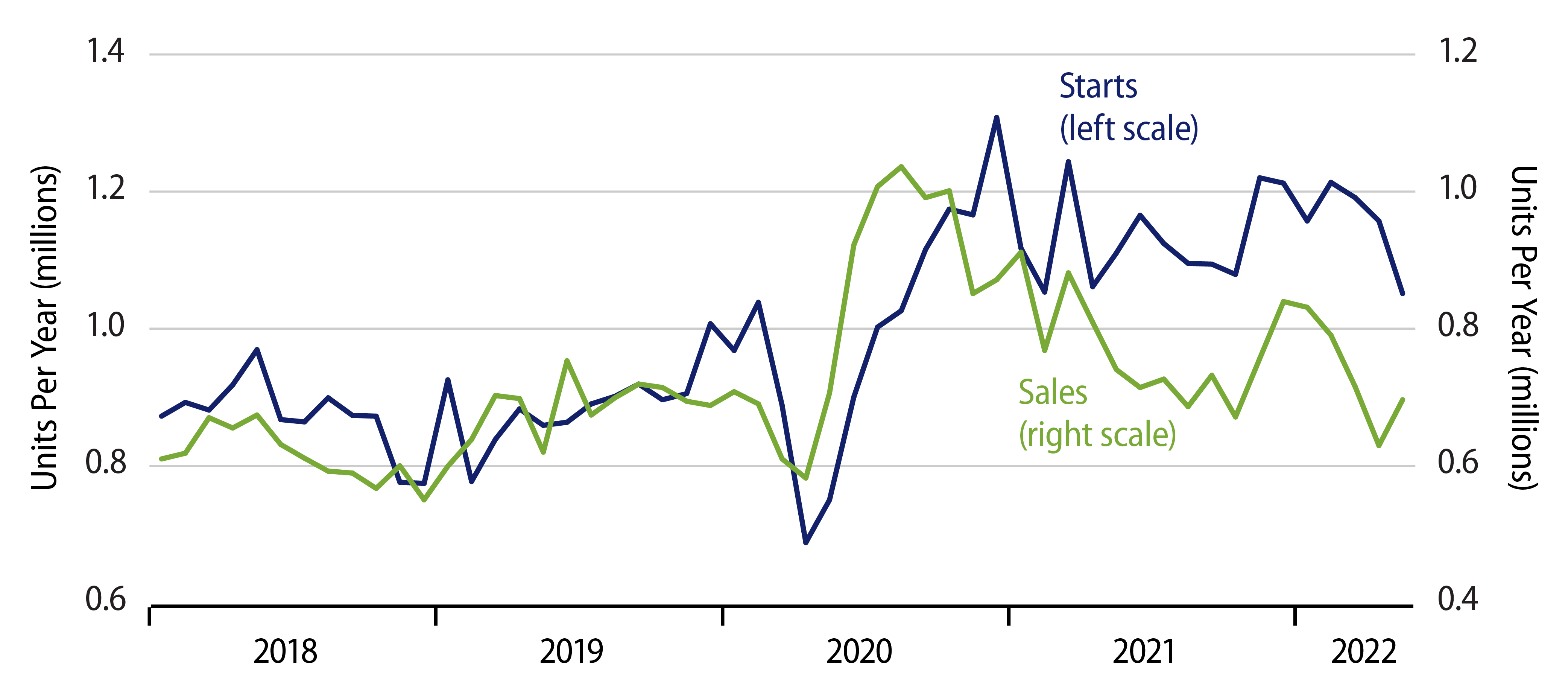 A month ago, unsold inventories equaled more than 9 months' sales. With the higher sales rates announced today, that ratio drops to 7.7 months. While lower than what we saw a month ago, that is still nearly double the "normal" level of inventories-to-sales seen prior to the bursting of the early-2000s housing bubble.
Note from the chart that even with the gains and revisions announced today, new-home sales are no higher than their pre-Covid (late-2019) level. The same is true for existing-home sales. Yet, opposite unchanged rates of home sales since late-2019, single-family housing starts are up 21.5%, single-family homes under construction are up 39.3% and inventories of unsold new homes are up 37.5%. Even if home sales could hold current levels, housing starts and residential construction spending would still have to drop sharply further to erase the existing backlog (glut?) of unsold new housing. If sales drop further in response to recent increases in mortgage interest rates, the coming carnage in homebuilding will be even sharper.
Perhaps in recognition of excessive inventories, homebuilders appear to have begun to cut pricing to move product. According to Census Bureau data, median and average sales prices of new homes dropped 1.3% and 10.2%, respectively in May. Upon adjusting these changes for normal seasonal variation, we estimate median and average prices dropping 0.6% and 7.8%, respectively.
That average prices dropped so much more sharply than median prices indicates that the May sales gains occurred mostly for lower-priced homes. Indeed, Census data show the bulk of the sales gains occurring for homes priced at less than $400,000. It is way too early to proclaim a declining trend in home prices, but these data do appear to indicate buyers' emerging preferences for lower-priced models.
In sum, the May new-home sales data were better than what was released a month ago. However, there are still ominous signs for homebuilding's prospects in the months to come.