Headline retail sales rose by 1.3% in October, with a +0.3% revision to the September level. The more closely watched "control" sales measure (which excludes sales at uber-volatile vehicle dealers, service stations, building material stores and restaurants) rose 0.9% in October, with a +0.5% revision to the September figure. Real volumes were also boosted by a likely decline in retail prices in October, if last week's CPI report is any guide.
A prominent fast food chain used to trumpet the slogan "Where's the beef?" claiming that its competitors' hamburger patties were way less meaty than its own. Today's retail report is reminiscent of that. Certainly, increases in nominal sales of 0.9% to 1.3% look "meaty," and the additional boost to real sales from declining prices only adds to that. Yet, when one looks at both the aggregate sales data and the data for individual store types, October's gains fail to make a dent in the drab trends of the last 19 months.
Yes, estimated real sales in the chart show something of a pick-up, but not much—nothing like the momentary jumps seen in March 2021 or January 2022. Meanwhile, in terms of individual store types, even with the October gains, real sales remain on downtrends for grocery and furniture stores. Real sales are flat (zero growth) for vehicle dealers and building material, department, apparel, personal care, electronics and book/sporting goods stores.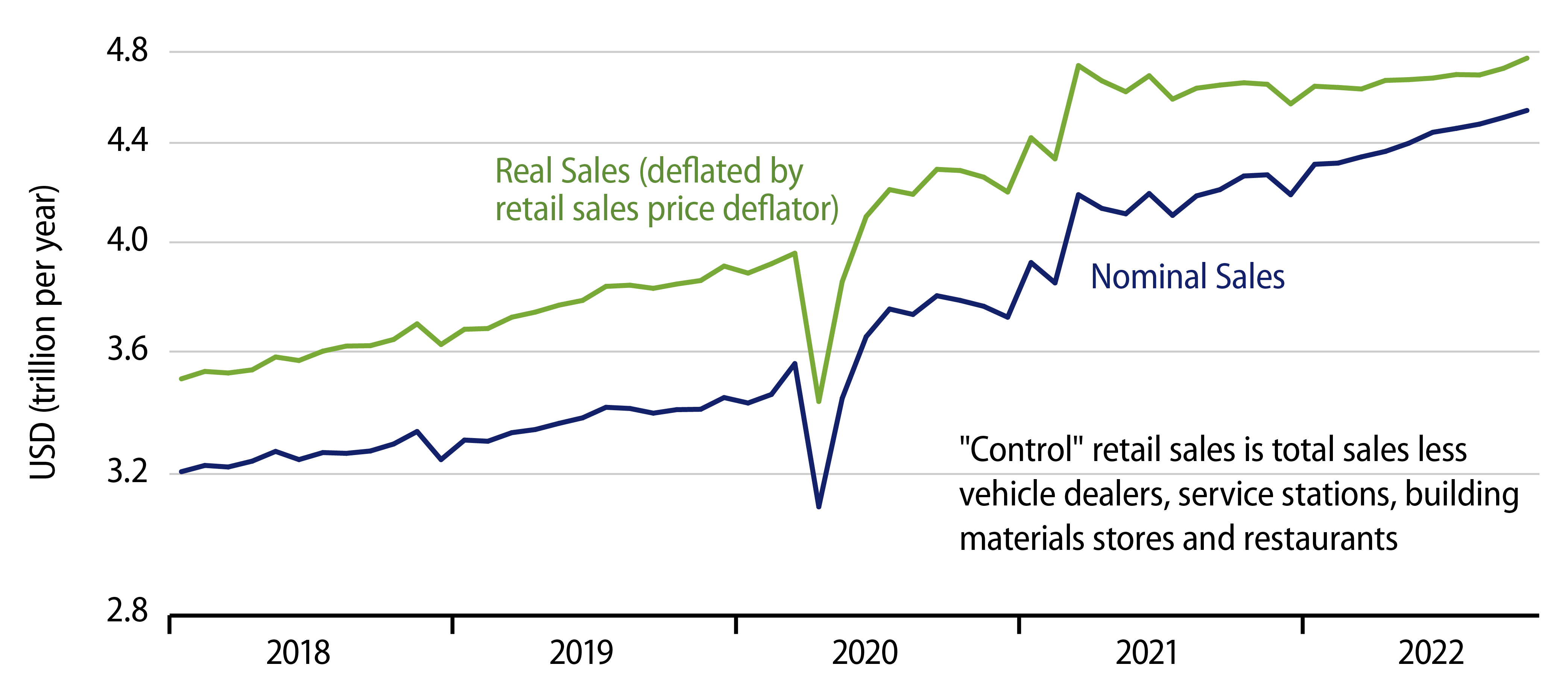 The only store types showing any recent gains in real terms are restaurants, online vendors and, over the last two months, service stations. For restaurants and online vendors, the October gains merely sustain the trend of previous months without accelerating (building on) them. The gains at service stations largely just reverse declines in real sales occurring when gas prices were higher.
So, concerning today's strong sales print, where's the beef? The consumer spending trends of recent months still appear to be in place. First, consumers continue to shift spending from merchandise to services, as service establishments continue to recover from Covid restrictions. Second, consumers continue to shift spending from brick-and-mortar retailers to online shopping, presumably a lingering after-effect of Covid. Against this backdrop, October sales gains, as buoyant as they sound, don't really change the picture.