For US retail activity, headline sales showed an August increase of 0.3% partially offset by a -0.2% revision to July sales levels. The more closely watched "control" sales measure—sales excluding the volatile vehicle dealer, service station, building material store and restaurant sectors—was unchanged from an unrevised July level. With non-fuel goods prices rising about 0.5% in August, unchanged control sales in nominal terms means a decline of about 0.5% in "real" terms.
Last month, we remarked that the reported July gains in real control sales occurred solely among nonstore retailers, reflecting Prime Day activity for various online vendors. With Prime Day no longer in play in August, it would be expected that sales would pull back, and indeed this was the case. In fact, the nonstore vendor sales gains in July were revised down by 1.6%, and August sales for nonstore vendors declined about 0.7% in real terms.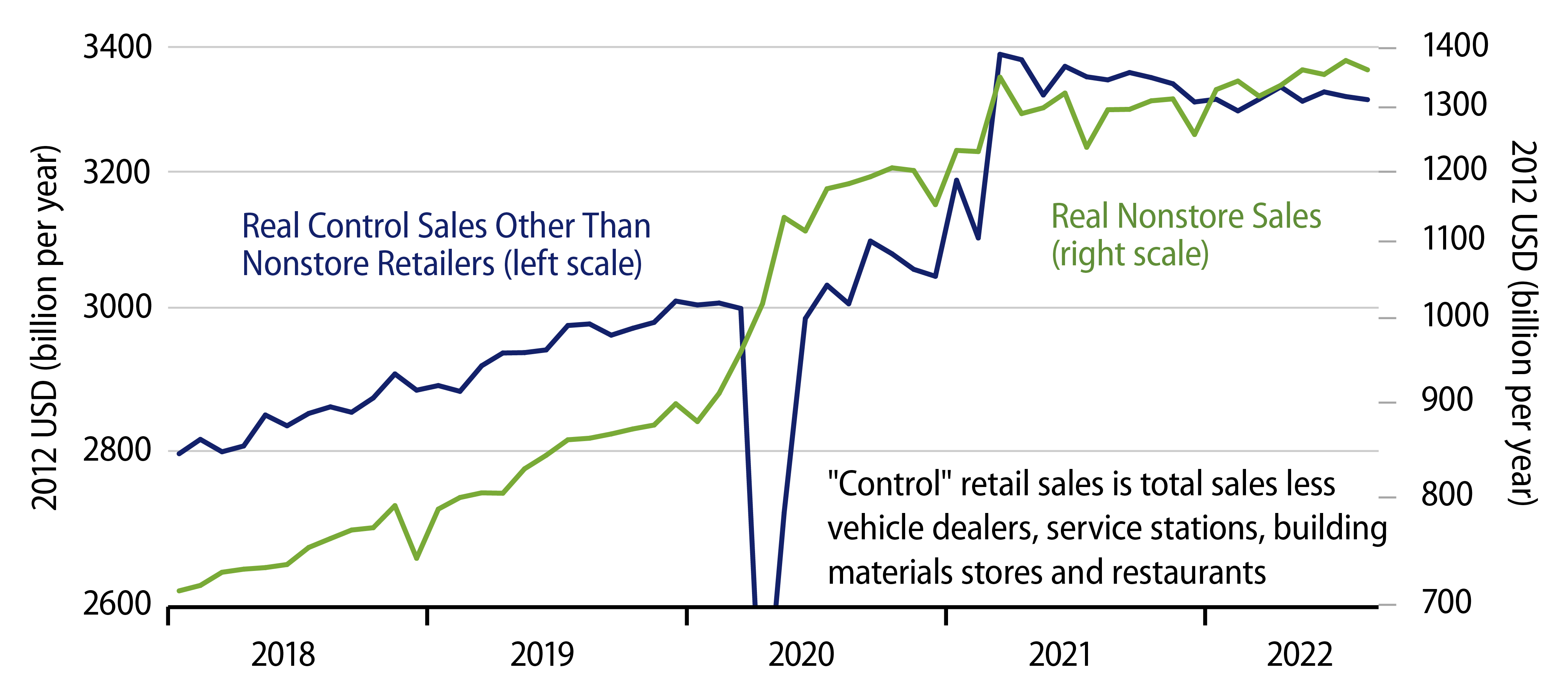 For other, "brick-and-mortar" retailers, August was little different from July. Real sales there have been trending modestly but down steadily since March 2021, and they continued to do so in July and August, as you can see in the accompanying chart. Online vendor sales have continued to inch up this year, but at a vastly slower pace than was seen in 2020 and early-2021.
On net, total control sales in real terms are flat to down slightly from their March 2021 levels. Within vendor types, only nonstore vendors show any net sales gains in real terms since spring 2021. The most notable declines in real sales are at grocery stores, down over the last eight months, and department and furniture stores, each down over the last 17 months.
Among the volatile, non-control sectors, real motor vehicle sales are choppy but down on net for the year. Real building material store sales are up recently, but down from January levels. Real service station sales had been trending modestly lower earlier in the year, but saw a nice bounce in August. (In other words, service station sales in dollar terms did not drop as sharply in August as did prices.) Real restaurant sales have declined over the last four months after having bounced nicely earlier in the year.
All in all, real consumer spending on merchandise remains slightly elevated relative to pre-Covid trends, despite having declined steadily for the last 15 months. These sectors are not contributing to economic growth, but neither are they declining sharply enough to ring recession alarm bells, especially since ongoing gains in real consumer spending on services have been enough to offset the declines in goods consumption.