As we enter autumn with COVID-19 rates falling from their "summer surge," the reopening process resuming, and amid mounting concerns about another spike in cases as the weather cools, we're looking closely at the pandemic's impact on commercial real estate and retail space specifically. The unprecedented pandemic-related closure of large swaths of the US economy has contributed to an enormous amount of stress on tenants, property owners and lenders alike.
Most market participants have focused on the retail sector as the epicenter of this stress, given the challenges the crisis has caused both in the short term and over the longer term. In our view, what really merits concern extends beyond the near-term impact of tenants failing to pay rent during the "shutdown" period. What seems more worrisome to us is the pandemic's impact on consumer spending behavior and habits, and the possible permanence of these shifts. In all likelihood, it will take years to accurately determine the ultimate impact on spending. But, even then, it may not be clear if the results will be uniformly negative for retail assets, or for their debt and equity investors.
In fact, there are a number of factors for retail that will determine the shape and trajectory of this critically important property type. Here we describe three of the factors that we believe will be the most significant in shaping the shopping center of the future in the US.
Shopping From Home
There is not one sector of the real estate market that has experienced a more significant short-term impact as a result of the Covid pandemic than retail. The sector had already been under pressure for years, primarily due to a sustained increase in online shopping and an abundance of space. While the former is a global phenomenon and has impacted retailers of all types in every corner of the globe, the impact of the latter is unique to the US given how much physical space has been dedicated to selling goods. In 2018 (the most recent year for which data was available), the US had the highest square footage of retail space per capita worldwide at 23.5 square feet per person. To put that figure in context, it is 50% higher than the country with the second highest concentration (Canada) and 6x that of most of Western Europe and 10x what can be found in China, South Korea or Taiwan.
Last year the number of retail stores that closed more than doubled from the 10-year average, to more than 10,000. But this year, given the months-long closure and reduced occupancy even after reopening, it is estimated that the number of store closures will double again and possibly triple compared to last year's record. Given the sheer number of closures, unlike in previous years when most of the stores were eventually replaced with new tenants, we do not expect the stores closing this year to be reabsorbed. This could lead to even more pressure on surviving stores located in shopping centers and lead some of those stores to close over the next 12-24 months.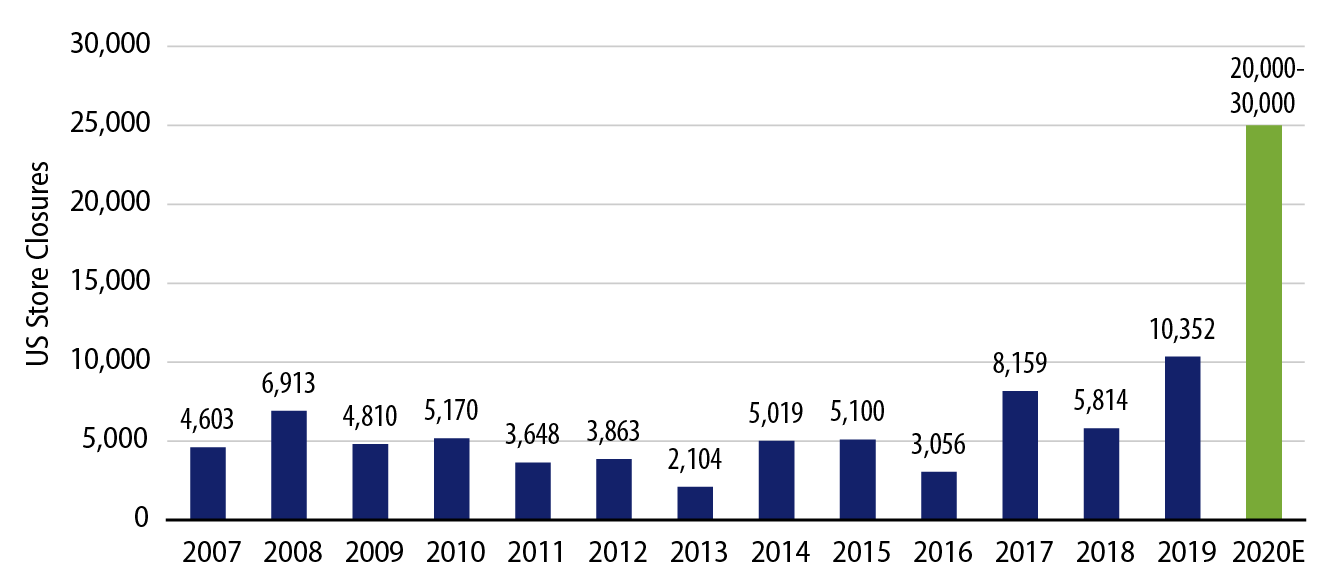 It is important to note that not all retail assets have been uniformly impacted by the stressed environment. Some sectors, such as shopping malls anchored by grocery stores, have been better insulated from the pressures than others, such as regional malls. This is especially true for lower-quality malls (as measured by sales per square foot), which have disproportionally suffered as consumer shopping behavior has slowly shifted away from discount department stores. As shown in Exhibit 2, monthly sales have declined by about a third over the last five years, and during that time there has been only one month when the change in sales over the previous year had increased. So far this year we have observed many prominent department store brands declare bankruptcy and, in some cases, cease operations entirely. These big names include Neiman Marcus and Bergdorf Goodman, Lord & Taylor, JC Penney, Stein Mart and Century 21. Collectively, these stores have more than a thousand locations and serve as anchors for hundreds of malls around the country. The sheer amount of closures and its impact on space will take years to re-tenant or repurpose entirely.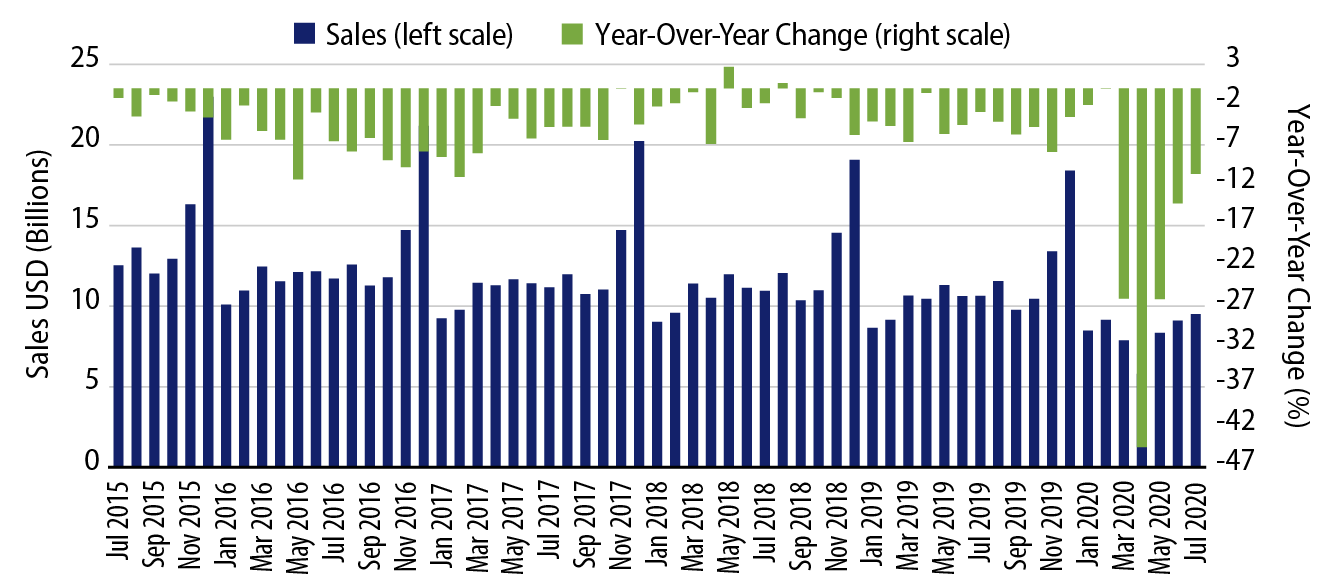 Changes to the Retail Landscape
It's easy to extrapolate an apocalyptic future for the sector, given the acceleration of structural challenges, one of the worst recessions on record, and given that now most properties are operating under limited hours and capacity. However, while we recognize the magnitude of the stress on the sector, we also expect to see retailers make a number of changes. In short, we expect that retail companies will adapt their product offerings (just as hotels must also adapt) to meet shifting consumer demands and redefine themselves along with their value propositions to consumers. A larger focus on retailers' online "storefronts" is a given but we also expect them to better integrate their physical stores within their online distribution efforts to better facilitate "curbside pickup" options for both purchases and returns. Many have already started to move in this direction out of necessity during the pandemic and we believe the prevalence and use will increase over time. We also expect the appearance of stores to change so that they can look more inviting and comfortable to consumers, many of whom have spent more time than ever at home this year. Perhaps the most critical element in retailers' transformations will be to provide not just physical comfort and appeal but the prospect of mental comfort by ensuring that consumers feel safe when visiting their stores. After all, if consumers don't feel physically safe, nothing else will matter.
Another emerging trend that could result in unforeseen changes is that property owners, and mall owners in particular, are buying bankrupt retailers. The two largest retail owners, Simon Property Group and Brookfield, have been very active. Most recently, they have taken control of department store operator JC Penney, but they've also taken over apparel retailers such as Forever 21 and Brooks Brothers. It is unclear whether these are short-term acquisitions to preserve cash flow and value in their properties, or if these purchases are also in part motivated by a longer-term outlook of growth and potential expansion across their property portfolio.
Changes to Properties
Similar to the forced changes legacy retailers have undergone during this crisis, we believe there will be a number of changes and emerging trends to the properties themselves that have implications not just for consumers but also for debt investors. From the demand side, just as we expect physical retailers to spend more time and energy expanding their online presence, we believe online-only retailers will spend more resources building out a network of physical stores to complement their online presence. Sometimes referred to as omnichannel retailing, we think this could become the dominant business model and contribute to higher occupancy rates at select locations. Warby Parker, Tesla and Casper are examples of companies that have begun this network buildout. Similarly, big-box retailers such as European grocery chain Aldi and Dollar General are examples or retailers whose business have not been negatively impacted this year. Both chains have announced plans to add hundreds of locations over the next two years. We believe that retail owners need to ensure that their properties are well suited to be considered candidates for both types of demand.
Even with some expansion plans by existing retailers, retail properties and especially malls will need to become more creative with their space and tenant roster to survive the current environment. One example of "new rules" is to target non-traditional users. Converting big-box space formerly occupied by a department store to warehouse space that can be used as a local distribution hub is something we expect to see a lot more of in the near future. We also expect some shopping centers to expand their roles in their communities and serve not just as a place to get new sneakers and a sandwich but also to be a destination. New tenants such as urgent care centers are not subject to the same economic pressures as traditional retailers; they need a lot of square footage and add value to the community. Co-working office space is another example of a potential new demand driver.
At Western Asset, we have had a relatively cautious view regarding retail, especially malls, for the last five years. As a result, we've only invested in a select number of properties during that time. The challenges facing the sector today are unprecedented in their size and scope. But we believe the combination of changes to existing tenant business models, new demand drivers, modifications to the operation and look of the properties, the future economic recovery, and our team's approach both pre- and post-investment will lead to favorable risk-adjusted returns for our clients.